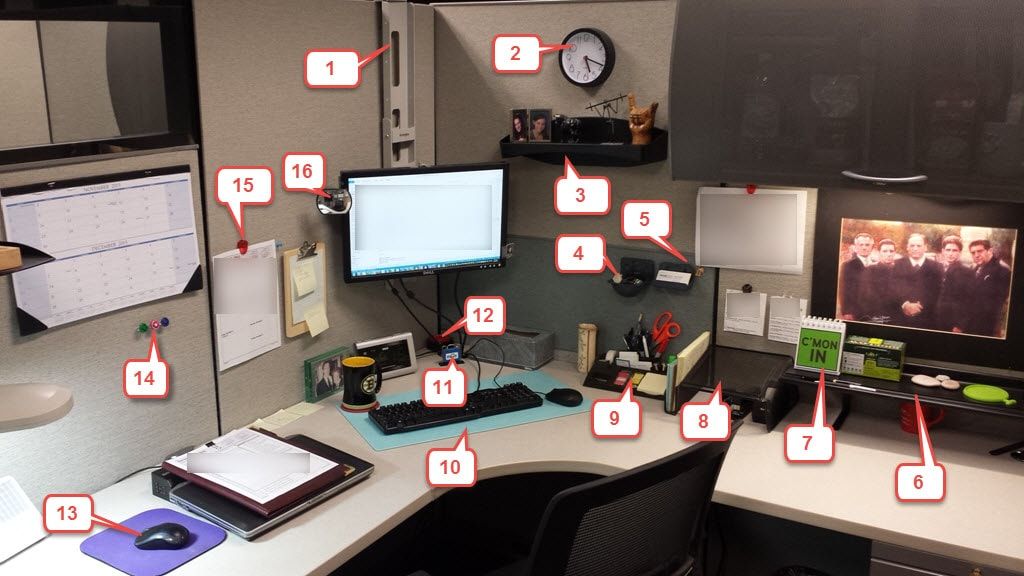 Are you looking for cubicle accessories that will transform your own workspace? Well, this article will not only depict my cubicle transformation but it will also present you with many different accessories that will not only make your cubicle more fun and stylish but will also help you work more efficiently.
Once again the powers-that-be at my place of employment decided to move me from one cubicle to another. This particular article will show off and detail the many cubicle accessories that I have utilized in transforming my new workspace. 
Modern desk accessories including the ever-popular industrial desk accessories are available to any of us who wish to enhance our working areas.
In my new move, a number of weeks ago, I am still not any closer to the windows but, so far, I appreciate the quiet and solitude of the new space. Also, with better overhead lighting and my favorite sunlight desk lamp, it is certainly brighter in this new office cubicle.
And if you have read any of my articles you know how much lighting in my office cubicle means to me as far as my mood is concerned…
I have heard from many of you that you'd love to see my office cubicle as well as my office cubicle accessories. Well, what is a better way than to see it with nothing in it and then to see it fully accessorized?
So, I took this move opportunity to document some before and after photos to show off my new office cubicle! As you will notice as you scroll down I labelled all of the cubicle accessories in my office in case you may be interested in learning more about them.
Cubicle Accessories Transformed my Cubicle!
Here are some larger, more detailed images of my new office with my cubicle accessories labelled and links to my articles about the products are shown in the legend below each image.
Check out my Cubicle Essentials Below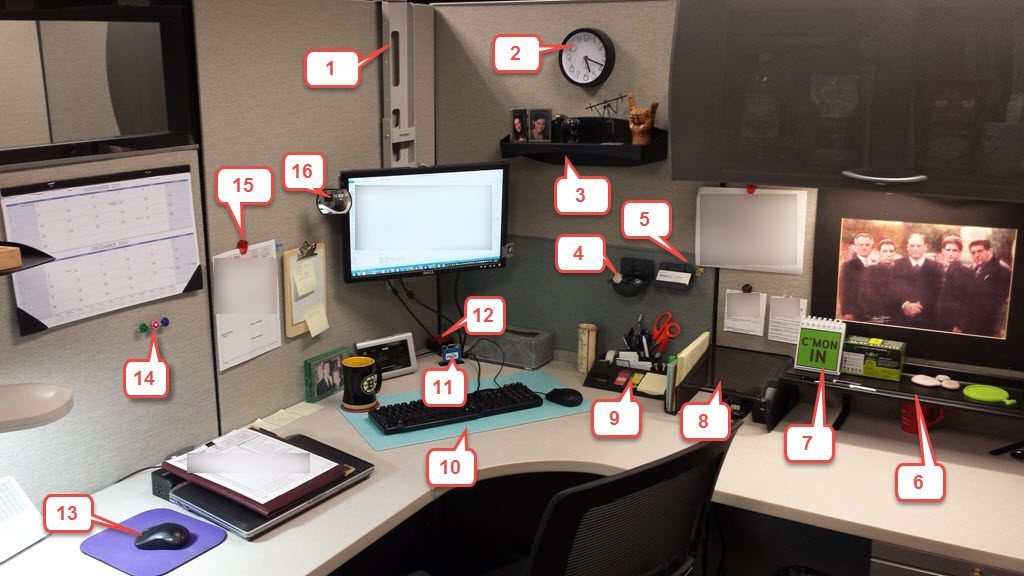 Click on any Work Cubicle Accessories Below for More Info
Cubicle Desk Accessories and Fabric Cubicle Wall Accessories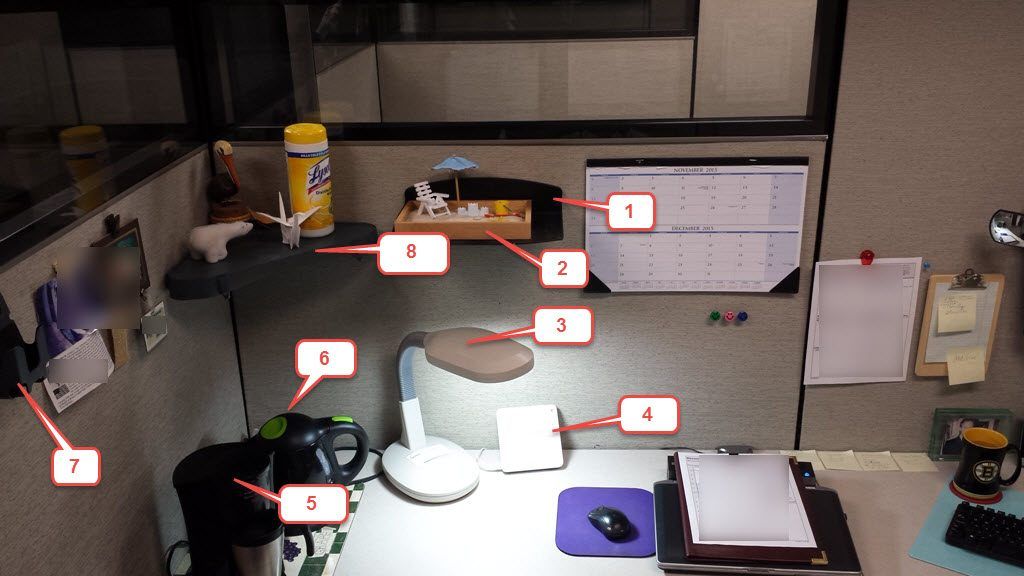 Click on any Accessories for Cubicles Below for More Info
Office Cubicle Wall Accessories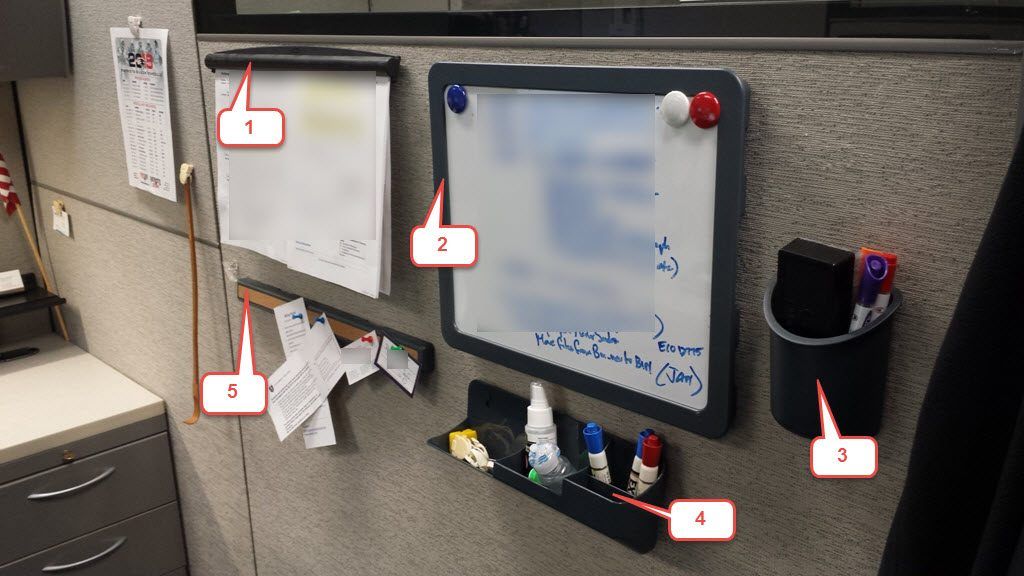 Click on any Cubicle Hanging Accessories Below for More Info
Cubicle Accessories can Transform your Office Cubicle too!
I truly hope this visual depiction of my own cubicle gives you a better idea of my own working environment and how I have tried to better my own work life in the cubicle.
These cubicle accessories will change as time goes on and I check out the myriad of other products that are out there available for the cubicle dweller or open workspace dweller. Good luck in your own office world and please contact me if you have any questions or leave a comment below.
Frequently Asked Questions about Office Cubicle Accessories
How can I make my office cubicle nicer?
There are a myriad of additions you can make to your cubicle to make it a much more interesting and productive space in which to work. Here are 10 ways you can make your cubicle nicer.
How do you pimp out a cubicle?
First of all, before you start updating and pimping out your cubicle, you should give a heads-up to your boss in case there are some company standards when it comes to decorations in a cubicle. Once you get the OK you could add some peel-and-stick wallpaper to your cubicle. Choose something with color to combat those dull grey walls.
Hang a mirror on your cubicle wall which will allow any available light to reflect throughout your office. A sunlight desk lamp or an LED desk lamp will enhance the lighting in your cubicle. Add some greenery with some succulents or low maintenance plants to your desktop or hang them on your cubicle wall on a hanging corner shelf unit.
What can I put on my cubicle walls?
The list for what you can put on your cubicle walls is plentiful. Here are a few options:
A decorative mirror
Peel-and-stick exotic mural depicting an ocean scene
Family photos
A colorful poster
Hanging baskets or wire paper trays
Vacation pictures
What to Read Next:
Bob has been blogging for over 20 years and has been an office and cubicle dweller for more than 40 years. He created the popular office website CubicleBliss in January 2011 and rebranded it as
WorkspaceBliss
in April 2020. Over the years, he has been a regular writer for popular blogs such as
DailyBlogTips
and
WorkAwesome
(can read his articles
here
).
In the office he's been an IT Manager, Applications Engineer, Systems Analyst, Software Project leader, and Programmer Analyst in his long career. He's a Certified Microsoft Professional and possesses a Masters of Science degree and two Bachelor of Science degrees, one of those in Informational Technology.