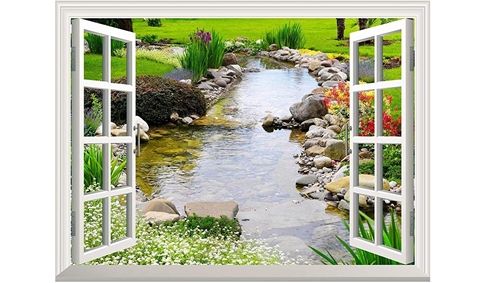 If you are among the ranks of Cubicle Nation, as I am, you can certainly understand how dull this environment can be if you don't make an effort to spruce it up the best that you can. I certainly do my part to add to my cubicle decor and have gone as far as creating this website that deals with making the best of a small cubicle situation.
What I have certainly learned through the use of Twitter and Pinterest (feel free to follow me!) is that there are many office workers out there who sit in cubicles all day long that are also passionate about adding to their office decor and making their work life better.
You can buy cubicle wallpaper or make your own. You could add enhanced interior design using industrial office accents like wood, brick, and metal. You can also add plants and posters to your cubicle but have you ever thought that you could add a cubicle window to your office?
Well, a while back I came upon a product called the Cubicle Window that is made for a cubicle or any office environment. It is made out of solid pine and it comes with 4 different seasonal views that you can interchange whenever you feel like a change.
To be honest, I have yet to purchase one of these unique cubicle accessories but the picture shown above is one I took just the other day of a co-worker's cubicle with the cubicle window proudly displayed. She is very happy with her purchase and I was actually the one that told her about this product. It hangs very easily in her cubicle and adds some life to what could be dull cubicle walls.
Features of the Cubicle Décor Window
Dimensions – 24 X 32 inches or 36 X 48 inches
Color – White frame
Brand – Wall26
Material – Vinyl, Peel and Stick
12 different seasonal views

If you'd also like to add a little life to your cubicle and brighten up your cubicle environment, you too might want to make this small investment. As I write this, my cubicle has always been next to a big expansive window so I never really felt the need to buy a cubicle window. But, in about a week I am being forced from my current cubicle (next to the window) into the middle of a cube farm. I'm not happy about it but I'm happy to be employed. I may just be making a cubicle window purchase in the near future so that at least I can have a window in the middle of Cubicle Nation!