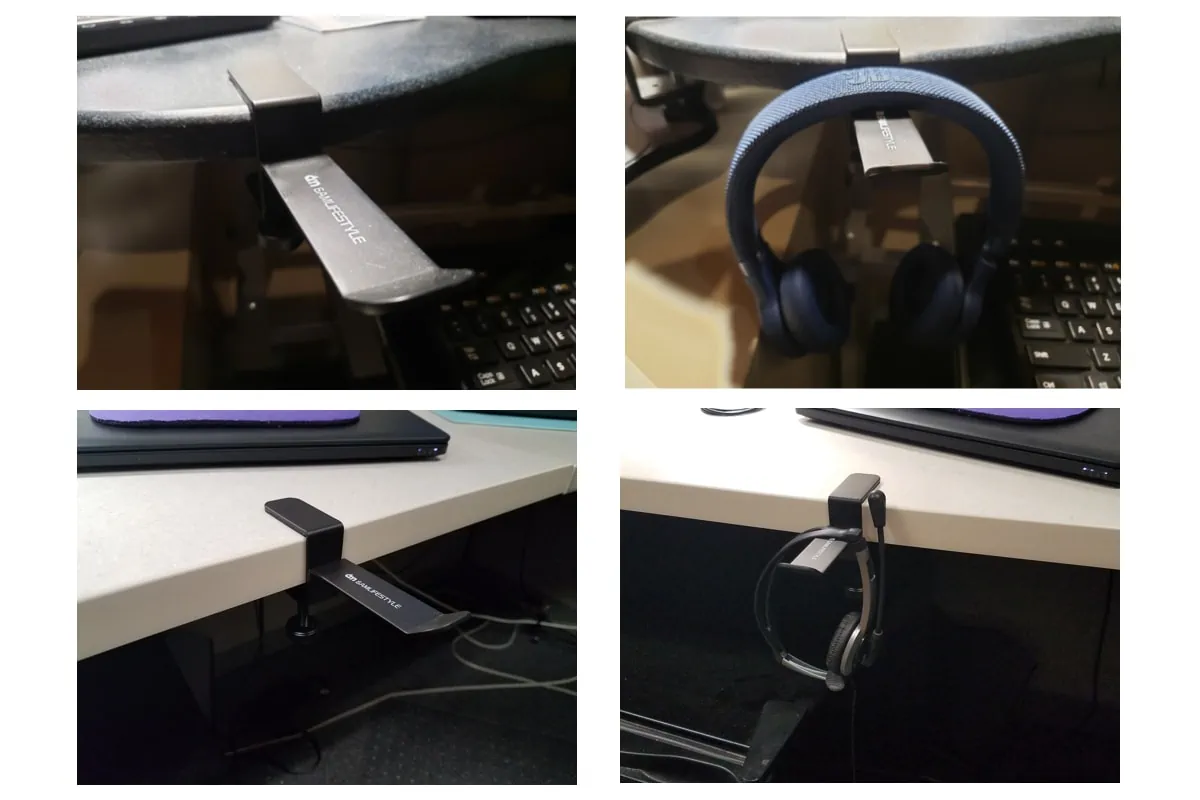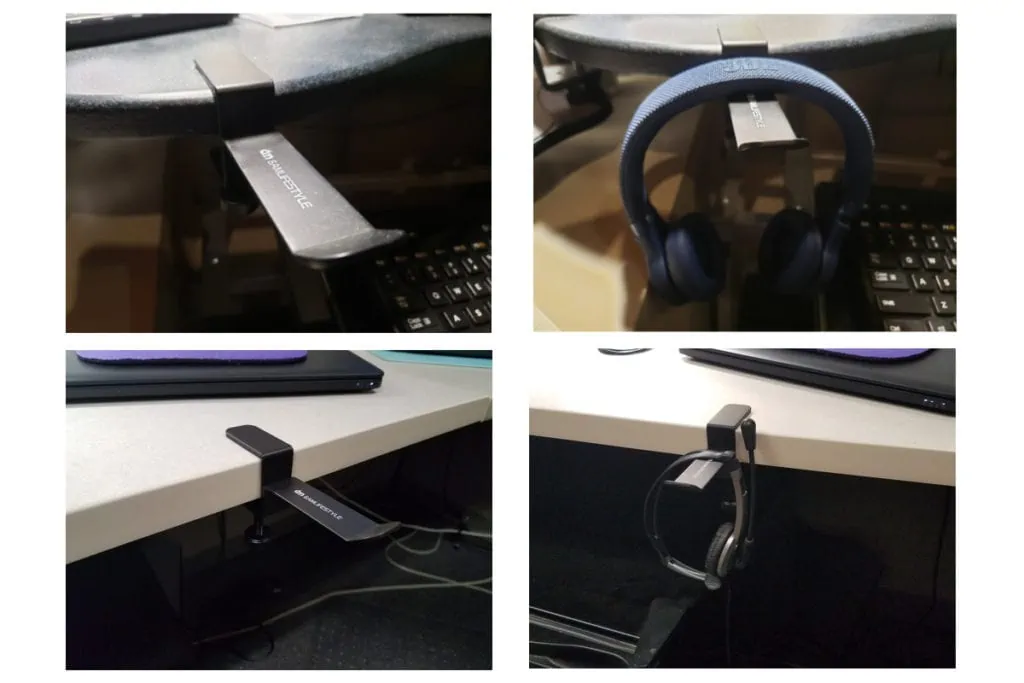 Have you ever wondered how to organize headphones or earbuds in your work or home office? This article will address that topic and give you options.
In this day and age of open workspaces and collaborative working environments, headphones and ear buds are becoming more and more popular in the workplace. I know that when I am in my cubicle, I always have my headphones on or ear buds in depending on which one I choose for that day.
A Headphones Hanger is a Novel Office Accessory
I use them to listen to a podcast or online radio via my cell phone as it really helps to cut down on the ever-present surrounding office noise.
Even while I am working from home I always use either my AYL Bluetooth ear buds or my corded Panasonic headset while I am on a GoToMeeting conference call with the home office. So this brings up the issue of where in my office should I store the headphones while I am not using them?
How to Organize Headphones
Organizing anything within an office or at home is always a lot easier when there is a specialized tool developed for just that purpose. It just so happens that with the popularity of headphones and earbuds today, there have also been products developed to organize and store them efficiently.
Use a Unique Holder for Headphones – an Under Desk Headphone Hanger
Well, I love cool office gadgets and there is a really cool product and office accessory that I came upon and purchased called the 6AMLifeStyle Headphone Hanger. It's a rather novel and stylish product that clamps to your desktop and allows you to hang your headphones from it so that they are always accessible.
Here's a quick YouTube video of me explaining the product in my home office, affixing it to my home office desktop, and showing it off in my cubicle at work.
Headphones Hanger YouTube Review
It's basically another organizational office accessory that allows you to easily store an essential office item that you use on a regular basis. I appreciate any new product that stresses functionality, organization, and style all at once.
My 6amLifeStyle Headphone Holder for Desk Images
Dimensions – 11 x 1.1 x 5 inches
Shipping Weight – 6.4 oz
Color – Black
Material – High Quality Metal
Capable of holding light weight to very heavy headphones
With locking knob secures nylon tipped screw
No glue, no mess, adjustable design allowing to fit on to desks and tables of different thicknesses.
Accommodates up to 1 7/16″ desktop thickness.
Other Popular Headphones Hangers and Headphone Stands
Frequently Asked Questions about Headphones Hangers
How do I keep my headphones at my desk?
There are different ways in which you can store headphones. Two very popular methods are the under-the-desk headphones hanger and the other is the headphone stand. The benefit of the under-the-desk headphones holder is that it will not take up any real estate on your desktop. The headphone stand is an accessory that sits directly on a surface such as your desktop.
What can I hang my headphones on?
There are a number of different hangers upon which you can hang your headphones. I work in a cubicle and oftentimes before I had my specialized headphones holder, I would simply hang them on my cubicle wall where one side of the headphone was on one side and the other was on the other side of the wall.
Another option is to purchase a cubicle hanger which is typically used to hang your coat hanger and your coat. The best solution is to use a specialized headphone hanger or a headphone stand.
How can I make a DIY under desk headphone hanger?
One method that is fairly cheap is to use iron pipe fittings that you can get at any big box store. You can start with a floor flange fitting which will be screwed into the underside of the wooden desk. Next screw a short threaded pipe (threaded on both sides which is approximately 3-4″) into the flange. Then screw in a 90 degree elbow fitting into the other side of the threaded pipe.
Next you screw another short threaded pipe (threaded on both sides which is approximately 3-4″) into the elbow fitting. To finish it off you can utilize a steel cap fitting to finish it off but the cap really isn't necessary.
If you also think that you could use a high quality product of this type in your office or cubicle, I can honestly say that you cannot go wrong. You can probably figure out other uses for this 6AMLifeStyle Headphones Hanger as well. I bought one for my home office and one for my cubicle at work since I found it so useful.
Bob has been blogging for over 20 years and has been an office and cubicle dweller for more than 35 years. He has been featured in numerous online publications such as US News and World Report, Bustle, and Work Awesome (you can read his articles here). He created the popular office website CubicleBliss in January 2011 and rebranded it as WorkspaceBliss in April 2020.
In the office he's been an IT Manager, Applications Engineer, Systems Analyst, Software Project leader, and Programmer Analyst in his long career. He's a Certified Microsoft Professional and possesses a Masters of Science degree and two Bachelor of Science degrees, one of those in Informational Technology.
During his career he has worked in the office full-time, as a hybrid remote worker, and has worked from home permanently.