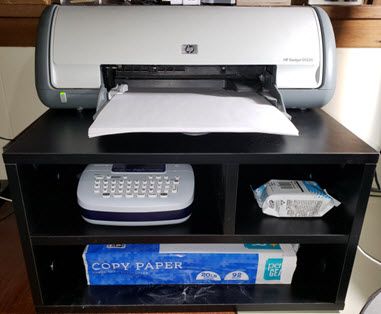 With the reality of the pandemic, more and more of us have been forced to work from home. We're all trying to get our workspaces as efficient and organized as possible. I was in the need of some type of desk organizer when it came to my printer and associated paraphernalia (printer paper and ink cartridges).
I found the Fitueyes Printer Stand with Storage on Amazon and recently assembled it for my home office. You can see it in its final state on the left. It ended up solving a number of issues I had as far as my home office was concerned. I not only could raise up my printer but it also allowed me storage for some extraneous accessories.
I made it a point to measure the area from side-to-side and top-to-bottom to ensure it would be perfect for that area. There are a number of different styles and sizes of this printer stand so it's important to pick the one that's right for your workspace.
The dimensions of the one I chose appeared to fit the bill for the size of my printer and the area in which it was located. My printer paper was taking up excess room next to my printer and I wanted to consolidate everything in one footprint. At least from the image details on Amazon, it appeared to be a perfect fit for me. Here are some of the technical details associated with this Fitueyes Printer Stand with Storage.
Manufacturer: Fitueyes
Item Weight: 11.9 lbs
Product Dimensions: 15.75 x 11.81 x 8.66 inches
Item Model Number: DO304001WB
Color: Black
Material Type: Medium Density Fiberboard (MDF)
Once I opened up the box, I realized that this probably wasn't going to be a quick assembly. There were 7 pieces to the unit, which were all made of MDF or medium density fiberboard which is not unusual for this type of organizer. It is essentially an engineered wood product which is advertised as being more dense than plywood.
The hardware that the unit came with included many different parts. I am fairly sure that they have the same package of parts for all of the different version that they sell. So, don't be surprised if you have a few leftover parts after you have completed the assembly. The images below are of the hardware in the bag and sorted out of the bag. The tool is essentially a screwdriver on one side and a hex tool on the other that can be used for assembly.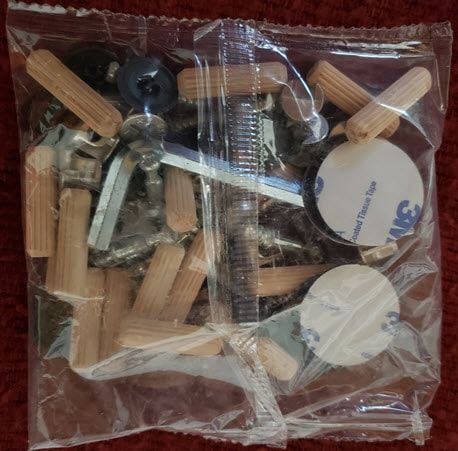 When I saw the bag of hardware above I was a little surprised given the fact that this wouldn't be a quick assembly. I can assemble anything but I thought this would be an easier and quicker task. I would imagine for anyone who is not used to assembling anything, it would take that person a lot longer than it took for me.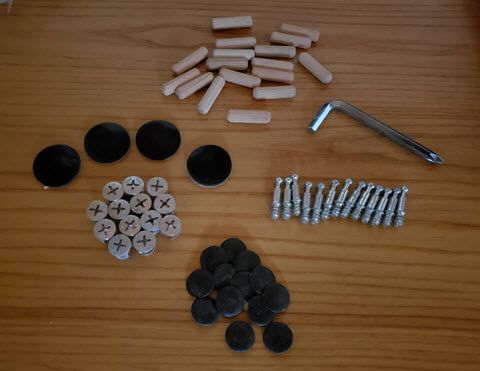 In total there were 62 pieces of hardware and one tool. The tool was basically a hex tool on one side and a screwdriver on the other side. The only side I needed was the the screwdriver portion. As it turned out I used a portable drill instead of the tool whenever I could. There were times I needed to use the tool because I could get my drill inside the unit during assembly.
Assembly of the unit took me about 40 minutes in total. Due to the many different pieces that had to be inserted or screwed into the fiberboard, it did take a little more time than I originally anticipated. The unit came with pictorial directions that can be seen below.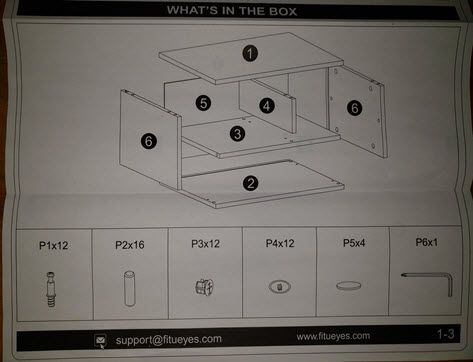 Here are some images of the completely assembled Fitueyes Printer Stand with Storage unit in my home office.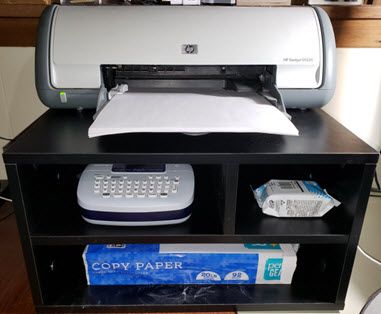 I made it a point to purchase a model that would fit perfectly in the area I have for my printer. It couldn't be too high for that area because there is a window above the printer. And the length side-to side was also perfect for the limited about of space I had for the printer stand. It is great I was able to also place my Brother P-Touch label maker in the unit as well offloading it from my desktop.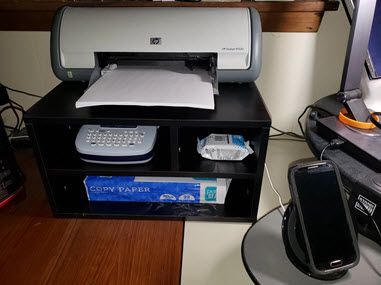 I'm very happy with my purchase. What I like about it is that the MDF (medium density fiberboard) is very strong. Based on the configuration I used it will hold a maximum capacity of 35 lbs printer. The printer I own is very light so weight is not a consideration at all. I'll give my Pros and Cons below.
Pros
MDF (Medium Density Fiberboard) is strong enough to hold a fairly heavy printer.
Stylish design looks great in any office.
Interior area is large enough to hold printer paper as well as other office accessories.
Non-slip rubber feet was a nice addition.
Cons
Assembly is not simple. It took me about 40 minutes to complete assembly.
The directions do not contain any words, only pictures. I would imagine that this will work for some people but not others.
Other Amazon reviewers also noted assembly could be a challenge.

Tip: In lieu of the screwdriver tool that came with the product, utilizing a portable battery-powered drill will make the assembly quicker.
Final Conclusion
Overall, I feel that my purchase was worth the $34.99 investment. The Fitueyes Printer Stand with Storage unit included all of the hardware and it came with all of the pieces intact. It came very well packaged. It fits perfectly in the area that I needed it for in my home office. I would recommend this unit to others who are looking for a similar piece of office furniture. Just be aware that it could be a challenge to assemble based on your experience or aptitude.