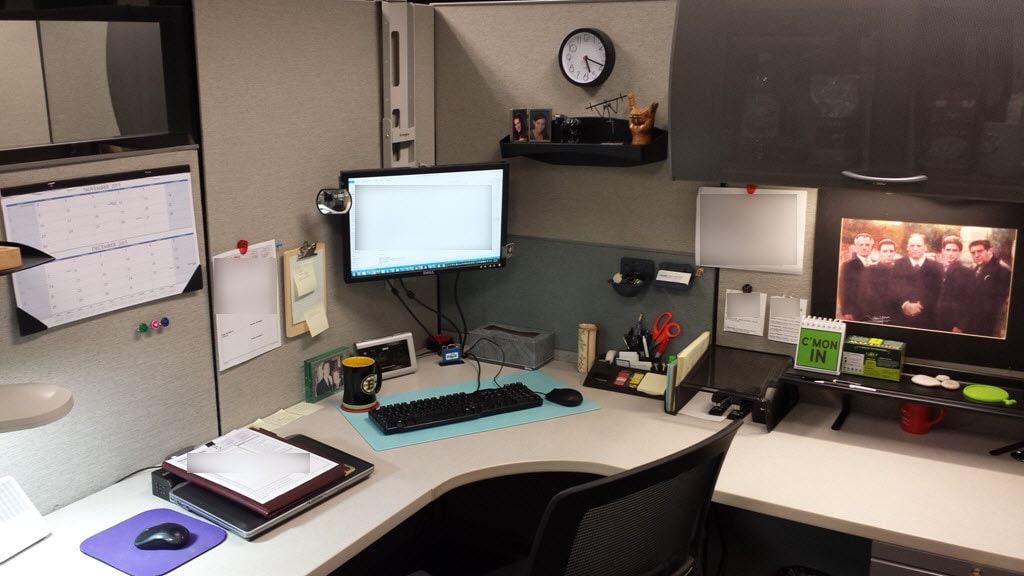 Have you just started a job working in a cubicle? Have you been working in a cubicle for years and are hoping to make it the best working environment that you can?
Well, this article will touch on everything that you need to know to make your life in your cubicle the best it can be. I'll cover in detail: 1) the benefits of working in a cubicle, 2) the rules of proper cubicle etiquette, 3) essential cubicle desk accessories, 4) essential cubicle wall accessories, and 5) frequently asked questions about life in a cubicle.
Working in a Cubicle can be Gratifying and Productive
Having worked in cubicles for close to 40 years of my working life, I like to think of myself as an expert on the topic. Do you see that picture on top of this article? That's my cubicle!
I thought at one time that comparing cubicles vs private offices was a no-brainer. A private office is really nice but what I've learned over the years is that with that private office also comes much more responsibility. I'm happy in my cubicle as an individual contributor.
I also thought that at one point cubicles were going away but then came along the pandemic and it looks like cubicles just might be here to stay!
Some people who work in a cubicle all day might wonder how to make the workday go by faster but not me. Others might just try to find some really good excuses to miss work on short notice but certainly not me. The reason is that I find my workspace gratifying and rewarding and my working days tend to fly by.
So, for any of you out there just starting out working in a cubicle, this article will give you all you will need to know to get off to the right start and maximize your small, yet efficient and productive workspace!
And if it is a new job you're starting it's also important to know what to bring on your first day of work. The most important on the list are a positive attitude, listening skills, and a smile. You've been chosen to work at this new job so there's certainly a lot for which to be thankful.
7 Benefits of Working in a Cubicle
Many people tend to point out the negatives when it comes to working in cubicles but not me! I love my little work haven and I'll tell you why below.
You don't have to share your cubicle with anyone.
You can easily focus on your work due to the privacy of your cubicle.
You have your own storage in your desk drawers and overhead bin.
In keeping with corporate guidelines, your work cubicle décor is up to you. You have free reign to decorate with creative windowless office decorating ideas to match your personality. You can even implement your own DIY cubicle décor if you are creative.
You have your own walls upon which you can hang and display your favorite family photos and posters.
There are a multitude of specialized cubicle accessories available in the marketplace specifically made for a cubicle desk or a cubicle wall.
You can organize your cubicle to suit your needs and the way that you work because it is your space.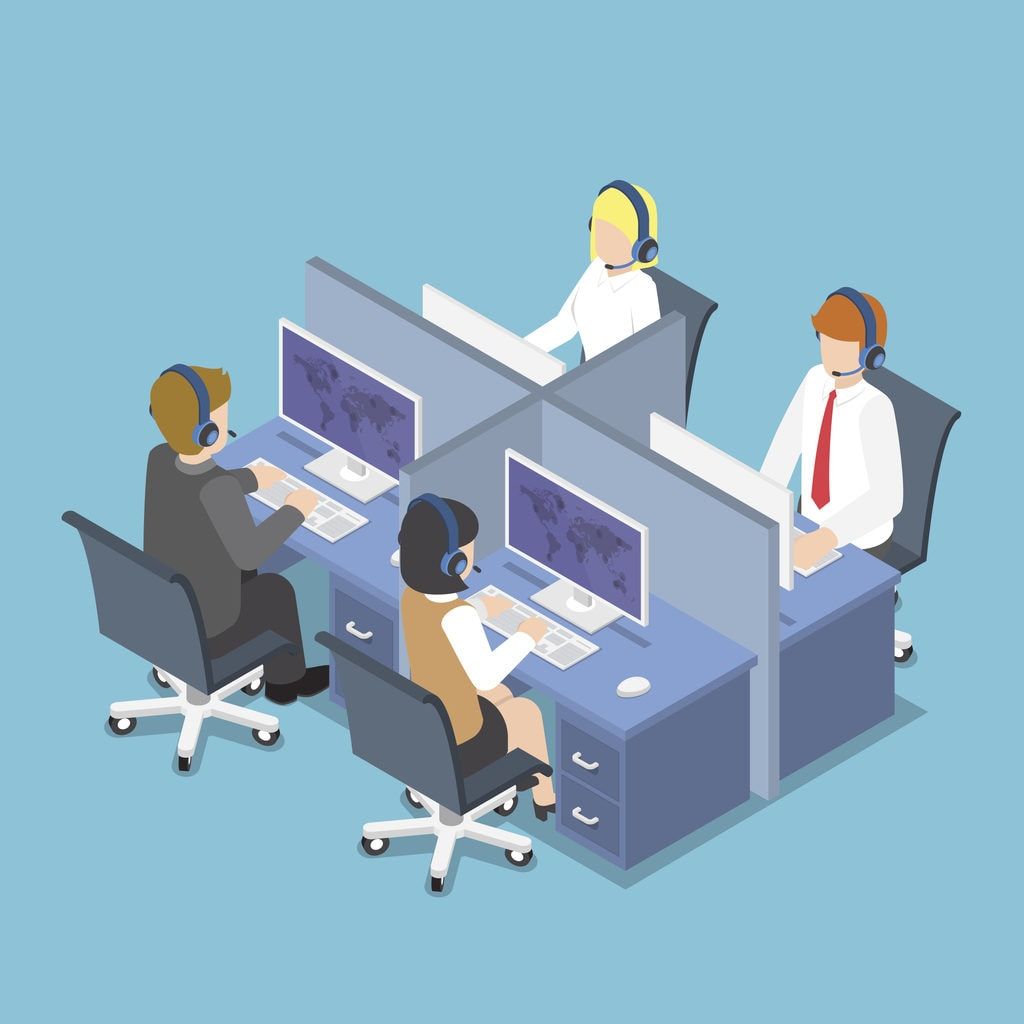 15 Rules of Proper Office Cubicle Etiquette
If you don't want to aggravate your neighbors, specifically your co-workers beside you and across from you in another aisle of cubicles you should behave properly. Here are 15 cubicle rules of proper etiquette that I have gathered over the years.
1. Don't schedule a meeting in your cubicle work space.
Find or book a conference room instead of trying to cram in more than one other person into your small office.
2. Wear earbuds or headphones.
If you plan on listening to music, sports talk, or a podcast in your cubicle. Your coworkers don't want to hear what you are listening to. Also, if you are listening to music on your earbuds or headphones, never sing along to your playlist.
3. Never use your speaker phone.
Pick up the receiver and speak quietly into it or into a headset that is attached to your work phone.
4. If you are attending a teleconference use your library voice.
Whether you have headphones or not speak quietly into your phone or the microphone on your headphones. If you can't speak quietly enough, grab your laptop and find the closest meeting room or available closed office and attend the meeting.
5. Never discuss personal issues while working in cubicles.
The walls are thin and your coworkers don't want to hear about your private business at home (unless they are nosy) or personal issues at work. Maybe you've noticed signs your boss is threatened by you due to your success at work and would like to open up to a coworker.
Maybe you're concerned about your teenage daughter and the friends with whom she is hanging around. Keep those types of conversations private out of the cubicle and preferably out of the building.
6. Eat any strong-smelling meals in the cafeteria.
If you just took a rather strong-smelling meal out of the company microwave, plan to eat it in the cafeteria and not in your cubicle. If you do eat at your cubicle you are sharing those odors with your coworkers who probably have no interest in smelling them.
7. Avoid having a conversation outside of someone else's cubicle.
Find a conference room or available closed office to have your conversation. You wouldn't like it if someone else did it to you.
8. Avoid coming up behind someone working in a cubicle.
Anyone sitting in a cubicle typically has their back to the aisle outside the cubicle. You could startle them if they don't have a cubicle mirror to see behind them.
If you have to drop in on them just tap them lightly on the shoulder or just lightly knock on their cubicle wall when you enter the cubicle especially if they have headphones on and cannot hear or see you coming.
9. Don't speak loudly over the cubicle walls to your coworkers.
If you need to communicate with them, just step into their cubicle and speak in a low tone, ask them to go for a walk and talk while walking, email them, or instant message them.
10. Tastefully decorate your cubicle.
Avoid putting up any risky posters, calendars, or any images in your cubicle. If you do, you could offend others who are walking by your cubicle and H/R just might make a visit to you.
11. Keep your coworkers informed when you are not in your cubicle.
If possible, purchase a visual out-of-office indicator for your office such as Flip It and set it to In a Meeting or On Vacation to let your coworkers know your status. This will extend common courtesy to your coworkers and keep them aware of your whereabouts instead of just using an email out-of-office message.
12. Do not use your cubicle for personal grooming.
Personal grooming such as flossing, brushing, putting on make-up, etc should not be done in your cubicle. Just head to the closest bathroom and bring your toothbrush, floss, hair brush, or make-up with you.
13. Do not borrow anything from someone's cubicle without permission.
Cubicles typically do not have doors and, because of this, it doesn't mean that you can just borrow a paper clip or post-it note from someone's cubicle desk that is not occupied. Respect that person's privacy and personal property.
14. Properly hang a nameplate with your title outside your cubicle.
If your company doesn't provide a nameplate for you, you can at least create a paper version within a text editor like Microsoft Word and print it out in bold. It is common courtesy to help coworkers in other parts of the company who don't know exactly where your cubicle is, to find you and identify you if they need to speak to you.
15. Turn your cell phone's ringer to vibrate or off if you left it in your cubicle.
Your neighbors don't have to hear your cell phone ring especially if you're not there to answer it. Better yet, leave it on vibrate even if you are in your cubicle so that others won't have to hear it ring.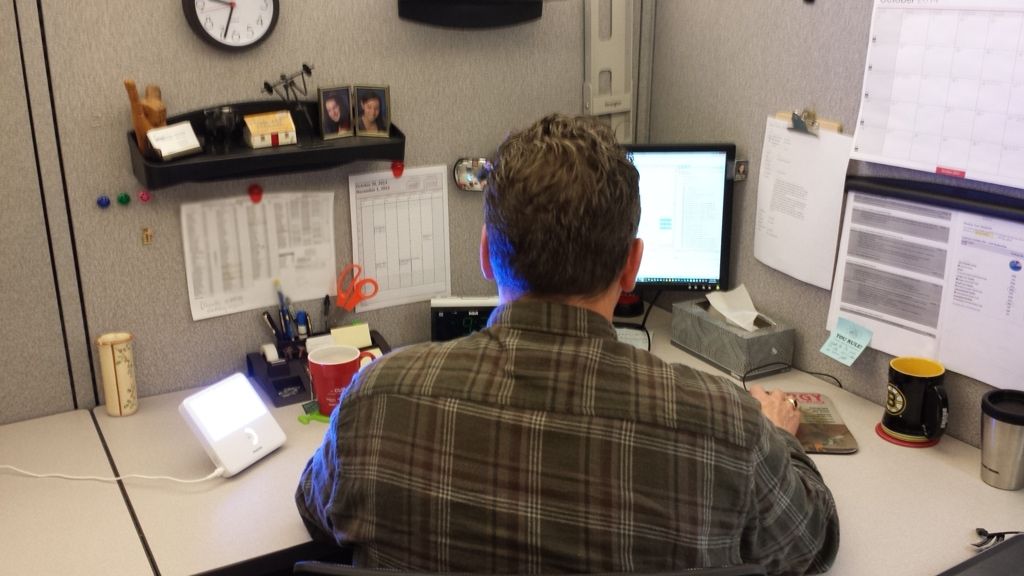 10 Essential Office Cubicle Desk Accessories
There are several essential office cubicle desk accessories you should have to make your life more efficient and pleasant in your cubicle. In my mind, there are certain things you need for your cubicle and here's a good list below.
1. LED Desk Lamp
An LED desk lamp will allow you to have plenty of light and should allow you to create the color of light and brightness that works for you. A sunlight desk lamp is another option which will help simulate natural light within a cubicle.
Lighting that simulates daylight is always a welcome addition to any dark cubicle. It will not only brighten up your workspace it will also enhance your energy levels at work.
2. Computer Monitor Mirror
I learned a long time ago that it was important for me to invest in a computer monitor mirror so that I can easily see someone sneaking up on me from behind. For short money, it's a very practical investment!
3. Monitor Stand with Storage
Ergonomically you always want to have your computer monitor at optimum height. A monitor stand with storage will do that easily for you and may also provide additional storage for your smaller office accessories like paper clips, pens, pencils, and binder clips.
4. Corner Desk Shelf
One of the most important aspects of any cubicle accessory is to maximize the space you have on your desktop. A corner desk shelf unit will do just that because it occupies the corner of your desk which is typically an unused piece of real estate.
5. Desktop Organizer
This is what I consider a mandatory desktop item especially for a cubicle which has a limited amount of space. A Post-it desktop organizer is my go-to organizer since it has a small footprint and can hold a multitude of small office accessories.
6. Headphones Hanger
Since almost everyone uses earbuds or headphones, especially in a cubicle, having a dedicated accessory to store them is essential. A unique headphones hanger will allow you to always know where your headphones are located in your cubicle.
7. Desktop Phone Stand
A desktop phone stand is an essential desk accessory for me to be able to hold my cell phone or whatever device you want it to hold.
8. Copy Holder
A copy holder is a rather unique accessory which will be your third hand. Just place whatever you want to transcribe into your computer onto your copy holder and you're good to go!
9. Visual Out-of-Office Indicator
A visual out-of-office indicator is a flag or visual signal to your coworkers that will let them know your whereabouts if you are not in your cubicle. Instead of just using an email out-of-office indicator this one will be visible within your cubicle.
10. Portable Mini-Refrigerator
OK, this may not be on the desk but a portable mini refrigerator typically will fit perfectly just under your desk. Just measure ahead of time before purchasing. It's just a little touch of home that really can make your cubicle sing. I don't know what I would do without mine.
10 Essential Cubicle Wall Accessories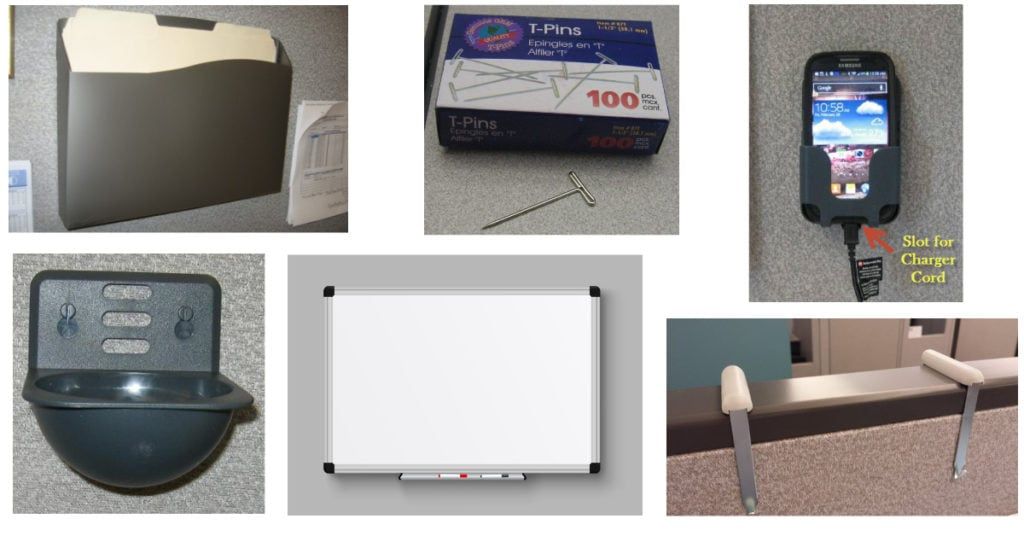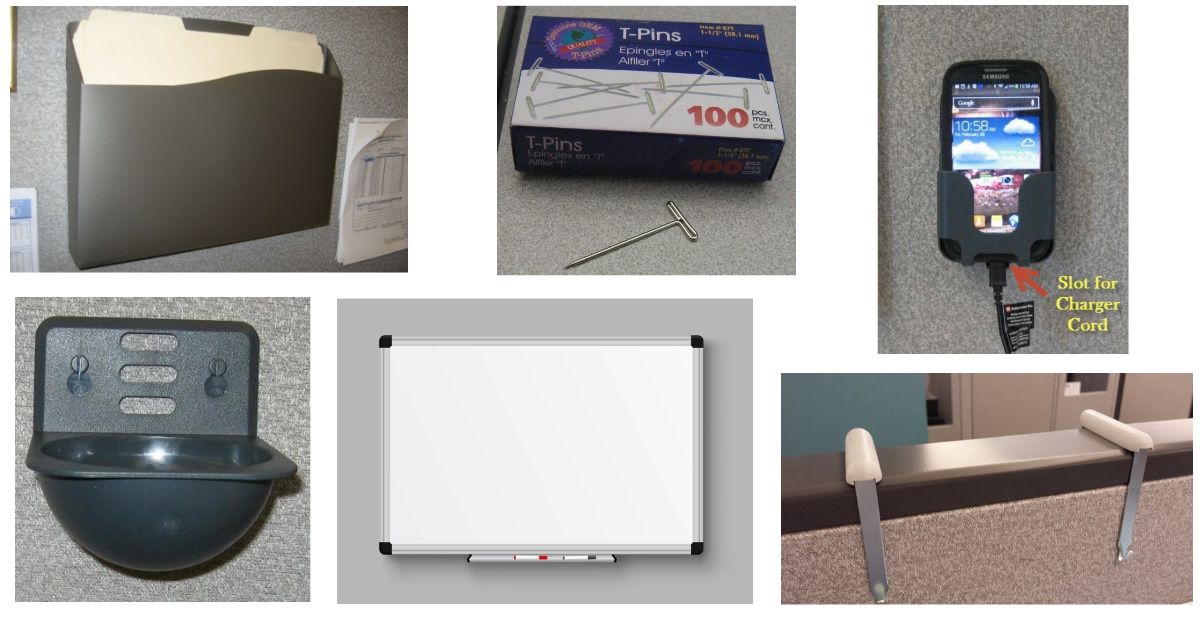 Cubicle wall accessories are specialized items that have been developed and manufactured specifically for a cubicle wall. Here are a few things you need for your cubicle that I have collected over the years for my office cubicle.
1. Cubicle Shelf
A cubicle shelf typically only holds about 5 pounds but is perfect for a couple of family pictures or a small plant like a succulent. It utilizes stainless steel needles that sink into your fabric walls and can be placed anywhere on your cubicle walls.
2. Hanging Corner Shelf Unit
A hanging corner shelf unit either hangs from the corner of your cubicle walls or is kept up with stainless steel needles that are inserted into the fabric walls.
3. Cubicle Hangers
Cubicle hangers are adjustable specialized hangers that are made to adjust to fit to grab onto your cubicle walls from which a whiteboard or poster can be hung.
4. Wire Paper Tray
A wire paper tray will allow you to utilize your cubicle walls to hang file folders or any work documents freeing up your limited desktop space.
5. Hanging Letter Tray
A hanging letter tray is another wall shelf upon which you can store your most important project folders so that they are always accessible when needed.
6. Push Pins
Push pins are awesome cubicle hangers which are simple to use and allow you to attach documents, postcards, or pictures to your fabric cubicle walls.
7. Mounting Squares
Mounting squares are great for hanging a light picture or poster on your office cubicle walls.
8. Over-the-Panel Coat Hook
An over-the-panel coat hook is a simple hanger for your cubicle wall upon which you can hang your coat.
9. Panel Wall Clips / Cubicle Hooks
Panel wall clips and cubicle hooks are what I feel mandatory accessories for a cubicle. They will allow you to hang any type of document, post card, or picture from the walls of your cubicle.
10. T-Pins
T-pins are simple stainless steel pins typically used for hemming pants by tailors which can be used to hang even heavier objects on a cubicle wall. For short money, one box will last you a lifetime of working.
Frequently Asked Questions about Working in a Cubicle
What is it like to work in a cubicle?
A cubicle is a space that you can call your own. When you walk into it each morning it is exactly the way you left it. It has your own personal photos on the wall, your own personal decorations, and it is organized exactly the way you left it the previous night.
So, for me, working in a cubicle is much more preferable than working in an open office or a closed office. With an open office there are distractions and no personal space. With a closed office comes more responsibility like having people work for you and having to review them on a regular basis.
Are cubicles healthy?
Since the pandemic hit us back in 2020, cubicles have had a bit of a revival because they are free-standing with their own built-in cubicle sneeze guards. They are as healthy an environment that you are going to find in an office environment. That is unless you are cubicle sharing and then you have to worry about the coworker that shares your cubicle.
How do you stay sane in a cubicle?
The answer is simple and it's the same as if you were in a closed office space. You have to take occasional breaks to meet with coworkers. At lunchtime listen to some music or a podcast that motivates you. Take a walk outside to get some fresh air even if it's only for 15 minutes. Working in any office space has its challenges and sanity is just a state of mind.
What jobs do you work in a cubicle?
Some common jobs that are done within a cubicle are software developer, social worker, web developer, technical writer, and customer service representative. Any job that can be done independently could be done so within the confines of a cubicle.
What's the best advice to give to someone starting in a cubicle?
Have an open mind when it comes to working in a cubicle. Follow the proper rules of cubicle etiquette mentioned above in this article. You had really good vibes when you interviewed for your job when there were clear-cut signs you got the job. Take those positive vibes and be happy that you have your own working space to come into each morning.
Embrace the fact that you can decorate and organize your own little pod in the manner that suits you best. Don't complain about your working environment. Be grateful that you are gainfully employed and have your own workspace.
What to Read Next:
Bob has been blogging for over 20 years and has been an office and cubicle dweller for more than 40 years. He created the popular office website CubicleBliss in January 2011 and rebranded it as
WorkspaceBliss
in April 2020. Over the years, he has been a regular writer for popular blogs such as
DailyBlogTips
and
WorkAwesome
(can read his articles
here
).
In the office he's been an IT Manager, Applications Engineer, Systems Analyst, Software Project leader, and Programmer Analyst in his long career. He's a Certified Microsoft Professional and possesses a Masters of Science degree and two Bachelor of Science degrees, one of those in Informational Technology.