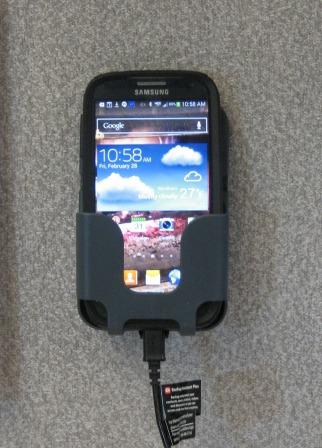 I finally bit the bullet and joined the ranks of smart phone owners and purchased a Samsung Galaxy S4 within the past few weeks. Honestly, I really do love it and my cell phone has now become a focus of my life. I love the fact that I can install Apps that are geared toward my interests such as sports, the internet, financial planning, and productivity.
As you all know, I hate to clutter up my cubicle desktop because, if it is cluttered, I feel that it hinders my productivity. A desktop cell phone holder, one of which I write about in this article, is another option for those of you who want your phone on your desk.
I wanted to have my new Samsung Galaxy close to me while I was at work but I didn't want to keep it on my desk. So, I found an Officemate OIC Vertical mate Cell Phone Holder on Amazon and it had some really good reviews. For less than $10, I decided to purchase it.
There was no assembly required so my biggest concern was how well it would fit my fairly large Samsung Galaxy S4. Well, you can see from the photos here that it fits like a glove. In fact, it can fit any type of smart phone, including the ever-popular iPhone nicely. One of the features that I especially like is the fact that there are slots that allow me to run my charger cord through the unit to my cell phone so that I can keep it charged throughout the workday.
For anyone who owns a smart phone, which are most people, then you certainly know that you need to charge if often! That's one thing that was a rude awakening for me compared to my former flip phone. I actually charged my old phone once a week, believe it or not! Now, I make sure that I have a cell phone charger in my car, at home, and at work. I carry a charger with me in my rolling laptop case and can use it in my car or in my office cubicle. I may end up buying another charger that I can actually keep at work but it's easy enough to transport.
As like most of the cubicle wall accessories that I own, like my cubicle shelf that I write about in this article and my cubicle wall pocket that I write about here, this unit hangs using stainless steel needles that sink into the fabric of my cubicle walls. What's so great about this unit is that if you don't like it in one spot on your cubicle wall, just lift it up and move it somewhere else. Easy peasy…
Check out some of the images below of my versatile, out out-of-the-way, Officemate Cell Phone Holder.
(Click on any image for a larger view)
Features of the Officemate Cell Phone Holder
Securely holds any size cell phone on a cubicle wall.
Convenient slots available for your charger cord.
Item weight: 2.9 ounces
Product Dimensions: 3.5 x 2.9 x 5.2 inches
Color: Charcoal
If you too have a cell phone which is the focus of your life and you work in a cubicle each day, this Officemate OIC Vertical mate Cell Phone Holder will allow you to access it easily and not clutter up your desktop. I love mine and I'm sure that it will work beautifully in your office cubicle.
Here are some other popular cell phone holders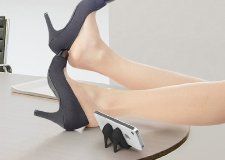 Fred and Friends Cell Phone Holder(Match your cell phone holder with your work wardrobe 🙂 )
Whatever you choose for your own cell phone holder at work or in your car, the main point is that it makes your life a little bit easier and your cell phone just a little more versatile. There are lots to choose from so read the reviews before you buy and don't hesitate to contact me if you need any more details!