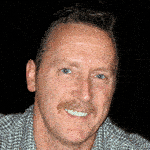 Welcome to Workspace Bliss! My name is Bob and I am the owner of this site and a fellow office dweller for the past 35 years.
I started this site back in January of 2011 have been extremely passionate about making life in the work office or home office blissful. I telework part of the week and I am in the office during the remainder of the week.
I've been a paid writer for a very successful work-related blog site called Work Awesome (you can read my articles here) which inspired me to develop Cubicle Bliss in 2011. In April of 2020 I migrated CubicleBliss.com to WorkspaceBliss.com because I wanted my readers to know that I not only cater to making life in the cubicle better but to all workspaces!
I will present you with different ideas on office accessories, organizational solutions, workspace décor upgrades, storage solutions, and office accessories that I have incorporated into my own office environments. I will also give you general office advice and tips that I have gathered through my many years of work.
Thanks for dropping by and I hope to see you here often. If you are interested in advertising on this website please feel free to contact me by using the Contact Me page. I would also appreciate if you could let me know how I could improve your experience here at Workspace Bliss!