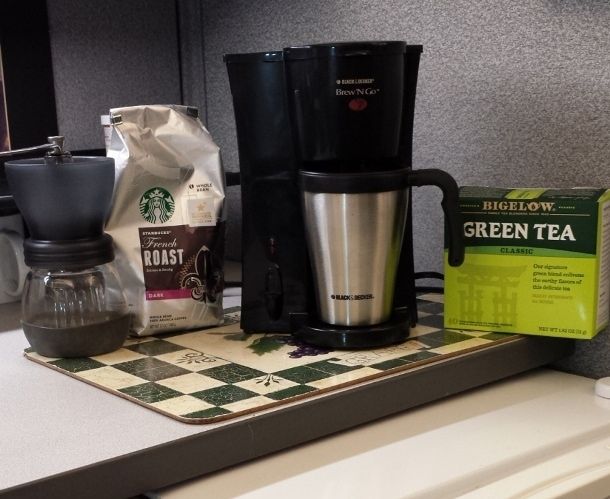 My Coffee and Tea Corner in my Office Cubicle
I recently added a T-fal Electric Mini Kettle
As you know, if you've been reading any of my articles, I try to make my cubicle as homey as possible. This article, in particular, really hit home (no pun intended) the creed that in order to really love your workspace it helps to have it feel like home. I know that it works for me but I've seen others in my company that have probably the most generic cubicles I have ever seen with no signs of life whatsoever. But they like it like that and are productive in that environment.
Not so for me. I need to know that my office reflects my personality and it is a comfortable place to spend my working days in over and over again. One of those little homey aspects of my office cubicle is my Coffee Corner. OK, I also drink green tea after I have my really powerful 1 cup of Starbucks coffee brewed in my Black and Decker Brew N Go. I also consider myself a coffee snob because I grind my own beans with my burr coffee grinder that I write about in this article. At home I certainly understand the benefits of pour over coffee as that is the method of choice.
The one you see in this picture on the left is not my latest Hario manual coffee grinder. I actually bought one for my home and, with the newer version that was the same price, it also includes a rubber cover to prevent any beans that you are grinding from popping out of the grinder. Believe me, it doesn't happen very much but it really is a nice convenience to have the rubber cover.
I also love my Bigelow Green Tea and I drink it because it is healthy for me and also it has a much smaller percentage of caffeine than the Starbucks. It has allowed me to cut back a little on my caffeine but still enjoy my initial cup of Joe in the morning when I get to the office. One item that I still want to add to my office is an electric water kettle. We have this model at home made by Chef's Choice and we love it for heating up water quickly.
So, if you too want to add a cool little twist to your own office, consider adding a unique little coffee corner. It won't take up much room but you'll be the envy of your co-workers!