Do you want to learn how to create an office coffee corner and tea corner in your work or home office? Well, I've created a cubicle coffee station and tea corner and this article will show you how to create your own, step-by-step.
Sometimes it makes a lot of sense to try to make your office like your home so that you feel comfortable coming into it each day.
One of those upgrades that I decided to create in my office cubicle was to create an cubicle coffee station. It doubles as a tea corner if I'm in the mood for tea.
7 Steps to Create an Office Coffee Corner and Office Tea Station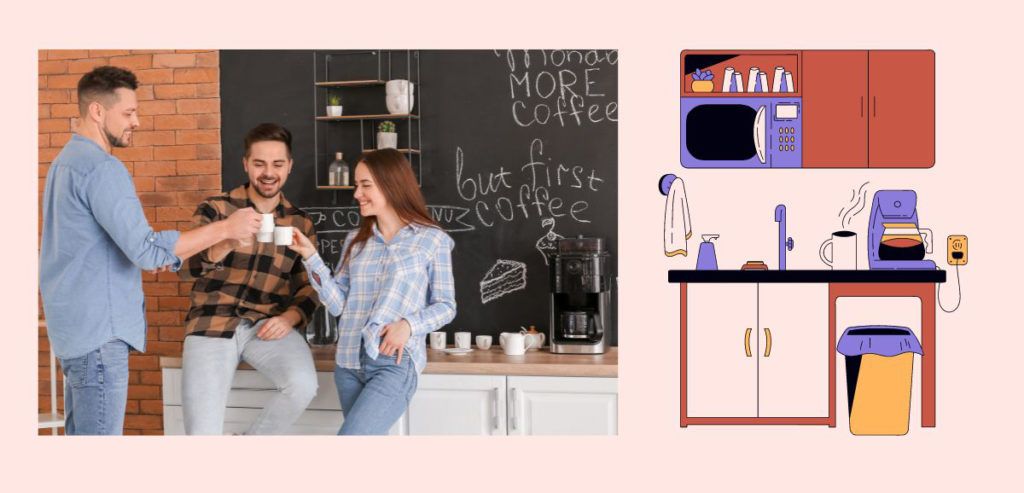 Coffee stations for office workers just might be catching on. Just an extra benefit an employer can offer their employees. I didn't wait for my employer to create a workplace office coffee station or office coffee bar. I created my own!
You can come up with your own coffee corner ideas but since I've created by own let me show you how below.
1. Pick the Perfect Spot
Even though I'm calling it a coffee corner for office workers, it really doesn't have to be in the corner. For me the corner worked because in a cubicle there isn't a lot of space.
One of the most unused space is in the corner of my desktop so I went with that!
2. Lay Down a Desk Protector
Since you are creating this in your work office, assuming it isn't your home office, you want to ensure that your desktop doesn't get damaged by some hot water or coffee being dripped on it.
A clear PVC desk protector would work fine. Even a desk mat would be a great choice. Just something that will protect the desk in case of spillage.
3. Coffee or Tea or Both?
Is tea something that you would drink at work? Do you want your coffee and tea corner to be just for you or also for your coworkers?
If you're looking to provide coffee and tea for more than just yourself take an inventory with your coworkers and ask them what they prefer during the workday.
You might end up just creating an office tea station if that is your preference. For me that wouldn't work as I love my coffee!
4. Purchase an Electric Kettle
Electric kettles are extremely popular in this day and age. Find one that works for you. You should probably think about size because a lot of electric kettles are on the small side.
If you are making coffee or tea for more than two, you should scope out a larger electric kettle.
If you prefer pour over coffee vs coffee from an individual coffee maker, you'll want to purchase an electric kettle for your coffee corner in office. It all depends on the type of coffee that you prefer.
An awesome kettle that I purchased for my home office is called the Cosori Electric Kettle. It heats up water to certain temperatures for pour over coffee and different types of tea.
The options are endless for electric kettles. Just find one that works for you.
Another option is to pass on the electric kettle for tea and use the company microwave to heat up your water.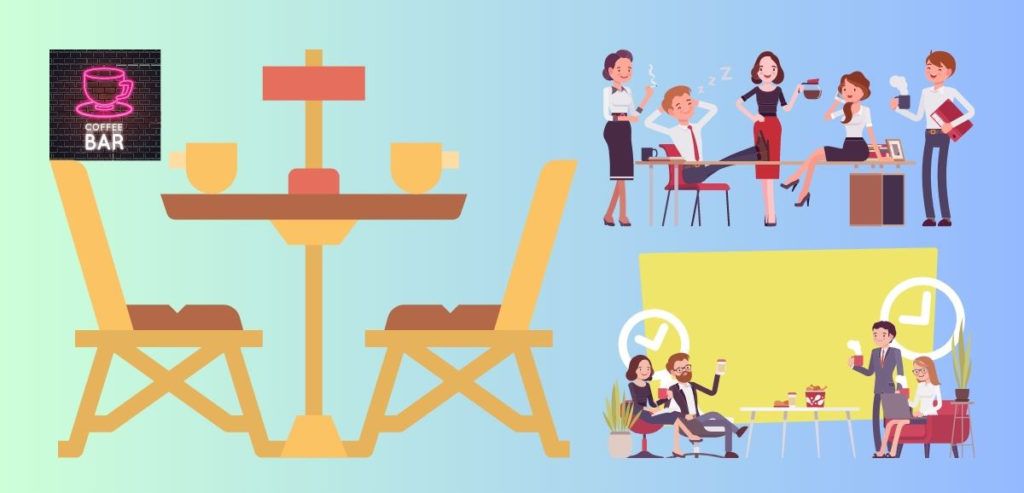 5. Purchase a Personal Coffeemaker for Your Office Coffee Bar
The coffee maker you see above is a one cup coffee maker made by Black & Decker. It has worked for me for many years. Even if you have to make coffee for many people, this one makes a cup really fast.
So the next person will have to wait just a few minutes for their cup.
BTW, you don't have to use the thermal mug provided. You can simply place your own coffee cup underneath and the nectar will pour into it.
6. Buy Coffee, Tea, and a Coffee Grinder
I like my coffee fresh so I always grind the beans. If you don't want to take the time and use a manual grinder you could purchase an electric burr grinder. I use a manual coffee grinder from Hario and even have one at home.
7. Buy a Power Strip
One issue you will eventually consider is purchasing a power strip for the many different plugs you will be using for the coffee maker, electric kettle, and an automatic burr grinder if you happen to use one.
It will just make your life a whole lot easier. A GLCON Tower Power Strip is what I bought for my various plugs.
---
It's as simple as that to create your own office coffee and tea corner! Granted, there is some investment involved in creating an office coffee bar but the freedom of being able to brew up your favorite brew at any time is all worth it.
You just have to decide whether you want it just for your own personal use or you want to create a community office coffee tea corner for some select coworkers.
10 Benefits of an Office Coffee Station and Tea Corner
1. You Don't Have to Drink Company Coffee
I'm very particular about my coffee and it needs to be great. For years I'd settle for the company coffee and now I don't have to any longer, even though it's free!
2. You Don't Have to Leave the Comfort of Your Office
Working on an important project and have time constraints? Just fire up the coffee maker and you can keep on working to get the job done.
3. Your Office Will Feel More Like Home
This is one of the biggest benefits. I like the comforts of home and this just upgrades my office environment to make my office feel more like my own home.
4. You can Switch it up Whenever you Want
Getting tired of the coffee or tea you are drinking? If the company is providing one type of coffee it's not very easy to have them provide something new. With your own coffee corner in office you have the control!
5. Your Company May Recognize the Benefits
Maybe you end up being the pioneer when it comes to creating a cubicle coffee station and tea corner in your own office. You might discover that the powers-that-be are watching and may spring for a companywide office coffee station.
6. Productivity Boost
With your own coffee tea station you'll find that your productivity will soar because your working environment will be that much more enhanced.
7. Caffeine Pick-Me-Up
Having easy access to your favorite caffeinated drink will give you that much-needed shot in the arm when your energy tends to wane in the afternoon hours. It should also add a higher level of focus and concentration which cannot be underestimated.
8. Morale Booster
Having a coffee station available at your disposal will not only give you a productivity boost and a caffeine pick-me-up but it should also boost your morale as well as your coworkers who are partaking of your coffee and tea station.
Enhancing positive energy in the workplace can go a long way in the eyes of upper-level management.
9. Enhanced Employee Socialization
Even if the coffee and tea station is in your office, if you are opening it up to coworkers, an increased level of employee socialization can be achieved. You can do your part in enhancing the social culture in your office.
10. You'll be Popular!
If you are a giving person, you can now offer your favorite coworkers a great cup of coffee or tea. Believe me, I've done this on many occasions and it can't hurt to have friends at work.
Sometimes it just makes sense to shake it up at work and my coffee and tea corner does just that for me. you might also want to consider an upgrade like this one yourself.
Come up with your own coffee corner ideas for office just to make it more personal for you.
Frequently Asked Questions about an Office Coffee Station
What do you put in an coffee station for office workers?
From my experience there are some mandatory items.
Personal coffeemaker
Electric kettle
Whole bean coffee
Various types of caffeinated and herbal teas
Burr coffee grinder (manual or automatic)
Extra coffee mugs (for coworkers)
Box of biscotti or sugar cookies. They go great with coffee!
Why should I create an office coffee corner and office tea station?
If the coffee and tea is only for you then it's mainly for the convenience of having coffee or tea at any time of the day in the comfort of your own office. If it's also for your coworkers it is a great way to boost morale and create a sense of community in the workplace.
How do I choose the right location for my office coffee corner?
When choosing a location for your coffee tea corner, you'll want to consider two things: traffic flow and proximity to outlets. You'll want to choose a spot that is centrally located and has plenty of counter space especially if your office coffee corner is not just for your own personal use.
Additionally, make sure the coffee corner is near outlets so that you can easily plug in your coffee maker and other equipment.
What can I use as a coffee station or tea corner?
If it's at work and you have the space, you can use an unused portion of your desktop. More often than not it will probably be an unused corner of your desktop. It's a great way to utilize unused space in the office!
How do I set up a coffee bar in my office?
Just think about all of the items that you have when you make coffee at home. One thing that may be overlooked is that you should always protect the desktop with a glass or PVC desk protector. You could also utilize a desk mat which is waterproof and that could also protect the top of your desk.
Then just start placing items like your coffee maker, electric kettle, coffee grinder, bag of coffee, coffee filters, etc. in such a way that it makes a nice presentation on your desktop.
How can I make my office coffee corner more inviting?
If you are making this coffee corner a community coffee corner there are ways to make it more inviting.
Choose a centrally located spot so that everyone can easily access it.
Make sure there's plenty of counter space for coffee makers, sugar, creamer, cups, etc.
Consider adding some decorations or signage to make the space more inviting.
There are a variety of decorations or signage you can add to make the space more inviting. For example, you could add a coffee-themed clock or a sign that says "Coffee Corner." You could also add some plants or flowers to spruce up the space. Whatever you choose, be sure to keep it simple so that the coffee corner remains inviting and comfortable.
Adding an office coffee tea corner certainly make your 9-5 a whole lot more pleasant. You just might not dread coming into your office each day as a result!