If you sit in a small office or cubicle each day of your working life, as I do, you know that you have to make the best use of that small amount of real estate. I have done this repeatedly with my cubicle shelves, desk shelf, and hanging letter tray. All of these cubicle accessories I have utilized to maximize the limited amount of space that I have in my office.
Recently I made a purchase of a Sparco mesh phone stand for my office cubicle and it was the perfect cubicle accessory for my office phone. The phone stand is made out of black mesh metal which is very solid and attractive looking. One of the cool features of this phone stand is that it also comes with a side compartment which is perfect for my notepad which I carry around with me to meetings or take notes at my desk (see images below).
The other feature, which is basically why I purchased it, is that it elevates the phone about 4.25" and leaves plenty of space underneath for any office accessories that you can fit in there. I place an extra tape dispenser under there and a stapler but there is still plenty of room for other items should I wish to store them there.
Setting up my Sparco Mesh Phone Stand
(Click on any of the images below for a larger view)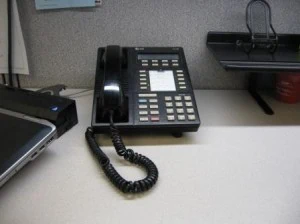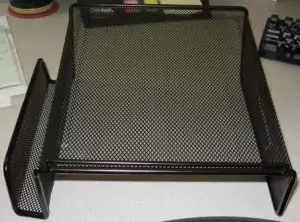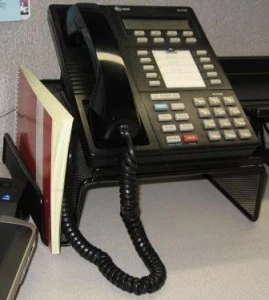 Features of the Sparco Mesh Phone Stand
Color: Black
Dimensions: 4.25″ Height x 10.5″ Width x 10.25″ Depth
Material: Steel
Item Weight: 8 ounces
If you are like me and try your best to make your work space the best that it can possibly be, you may also want to add a phone stand to your own office. Making the most of your small amount of space with the best looking and practical cubicle accessories, will make a difference in your working life. Every little bit helps and the Sparco mesh phone stand is one of those small changes you can make that will add to your working environment.
Bob has been blogging for over 20 years and has been an office and cubicle dweller for more than 35 years. He has been featured in numerous online publications such as US News and World Report, Bustle, and Work Awesome (you can read his articles here). He created the popular office website CubicleBliss in January 2011 and rebranded it as WorkspaceBliss in April 2020.
In the office he's been an IT Manager, Applications Engineer, Systems Analyst, Software Project leader, and Programmer Analyst in his long career. He's a Certified Microsoft Professional and possesses a Masters of Science degree and two Bachelor of Science degrees, one of those in Informational Technology.
During his career he has worked in the office full-time, as a hybrid remote worker, and has worked from home permanently.