As I have oftentimes mentioned in my articles, I get a lot of great ideas from my readers. This is certainly the case with this rather versatile cubicle accessory. Someone who recently visited my site purchased a Fellowes Partition Additions Note Rail and, honestly, when I first saw it, I didn't know this product even existed (at this wide dimension) for the office.
I actually own a smaller version of this note rail that is used for notes on our refrigerator but it's about 4″ wide and this unit is 18″ wide!
So I took a shot and purchased one a couple of weeks ago and added it to my cubicle wall. As with many other cubicle wall accessories like my Cubicle Utility Bowl, Cubicle Cell Phone Holder, Cubicle Wall Pocket, and my extremely popular Cubicle Shelf, it hangs on the wall using stainless steel needles affixed to the back of the unit.
Believe me, these stainless steel needles work awesome as I've had my Cubicle Shelf loaded up on my wall for about two years and it hasn't budged. You can check out how easy it is to put together and hang in your office cubicle below. I think it took me all of 5 minutes to set mine up!
Assembling and Hanging the Fellowes Partition Additions Note Rail
(Click on any of the images below for a larger view)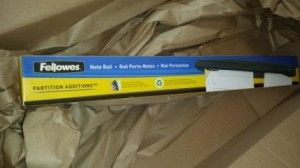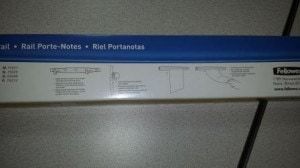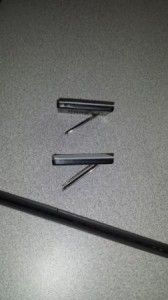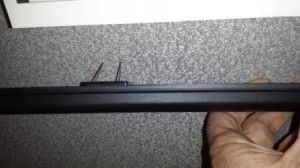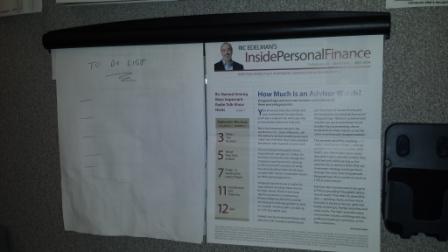 Features of the Fellowes Partition Additions Note Rail
Holds up to 15 sheets individually or in stacks without tacks, pins, or tape.
Displays 2 letter-size documents side by side (my favorite feature).
Can hold up to 5 lbs without damaging cubicle wall.
Product Dimensions: 0.8 x 18 x 1.9 inches
Item weight: 5.8 ounces
Color: Graphite
If you think that this novel cubicle accessory could help you in your own office cubicle, it's hard to go wrong for the money. I always need to display pertinent information in my office so this accessory does the trick for me. If you want to keep your To Do List prominent in your office or any other reference document, this is the tool to use. If you simply want to hang a poster, this is an awesome item to use since it is so wide. If you have any questions or comments please leave it in the comments or contact me directly!