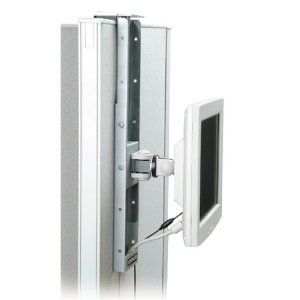 I've been on a kick lately with my office cubicle to open up as much space as possible on my desktop. To me, a cluttered desktop is completely demotivating. If I walk into my office cubicle in the morning and see a pile of papers and file folders on my desk, I just want to turn around and head for home.
I recently came across a computer monitor wall mount that has allowed me to open up some space on my desktop and also allows me to easily clean under the monitor which is a weekly cubicle maintenance task for me. I've owned this Kensington flat panel monitor cubicle hanger for a couple of weeks and I wish I bought it sooner. But, to be totally honest, I didn't even know that they existed until I saw one in an office product magazine. Cubicle hangers can take many forms including coat hooks and plant hangers but this was the first monitor hanger I had seen.
Utilizing the walls of my cubicle has really opened up a lot of real estate on my desktop and I wish I had thought of it a lot sooner. Check out my before and after pictures below. I think you will see the difference the LCD monitor wall mount has made in my office.
Adjustable to secure to any cubicle wall thickness.
Easy to assemble with no drilling required (screwdriver enclosed).
Supports computer monitors up to 20 lbs with 8 adjustable height levels.
Can hang on an adjacent cubicle wall for corner office display. Tilts 90 degrees.
Allows you more desk space since monitor is suspended above desktop.
Allows you to easily clean desktop below the monitor.
If you are interested in making your office cubicle the talk of the company, you too can order a Kensington flat panel monitor cubicle hanger. You certainly won't regret the decision. If you'd like to read about three of my favorite flat panel monitor computer accessories you can read about them in this article. If you'd like any more information about this computer monitor wall mount please use my Contact Me page or just leave a question in the comments.