Are you looking for a fun office accessory that will add some levity to your office environment? Well this article will give you some details and reviews of my cool little toy, the No Button, that you can spring on your boss or coworkers when they ask you for something!
The No Button Desktop Toy
I love my little desktop toy and some even call it the Noooo Button and if you listen to the various versions of No in my YouTube video below you'll certainly understand what I mean.
Sometimes even my co-workers borrow it from me when they need to say No too.
This is just another one of my fun desk accessories that help me get through the work day. The two images above are the button sitting on my desktop in my cubicle at work.
As you can see above, my button that says no is directly next to my favorite cubicle accessory, my Post-it desktop organizer which I couldn't do without in my small office cubicle.
Why should you buy the button that says no 10 different ways?
There's no definitive reason other than it's really fun to have around in the office. My coworkers love mine and some of them have even purchased their own. That's certainly fine with me because I'd rather not lend it to anyone.
This really cool just say no button is very reasonably priced at just around $15 US. For all of the joy it brings to my office, it was a no-brainer for me!
The images below show the box the my button arrived in closed and open. It comes in simple packaging as it is a relatively small desk toy measuring 3.7 x 2 x 4.3 inches.
Features of the Big Red NO! Button Desktop Sound Toy
| | |
| --- | --- |
| Product Dimensions | 3.7 x 2 x 4.3 inches |
| Batteries | 2 AA batteries required. |
| Item model number | TheNoButton |
| ASIN | B00I49MWKU |
| Customer Reviews | 4.7 out of 5 stars (741 ratings as of 9/10/2022) |
| Item Weight | 3.2 ounces |
| Manufacturer | Larkin |
| Date First Available | January 25, 2012 |
Some Recent Amazon Reviews of the No Button (as of 9/10/2022)
The reviews are high on Amazon for this fun little desktop toy. The button that says no gets a 4.7 out of 5 stars and that's not from a handful of buyers but 741 as of 9/10/2022.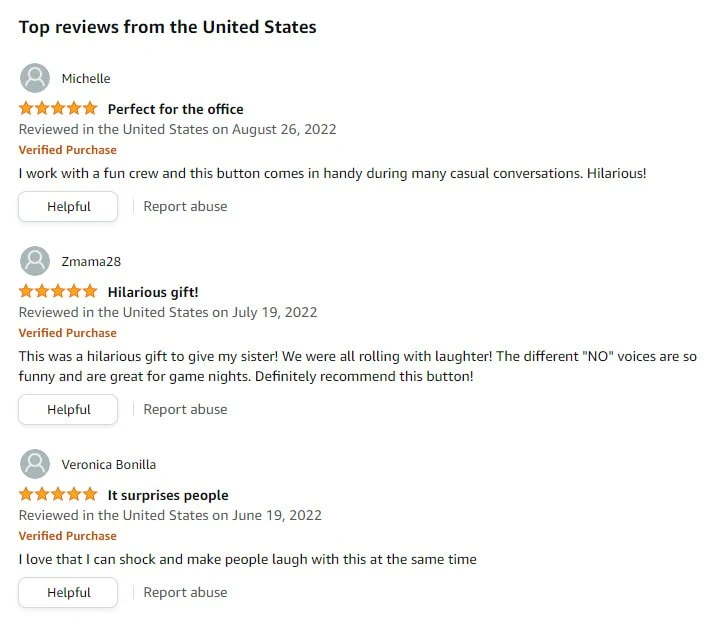 Noooo Button YouTube Video
The many different versions of No button sound are hilarious and I have one particular coworker who needs to listen to all of the various versions before she even starts the day. It really kicks off her morning. Check out my just say no button and the 10 clever ways you can actually say NO!
There are many different ways in which you can add some levity to your office environment. Whatever you want to call this small desk toy – the no button, no button, just say no button, button that says no, no button sound, or noooo button, it's certainly a great addition to your work desktop or even in your home office.
I think that choosing this great little toy is a really smart choice. Believe me, it has been a bit hit at my work. If you like this zany little toy you might want to check out the other fun buttons below.
Other Office Desk Toys
There are a whole family of desk toy buttons out there from which you can choose. Here are just a few of them seen below. I'm sure out of all of the options you may be able to find one that suits your mood. This is just a small sampling of what's available in the marketplace.
Bob has been blogging for over 20 years and has been an office and cubicle dweller for more than 35 years. He has been featured in numerous online publications such as US News and World Report, Bustle, and Work Awesome (you can read his articles here). He created the popular office website CubicleBliss in January 2011 and rebranded it as WorkspaceBliss in April 2020.
In the office he's been an IT Manager, Applications Engineer, Systems Analyst, Software Project leader, and Programmer Analyst in his long career. He's a Certified Microsoft Professional and possesses a Masters of Science degree and two Bachelor of Science degrees, one of those in Informational Technology.
During his career he has worked in the office full-time, as a hybrid remote worker, and has worked from home permanently.