I use binder clips all the time. I also make sure I have them in all different sizes. I tend to get a kick figuring out different ways to utilize common office products and cubicle accessories. Well, a binder clip can have multiple uses.
You can use them to help you with desk cable management ideas in your office or cubicle or you could even use them along with a panel wall wire hook to hang a poster or a calendar. How about using a simple binder clip to keep nylon blinds from rattling next to an open window. At my work, we use them for this purpose all of the time (maybe not in the winter :-)). I even came up with a really cool way of hanging a bunch of binder clips on my cubicle wall. All of these examples are shown in the photos below.
Novel Ways of Using and Storing Binder Clips
Click on any image for a larger view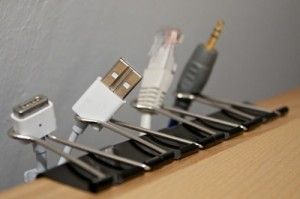 This comes directly from my Pinterest group board called Cubicle Nation! This article will show you some of the pins on that board. You might want to check out all of my Cubicle Bliss Pinterest boards.
Check out a variety of clips for your own office
Click on any image or link for more details
If you have any ideas for using common cubicle accessories in your own office or cubicle, please let us know in the comments or you can use my Contact Me page! Don't forget, we're now on Facebook!