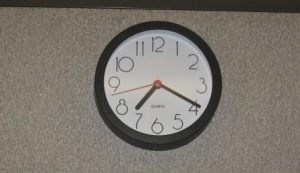 I recently added the cubicle clock seen here to my work space after seeing one online. I really liked the clean and simple look to it and it actually reminded me of a smaller version of the clocks that used to be in the classrooms when I was a growing up.
Sometimes a throwback look really adds a certain cool ambience to any room or office. For a little fun, I put together 4 of the benefits that I've found since I added this cool clock to my cubicle.
(By the way, don't forget to scroll on down to see the many images of it and how I ended up hanging it in my office.)
1. It will enhance the decor of your cubicle.
If we care about our office space then we also care about how it looks. Cubicle décor is something that is important to workers throughout the world. Just check out Pinterest! I have many different boards on Pinterest, not the least of which is my most popular board called Cubicle Nation. It's a group board and if you follow it I will make it a point to invite you to pin to it. This board covers all aspects of working in an office all day long including office décor. I have a specific board called Cubicle Décor which is solely devoted to enhancing the décor of your office. (FYI, I'm also in the process of writing a new book specifically associated with enhancing your cubicle's décor).
2. You'll be on time for your meetings.
One particular thing I have noticed at my workplace is that almost everyone is late for meetings. Well, since I have noticed this, I decided to make it a point to try to be on time for any meeting I have been invited to or that I have actually organized. This cubicle clock, since it is on the wall just to the left of my computer monitor, has kept me aware of the time even while I'm focusing on the tasks at hand. It is a constant reminder of the time of the day so that it helps me be on time for meetings or for a luncheon that I have that particular day. I think it's important to be punctual, especially at work, because I think it's a reflection on your work ethic and consideration for others.
3. Your co-workers will be jealous.
Since enhancing my cubicle's décor is a priority for me, there have been many times that my co-workers have been jealous of my office. They see what I have done with the small working space that I have and they are actually jealous of how my cubicle looks. I hope that I also inspire them to make their own offices a little more homey and a place in which it's more enjoyable to work. This new cubicle clock has once again garnered a lot of comments from my co-workers which tells me that they are jealous of the style of my office. My goal is that how I decorate my office will rub off on them and I think I have made a few inroads in that area!
4. You'll always leave the office at quittin' time!
Probably the best part about my cubicle clock is the fact that with my new awareness of the time, I do my best to leave right at quittin' time. Hey, we spend so many hours each day at work, why not leave on time which will ensure balance in your life!
Various images and hanging my Universal Office Products Cubicle Clock
(Click on any of the images below for a larger view)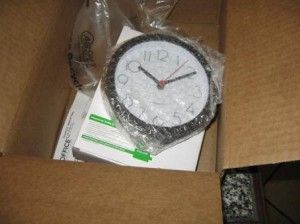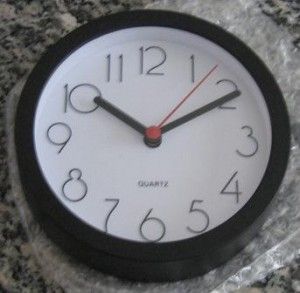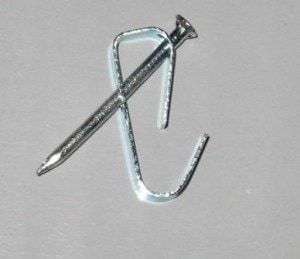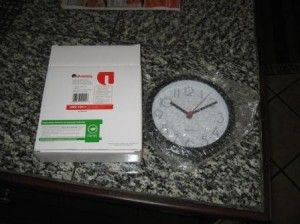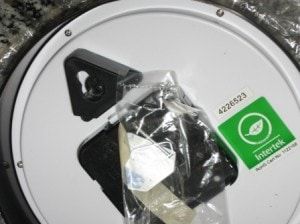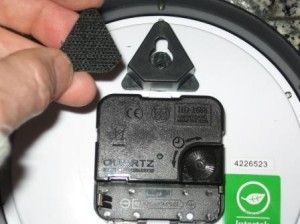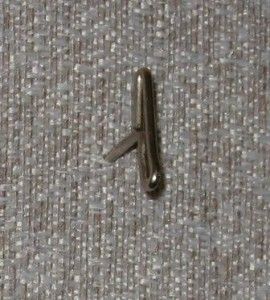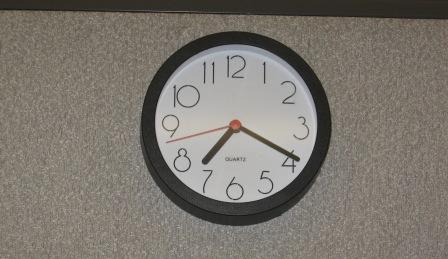 If you want to make an upgrade in your office environment, this cool cubicle clock may be just what you need not only for its great look but also for its practicality. You'll always be aware of the time and it will give a neat retro look to your office.
All it takes is a little bit of creativity to make some real positive changes in your work environment. I write a lot about storage solutions within an office environment but this one plays more into the decor of an office. But, then again, it's not only a product which is all about looks. There is obviously a practicality to it in that you will have more time awareness while you are at work.
Once again, if you have any questions at all about this product or anything else within this site, please don't hesitate to ask. You can use my Contact Me page or you can send me an email at bob@workspacebliss.com, or even better, just leave a question in the comments so others can see your question and my answer!