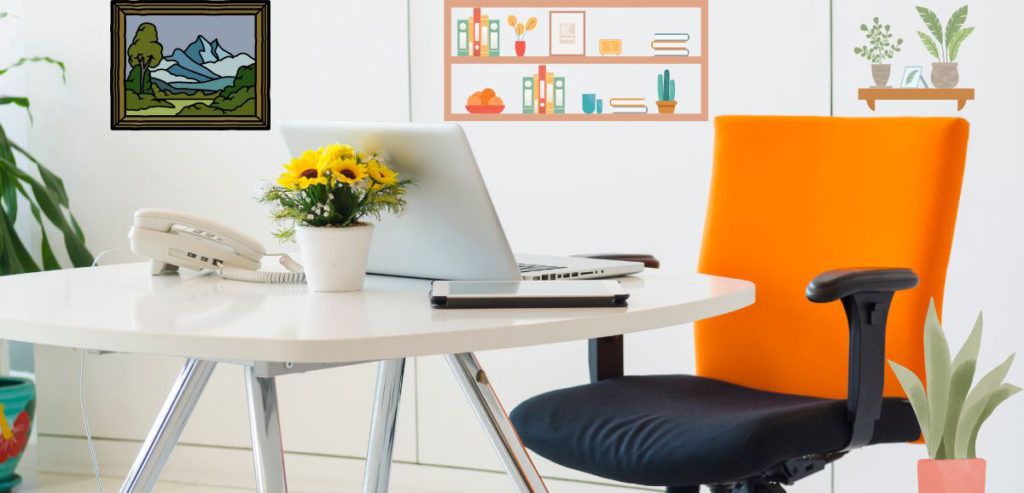 Are you looking for some inspiring ideas to decorate office walls that will take your workspace to a new level? This article will address and detail 9 multiple bold wall décor ideas that will set your office apart from your peers.
When it comes to office décor, I am a huge proponent of creating a workspace that not only looks great but is efficient for you to be a productive worker. I am passionate about making your workspace the best it can be and it starts with furnishing it and decorating it to match your working style.
Decorating your office walls smartly can have a significant impact on your productivity and overall mood while working. When it comes to sprucing up your workspace, you want to strike a balance between visually attractive elements and designs that help you maintain focus.
The theme you choose for your office décor can play a vital role in determining your energy at work. Picking a theme that resonates with your personality and the context of the space is crucial for enhancing your work experience.
From modern and contemporary to nautical and retro, there are many office wall décor ideas available to give your office a much-needed makeover.
1. Experiment with Office Artwork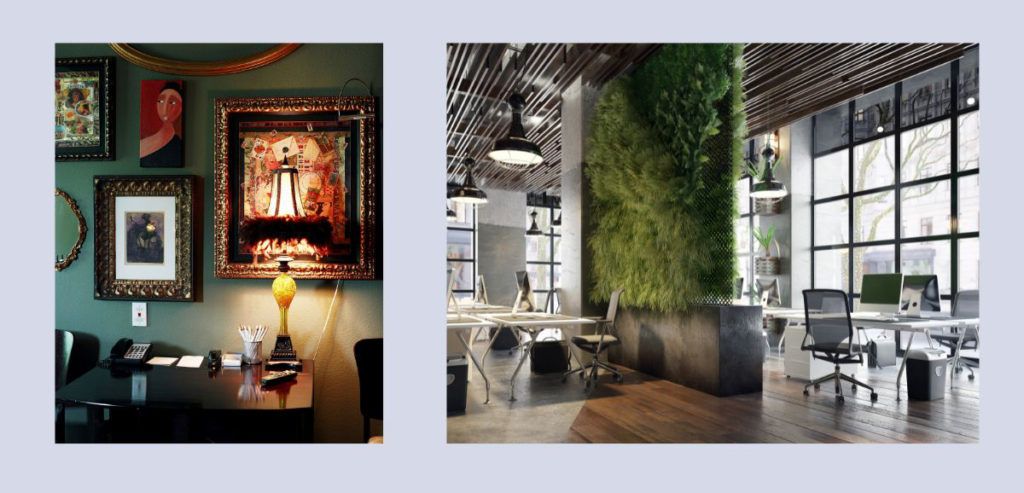 Incorporating wall art into your office space can truly bring it to life, offering both inspiration and visual appeal. In this section, we will explore a variety of ideas on how to tastefully decorate your office walls with different types of art.
Paintings that you have acquired throughout the years could be a great addition to your workspace. You could choose a colorful abstract or a soothing landscape that will have an immediate impact on your working area.
You might even want to consider an accent wall filled with various framed art to create a gallery of sorts within the confines of your workspace. It is best to choose art that resonates with you and will provide a personal meaning to the space. If it's visual appeal you are looking for use art with bold colors.
Prints: Integrate framed prints that range from simple black-and-white designs to colorful, intricate patterns that will spice up the walls.
Canvas Art: For a more modern touch, opt for canvas prints, which can easily change out as your décor preferences evolve.
Personal Photo Collages: For a more personal approach, incorporate a collage of personal photos creating a wall of personal memories.
By thoughtfully choosing your wall art and incorporating a wide array of styles and techniques, you can elevate the overall aesthetic of your office and create a space that fuels your productivity and well-being.
2. Infuse Style with Office Accent Wall Ideas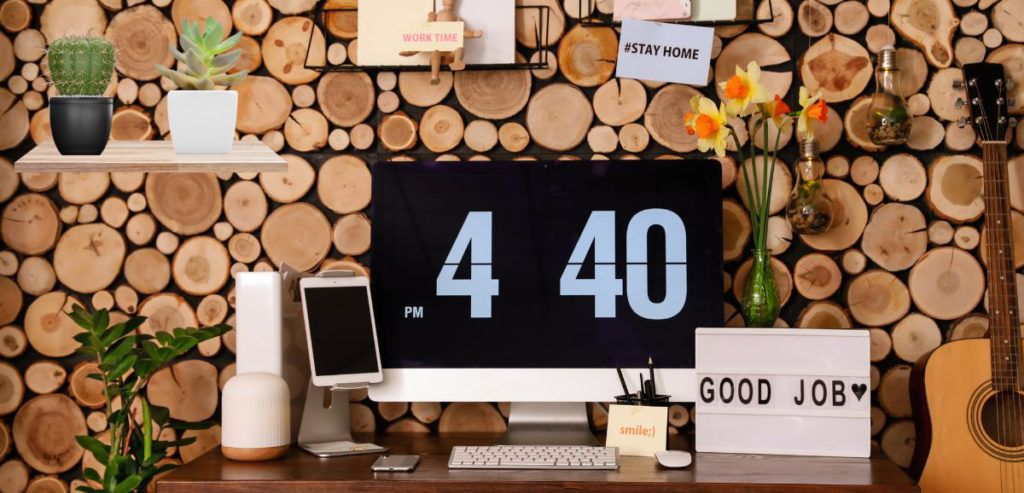 Office accent wall ideas are a great way to add some pop to your office wall décor. Just as you might add an accent wall to a living area at home, it will also work nicely in a workspace if you are looking to jazz up your office.
Explore Colors for Office Wall Ideas
Transform your office space by experimenting with different office paint colors. From bold and bright hues to more understated shades, there are endless possibilities to fit your personal style and your office's design. Choose colors that motivate and inspire you, as this can have a positive impact on your productivity.
Classic Black and White
Adding a black and white accent wall creates an elegant and timeless touch to your office. The contrasting shades can make a striking statement, while also providing a neutral background for adding décor or colorful accessories.
You can experiment with different patterns or even use a combination of black and white wall decals to achieve this classic look.
Add a Textured Accent Wall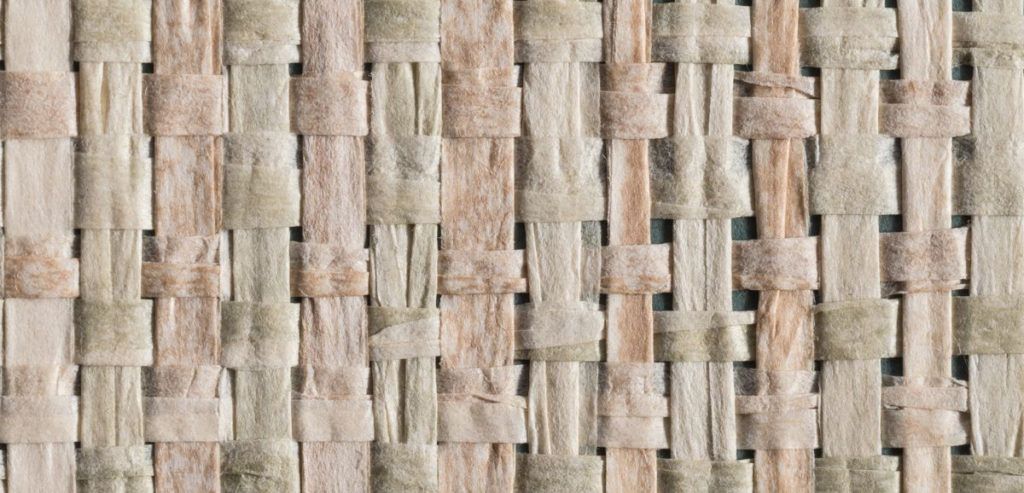 Introduce an element of keen visual interest by incorporating a textured accent wall. This could be in the form of geometric, wood, or other 3D patterns. Textured walls add an intriguing depth to your office, creating an inviting and sophisticated atmosphere. For a more modern touch, consider using sleek materials like metal or glass.
Unleash Your Creativity with Office Wall Decals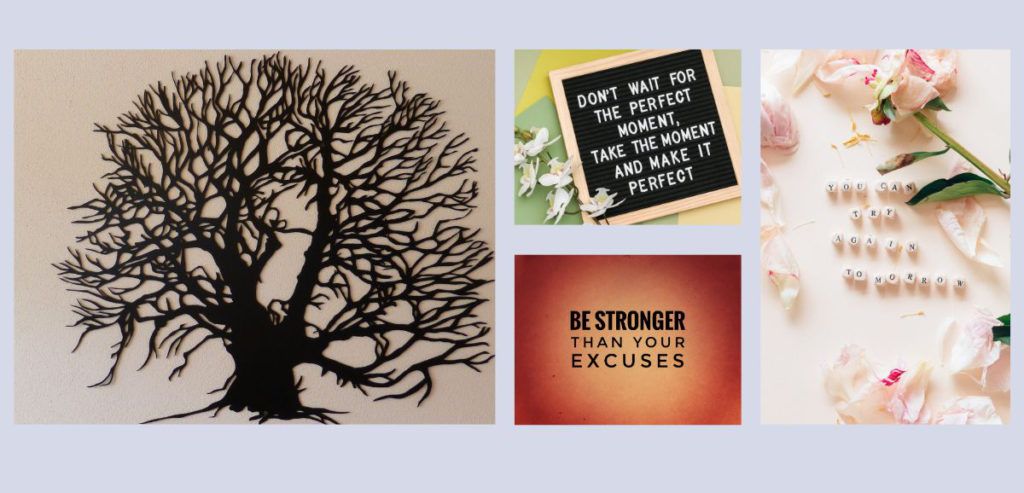 If you want to personalize your office but maintain a sense of flexibility, office wall decals can be a great option. There is a wide range of designs to choose from, catering to various styles and tastes. Easily removable and reversible, these decals allow you to update your office's look whenever inspiration strikes.
A few office wall decal ideas to consider are:
Nature Scenes
Geometric shapes
Quotations or inspirational sayings
Bold patterns
You should consider incorporating office motivational quotes onto your office walls that inspire and motivate both you and your colleagues. This can be a helpful reminder to stay positive and focused while working from your home office or in your office at work. They allow you to simply look up and garner some inspiration at any time of the day.
Remember, decorating your office's accent wall is an opportunity to express your creativity and liven up your workspace. Whether you gravitate toward classic black and white or are eager to explore colors and textures, there's a perfect accent wall waiting for you to discover. Let your personality shine through and enjoy the improved ambiance in your office.
3. Boost Productivity with Calendars and Memo Boards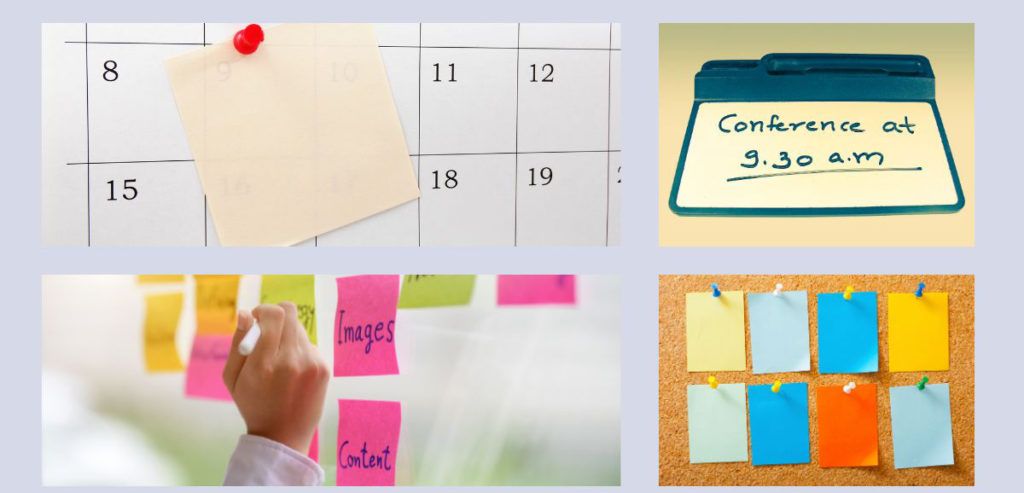 Incorporating calendars and memo boards into your office wall décor not only adds visual interest but can also improve productivity. A well-organized office wall calendar helps you keep track of important dates, appointments, and meetings while stylish memo boards provide an easy way to display reminders, to-dos, and inspiring messages.
Choose the Right Calendar for Your Needs
There are many types of calendars available, so be sure to pick one that suits your needs and complements your office décor. If you are relegated to an office cubicle, as I am, there are some innovative dry erase calendars available for a cubicle wall.
If you have a traditional office with plaster walls, your options are more flexible and plentiful.
Some popular options include:
Traditional wall calendars: These classic options often feature large, easy-to-read numbers and ample space for writing down appointments, deadlines, and meetings.
Magnetic dry erase board: I have one of these attached to my cubicle wall. In fact, it's made to hang on a cubicle wall but most magnetic dry erase boards are a bit larger and made for plastered office walls. They are great to put your latest projects on as a constant reminder as to what are your top priorities.
Dry erase calendar: With these reusable boards, you can easily make changes to your schedule and save paper in the process. If you want to keep a record, as I do, of previous months, you can simply take a picture of it before you erase it and set up the new month. Then you can electronically file the image that you can refer to if need be.
Chalkboard wall calendars: This option allows you to create a customizable, writable surface directly on your office wall with chalkboard paint. You could even create an accent wall with chalkboard paint and write on the wall instead of buying a separate calendar.
Vintage Perpetual Calendar: This is an option made more for a desktop vs an office wall but adds a vintage element to what could be a modern office design. I love mine and update it daily.
Memo Boards for Easy Organization
Memo boards come in various styles and materials, making it easy to find one that matches your office aesthetic. These handy organizers can significantly boost your productivity by keeping important notes and reminders visible. Some popular memo board options include:
Cork walls: An innovative cork wall provides a versatile and natural-looking backdrop for pinning up notes, photos, and artwork from your children or relatives.
Grid-style boards: These boards often have a modern, minimalist look that can enhance the overall aesthetic of your office space.
Chicken wire memo boards: For a rustic, farmhouse-inspired look, a chicken wire memo board adds character and functionality.
With the right combination of calendars and memo boards, your office walls can help you stay organized, focused, and motivated. Don't be afraid to mix and match styles and materials to find the perfect balance between functionality and aesthetics for your workspace.
4. Get Organized with Storage and Office Shelving Units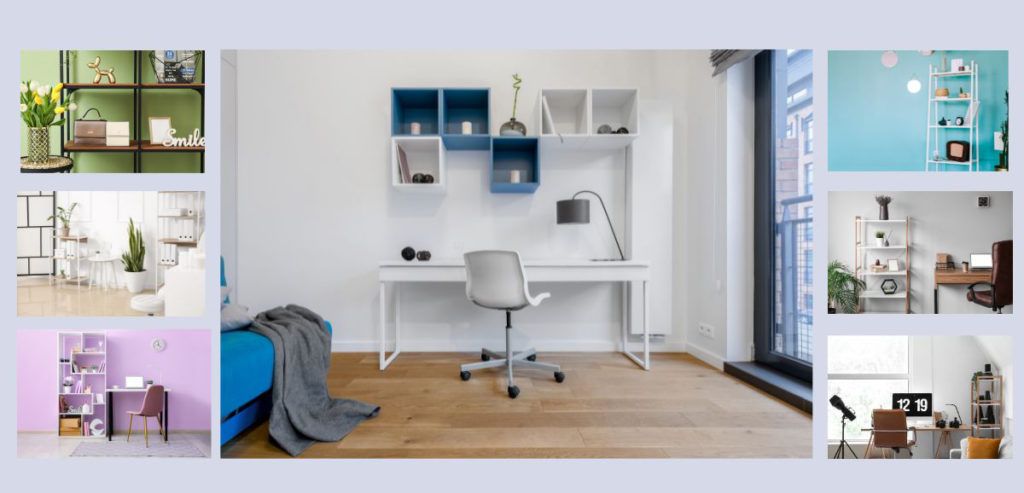 When it comes to decorating your office walls, incorporating storage and shelves can make a significant difference. Not only do they provide a practical solution for staying organized, but they also elevate the overall aesthetic of your space.
Innovative office shelving ideas are plentiful in the marketplace. You just need to find what works for your working area.
Since I work within an office cubicle, I am passionate about small office organization. I have explored and utilized the many different options for cubicle shelves. A cubicle corner shelf is a great option of a shelf you can use in the typically-wasted area in the corner of your desktop and you don't even need to attach it to the cubicle wall.
One great option for a plastered office wall is to consider installing stylish floating shelves. Whether you opt for a sleek minimalist design or a rustic wooden appearance, these shelves provide an attractive way to showcase your books, plants, and other decorative items while utilizing the valuable wall space.
If you're looking for a more substantial storage solution, try incorporating large office shelving units into your office. This could be a chic, modern bookcase or a tall, industrial-style unit, depending on your taste.
By using shelves and baskets, you can store items like paperwork, office supplies, and personal belongings, keeping your desk clutter-free.
5. Incorporate Nature and Office Plant Ideas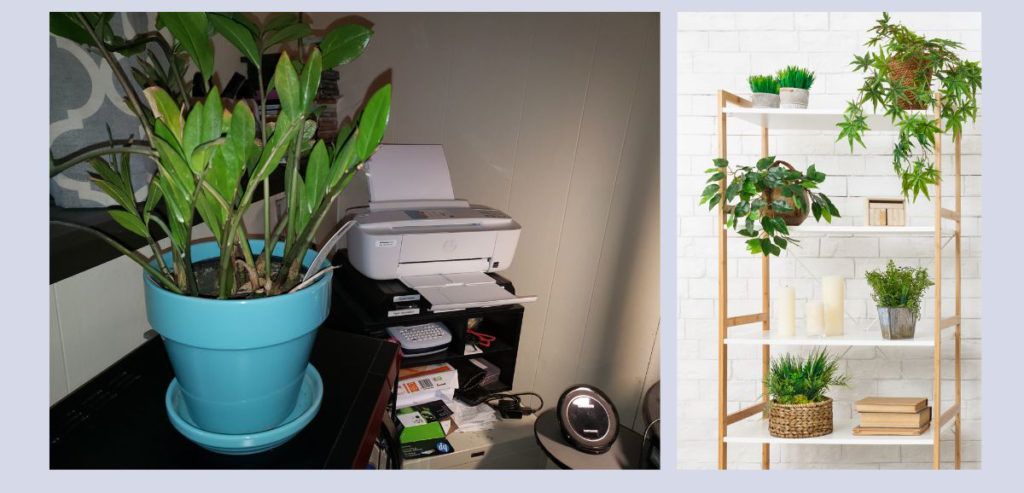 Bringing nature into your office space can have tremendous benefits for reducing stress and promoting a more relaxed environment. One of the easiest ways to do this is by incorporating various office plant ideas. At a low cost investment, it will give you a big bang for your buck.
Adding office plants to your work area has been shown to improve mood and productivity. Start by selecting a few low-maintenance plants, such as cacti and succulents and place them around your work area. Windowsills and shelves are perfect spots for smaller plants, while larger plants can sit on the floor.
The image of the Zanzibar Gem or ZZ Plant shown above on the left was taken in my home office. It is a low maintenance plant which is perfect for any workspace.
Another important aspect of incorporating nature into your office is allowing natural light to enter the room. Position your desk near a window to maximize the amount of sunlight you receive throughout the day.
If you don't have any access to sunlight you can incorporate lighting that mimics sunlight into your workspace. Sunlight helps regulate your circadian rhythm and can boost your mood and energy levels.
To further incorporate nature into your wall décor, consider hanging art pieces that showcase natural landscapes or botanical themes. Additionally, a vertical garden, as an alternative to a regular bulletin board, can add a lively and fresh touch to your office.
Overall, incorporating plants, natural materials, and natural light into your office will create a serene environment to boost your mood, reduce stress, and improve productivity.
6. Embrace DIY Office Decor Ideas
Creating a DIY office décor not only allows you to personalize your work area but also helps in staying within your budget. In this section, we will discuss a few simple ideas to spruce up your office walls and bring new energy to your workspace.
In the examples shown above, I created an Ivy cubicle wall using an Ivy plant sitting on a small table outside my cubicle. I could've created the same effect within the cubicle but I wanted to create some DIY office décor outside my cubicle to share with my coworkers. I utilized one of my favorite cubicle hangers which are simple push pins to attach the ivy to the cubicle walls.
Another one of my DIY office wall décor ideas is also shown above where I attached stickers and postcards from the state of New Hampshire to the glass partitions above my fabric cubicle walls. It just so happens that my work office is in a bordering state so I'm showing off the state in which I live with these stickers and postcards so that everyone walking by my cubicle can see them.
Here are some other super easy DIY office décor ideas with diverse themes and styles:
Modern: Incorporate abstract shapes and bold colors to create a contemporary vibe. You may use geometric patterns or minimalist designs.
Traditional: Choose classic artwork, vintage prints, or ornate frames to bring a touch of elegance and sophistication to your office walls.
Art Deco: Opt for metallic accents, bold patterns, and clean lines to achieve a glamorous and stylish Art Deco-inspired look.
Industrial: Exposed brick walls, metal accents, and rustic materials perfectly capture the essence of an industrial-themed office décor.
Nautical: Incorporate elements of the sea, like anchor prints, seashells, or coastal inspired color schemes to create a calm and relaxing atmosphere.
With these DIY office wall décor ideas in mind, go ahead and give your workspace a personalized touch that reflects your personality and style.
7. Add Personality with Office Wall Ideas and Accessories
Sprucing up your office walls can be done easily and creatively with the help of accessories. In this section, we'll discuss a few ideas for adding personality to your office through the use of mirrors, clocks, ledges, and other accessories.
Mirrors
Mirrors are not only functional but can also enhance the overall appearance of your office design. Placing a mirror on your office wall can make the space look larger and brighter. Additionally, you can choose mirrors with interesting frames or shapes to add a touch of style to your workplace environment.
If you happen to work within the confines of a cubicle, you may have had to look into how to hang a mirror in a cubicle. It's simple to do with the proper hardware depending on the weight of the mirror.
Office Wall Clock
Time is an essential part of office life, and having a stylish office wall clock can really make a difference in your workspace. The office wall clock shown above is hanging on my cubicle wall. I've had many comments from coworkers about my clock adding a level of décor to my office.
Consider choosing a clock with a unique design that complements your office décor. This functional accessory can also serve as an attractive focal point in the room.
Ledges and Office Wall Shelves
Adding ledges or office wall shelves allows you to maximize your space while displaying your favorite items in an organized and visually appealing way. Use these spaces to showcase a variety of accessories, such as plants, picture frames, or small sculptures.
The office wall shelves shown here are from my cubicle. The image on the left is a hanging corner shelf unit with a plant on it. The image on the right is a cubicle floating shelf which will hold items at a maximum capacity of 5 pounds. Both shelving units are made to attach to a cubicle wall. For a plastered office wall you have many more options for wall shelving units.
Remember, when it comes to ideas to decorate office walls, the key is to choose accessories that reflect your personal style and enhance the overall appearance of your work environment. By incorporating a combination of mirrors, clocks, ledges, and other on-theme elements, you can create a chic and functional office design tailored to your unique preferences.
8. Opt for Comfort and Functionality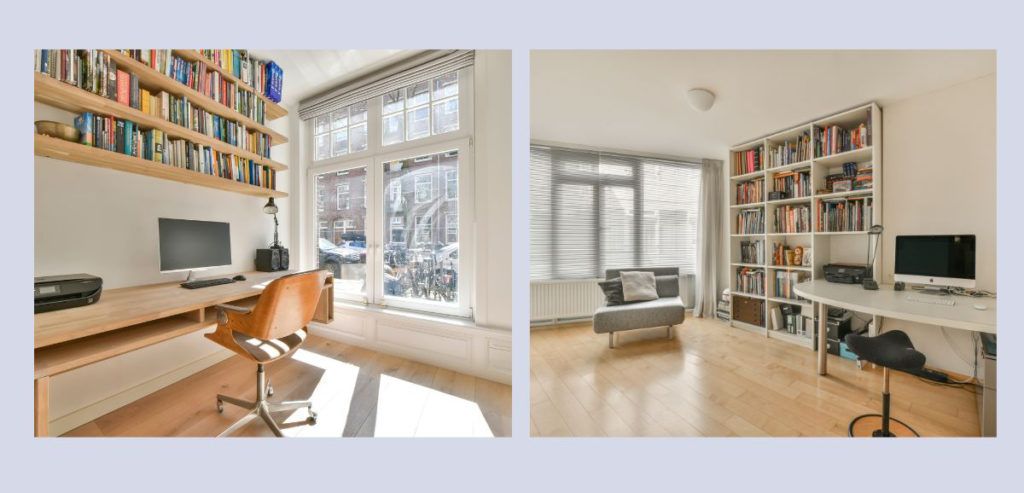 When it comes to decorating your office walls, it's essential to strike the right balance between aesthetics and practicality. In this section, we'll explore some tips and ideas to create a comfortable and functional workspace, with a focus on ergonomics, layout, and comfortable seating.
To begin with, consider the layout of your office. Ensure there's ample space for movement, while providing enough storage for your work essentials. Invest in wall mounted storage solutions to keep your work area clutter-free, making it easier to stay organized and focused.
When thinking about comfort, consider the ergonomics of your workspace. This includes investing in a high-quality, ergonomic chair such as the Hyken Technical Mesh Task Chair that encourages good posture and offers adequate lumbar support. Ergonomic accessories like a keyboard wrist rest and mouse rest and a laptop riser can also help reduce strain on your wrists, neck, and shoulders.
Now, onto wall decorations. Beyond artwork, consider using various shades of green on your walls, as these colors are known for their stress-reducing properties. A soothing color palette can help promote a calm yet focused working environment.
By adhering to these tips, you'll be well on your way to creating a comfortable and functional workspace tailored to your unique needs and preferences. Happy decorating!
9. Choose a Decorating Theme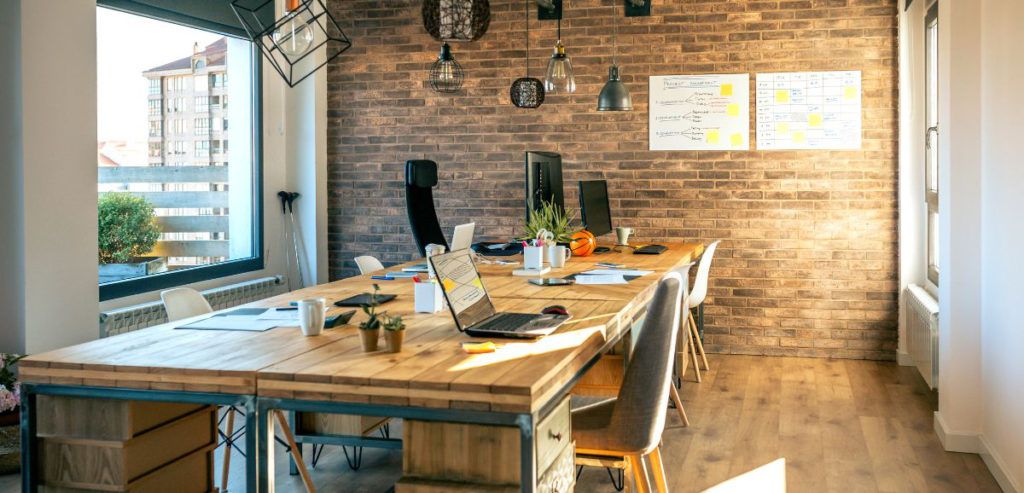 Choosing a decorating theme for your office walls is an essential step in creating the perfect workspace. A well-selected theme helps in expressing your personality and making the space feel more welcoming.
This is where you have free reign, as it should be, to create a personalized workspace where you will be comfortable in each working day.
First, consider your personal style and the overall vibe of your workspace. Are you drawn to more traditional designs, or do you prefer a more contemporary look? Each of these styles has unique elements that can create visually appealing office walls. Here's a brief overview of some popular decorating themes:
Traditional: This theme is all about elegance and classic details, such as ornate picture frames and vintage artwork. To enhance this look, choose warmer color palettes and hand-curated vintage or antique pieces.
Farmhouse: Cozy, comfortable, and rustic, the farmhouse theme brings a sense of warmth and charm to your office. Think of gentle, neutral colors, weathered wood items, and simple, functional accessories.
Sports: Is sports or fitness your jam? You might want to surround your workspace with a sports theme. Invest in some sports-related wall art and add some pieces from your favorite sports on your office shelves such as a signed football, baseball, soccer ball, or hockey puck.
Contemporary: If your taste leans more toward the present, the contemporary theme is for you. It emphasizes clean lines, smooth textures, and minimal elements. Stick to a neutral color palette with pops of bold accent colors for a striking contrast.
Rustic: Natural materials like rough, unfinished wood and stone characterize the rustic theme. With a focus on warmth and comfort, this style is ideal for a cozy office space. Incorporate earthy colors, warm lighting, and unique textures to achieve this look.
Industrial: The industrial theme is all about exposed elements and raw materials, such as concrete, brick, and metal. Bold contrast between these materials and other softer items like textiles and plants will create a visually appealing workspace. Consider incorporating some industrial office accessories such as a vintage clock, galvanized metal desk organizer, and pipe shelving.
Remember, personalizing your office walls is an essential part of making the space feel like your own. Surround yourself with, in a word, familiarity, and it should enhance your focus and productivity. Explore your creativity and have fun selecting the right items for your theme. With the perfect decorating theme in place, you'll surely enjoy a more inspiring and productive workspace!
Ideas to Decorate Office Walls – A Recap
To recap, there are numerous ideas to decorate office walls and create a more inspiring workspace. Take inspiration from different design themes such as modern, traditional, art deco, industrial, contemporary, nautical, and retro. Office wall ideas can be as flexible as you want them to be.
Selecting calming colors, such as blues or greys, can enhance your ability to focus. Don't hesitate to experiment with interesting wall decorations like nature scenes, wall decals, mirrors, and floating shelves.
Feeling in an artsy mood? Consider incorporating framed paintings and colorful posters that have some meaning to you.
Remember, the most important aspect is to make your office space a representation of your personality while promoting productivity and focus. Do not be afraid to try different ideas and see which ones suit your style and work environment best. Office wall décor is all about transforming your office walls into an inspiring, productive, and beautiful workspace!
Frequently Asked Questions About Ideas to Decorate Office Walls
How do I build office wall decor?
Office wall décor is an essential aspect of creating a visually appealing and professional environment. When considering how to build office wall décor, there are several factors to take into account. First and foremost, it is crucial to consider the overall aesthetic and theme of the office space.
This will help determine the type of décor that will best complement the surroundings. Whether it's a modern, minimalist look or a more traditional and formal ambiance, your office wall décor should align with the desired style you are trying to achieve. Maybe you prefer an industrial style décor for your work or home office which isn't unusual these days.
Additionally, the selection of artwork, personal photographs, or decorative items should reflect the your values, and preferences. Mixing personal touches with professional elements can create a welcoming and inspiring atmosphere.
Furthermore, the placement and layout of the office wall décor should be thoughtfully planned. Using proper measurements and spacing techniques ensures that the décor is displayed in an organized and visually appealing manner. Lastly, incorporating functional and practical elements such as bulletin boards or whiteboards can enhance productivity and promote team collaboration if you are working in a collaborative setting.
Overall, understanding how to build office wall décor involves careful consideration of the office's aesthetic, alignment with company values, layout, and functional aspects to create an engaging and aesthetically pleasing workspace.
How do I decorate office shelves?
In office spaces, it is important to create an environment that is both functional and visually appealing. One way to achieve this is by paying attention to the design and arrangement of your office shelves. One aspect of shelving in an office is that it allows you to use the walls to expand your real estate.
When considering how to decorate office shelves in your work office, it is essential to strike a balance between showcasing professional items and adding personal touches that reflect the company's culture. First and foremost, office shelves should be organized and clutter-free, ensuring that essential items such as books, binders, and office supplies are readily accessible. Utilizing an innovative corner desk shelf will allow you to use typically unused space on your desktop.
Additionally, incorporating decorative elements such as plants, artwork, or branded objects can help add personality to the space. To create a cohesive look, it is advisable to use a consistent color scheme or incorporate the company's branding colors if you aren't dealing with a home office.
A mix of open and closed storage can also be beneficial, providing an opportunity to display aesthetically pleasing items while keeping necessary documents concealed. Ultimately, how to decorate office shelves should align with the overall design goals of the office, and foster a productive and inspiring atmosphere for employees and visitors alike. If it is your home office you should stress your own personality and decorate your shelves with the personal touch in mind.
What to Read Next:
Bob has been blogging for over 20 years and has been an office and cubicle dweller for more than 40 years. He created the popular office website CubicleBliss in January 2011 and rebranded it as WorkspaceBliss in April 2020. Over the years, he has been a regular writer for popular blogs such as DailyBlogTips and WorkAwesome (can read his articles here).
In the office he's been an IT Manager, Applications Engineer, Systems Analyst, Software Project leader, and Programmer Analyst in his long career. He's a Certified Microsoft Professional and possesses a Masters of Science degree and two Bachelor of Science degrees, one of those in Informational Technology.