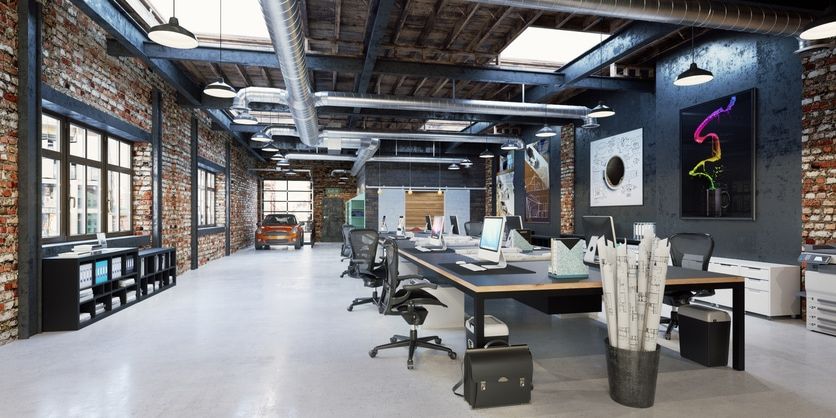 So, what exactly are industrial desk accessories? These are desk accessories that, more often than not, incorporate wood and metal in their design. The wood could be reclaimed, distressed, or torched to bring out the rustic style that you might find in a farmhouse or in an old factory.
Let's explore in much more detail.
As an office worker, I spend a lot of time at my desk. It's important to make sure that my desk is organized, functional, and also stylish so that I can be productive and have an attractive environment in which to work each day. Industrial office accessories are not only functional but are in keeping with the modern industrial style office décor.
The metal that is introduced in modern industrial office décor could be galvanized tin, copper, steel, or iron piping. Components of industry are also presented in this type of décor such as exposed metal gears and anything machine-related.
All of these metals are utilized in creating office desk accessories that will scream the industrial style and to create that industrial looking desk. These pieces are sturdy and functional, making them perfect for anyone who wants to add a little bit of character to their desk without breaking the bank. There are practical industrial office décor ideas for men as well as women.
Modern industrial office color schemes also come into play when it comes to the décor of an industrial office. The accessories utilized within such a workspace tend to accent and complement the industrial color schemes such as natural and neutral earth tones.
Components of Industrial Desk Accessories
Metals such as galvanized tin, steel, brass, and iron piping and fittings
Use of distressed, torched, or reclaimed wood
Stylish as well as utilitarian
Sturdy and rugged construction
Exposed brick or concrete accents
Wood and metal components combined/intertwined
Edison bulbs and glass shades
Exposed gears and machine-related parts
Metal tool items such as pliers, hammers, wrenches, and anvils
Water-tolerant small live desktop plants to add greenery
If you're looking for ways to update your office space on a budget, adding a few industrial office accessories for your desk is a great way to start. Plus, they come in a variety of styles so you can find the perfect one for your taste. Ready to learn more?
Keep reading for some awesome examples of desk accessories for that industrial looking desk that will complement or create that industrial style décor you've been hoping to create.
Industrial Table Lamp Options
Steampunk Vintage Industrial Desk Lamp
This vintage industrial desk lamp from Steampunk allows you to charge you phone(s) while you work. You can charge your mobile phones, kindle, handheld games, headsets or other small electronics no matter the lamp is on or off.
The iron piping and the Edison light gives this desk lamp a definite industrial look.
The dimmable table top lamp provides fairly wide range of adjustability, makes brightness customization possible. Differing from the transparent bulb, the amber-tinted bulb can emit softly warm glow to your ambience.
Lodstob Industrial Touch Control Iron Piping Table Lamp
This Lodstob Industrial Touch Control Iron Piping Desk Lamp is another industrial style desk accessory to light up your desktop. This water piping industrial table lamp has 3 settings. You could touch anywhere on the iron base to dim the lamp.
This industrial table lamp with water piping look and special color that makes your room feel like more vintage, and the unique style not only can decorate your office but also as a special present for your friends.
There are 2 fast USB charging ports on the base of the table lamp for your electric devices and will allow you to charge your phone and other electronics at same time.
EFAYCRR Creative Robot Style Vintage Desk Lamp
This EFAYCRR Creative Robot Style Vintage Desk Lamp is probably one of the most unique desk lamps out there on the market. Built exclusively from rustic wrought iron pipe it showcases a unique look, complementing your office décor.
A great choice for illuminating your industrial style office and would be the perfect accessory on an industrial design office desk.
It's very easy to install. It comes with a plug-in design power cord with a click switch. Just install a E26 bulb and start enjoy this plumbing pipe desk lamp. Fixture Width: 7.28 inch, Fixture Height: 9.44 inch, Power Cord Length: 59 inches.
KIAMPON Gold Industrial Table Lamp with 2 USB Ports
This KIAMPON Gold Industrial Table Lamp with 2 USB ports is dimmable. It is made out of brass which gives it that vintage industrial look and would be a stylish accent to a modern industrial desk.
You can charge you and your co-worker's cell phone at the same time. It comes with a unique dimmable Edison LED bulb glass shade which gives it a unique appeal.
With a rotary switch on the base, the 2700K 800 Lumens filament bulb can be adjusted to your desired brightness, illuminating a glare-free, non-flickering, warm white light for your office.
OYEAL Industrial Table Lamp with Metal Cage
This OYEAL Industrial Table Lamp with Metal Cage would be a nice addition to your office desktop. Equipped with the ability to charge two phones simultaneously, it's not only stylish but multi-functional. You can even charge your phones when the light is off.
Dimensions are: Height: 16.5 in, Base Diameter: 4.72 in, Weight: 1.43 Ib. With a compact size, this small desk lamp will not take up too much room on your desktop.
This Edison desk lamp is made of high-quality metal and is black in color. It would certainly complement your modern industrial style décor in your work or home office and will work perfectly on that industrial looking desk.
Another great option is to add an LED lamp that mimics sunlight but look for one with an industrial look.
Industrial Desk Organizers
Spectrum Diversified Vintage Pencil & Utility Cup
Organizing pens and pencils on your desktop can be accomplished easily with this Spectrum Diversified Vintage Pencil & Utility Cup. Made from durable steel, this industrial-style pencil holder is built to last and serve your desk organization needs for many years to come.
You can use it for more than just pencils. You can use this desk organizer to store your pens, highlighters, scissors, and more of those small office items to free up space in the office drawers and de-clutter your desktop.
It's a short-money item but will add some class and utility to your office desktop. It certainly would complement any industrial look desk.
3 PIECE Galvanized Metal Industrial Desk Organizer
Galvanized metal is certainly one of those components when it comes to industrial desk accessories. This 3-piece Galvanized Metal Desk Organizer Set from HBCY Creations will certainly achieve that style you've been looking to create in your office environment.
A blend of rustic wood and galvanized metal come together in this industrial desk set to create that perfect rustic office décor with an industrial accent. The complete industrial desk organizer comes with three items for your organizational needs.
The main piece of the set can be used as a mail and memo organizer. The cup serves to hold pens, pencils, scissors and other items. The 3rd piece is perfect for holding paper clips, erasers and more! Foam pads are also included to protect your desktop from any marring or marks.
MyGift Industrial Desktop Pencil Holder
Torched wood in combination with metal is another component when it comes to industrial décor accessories. This MyGift Industrial Desktop Pencil Holder is a very small footprint on your desktop but will allow you to store not only pens and pencils but other desktop items like scissors, small stapler, and whatever you please.
Small size takes up minimal space on desk and tabletop surfaces; includes bottom foot pads to protect sensitive surfaces.
Sorbus 5-Piece Desk Organizer | Industrial Desk Set
This 5-piece desk organizer from Sorbus includes a pencil cup holder, letter sorter, letter tray, hanging file organizer, and sticky note holder. The letter sorter has three divided sections for mail, stationary, and notepads.
The hanging file organizer basket keeps files, books, and more organized on mounts to wall to free up much-needed desktop space. Organizer set for office creates a well-organized desk or workstation to quickly visualize and access contents in an orderly manner.
It's a great small industrial desk set for creating an organized working area at work or in a home office.
MyGift Rustic Brown Wood and Metal Office Desk Document Tray
This wooden and metal desk document organizer tray from MyGift utilizes rustic wood and metal in creating that classic industrial desk accessories appeal. The item dimensions are 13.2″ x 11.8″ x 10″ and fits in a small footprint on your desktop.
The rustic wood finish and flat metal brackets complement a variety of decors, not only industrial. The 3.4″ height between trays provides easy access and room to large amounts of documents. This unit comes in various styles to suit your needs.
Liry Products Rustic Torched Wooden Desktop Organizer
This torched wooden desktop organizer is another example of the rustic nature of industrial design. The torched wood adds that level of vintage décor to your desktop.
This unit features 6 stepped compartments, 1 top rack, and 2 slide out drawers. It offers versatile storage space to accommodate all kinds of office supplies, daily necessities, cosmetics, and accessories.
If you're looking to add to your industrial style design this wooden desktop organizer just might be the perfect complementary desktop accessory for an industrial look desk.
Rae Dunn Desktop Letter Holder and Table Top Organizer
This Rae Dunn Desktop Letter Holder provides a stepped design to store your letters, paperwork, or journals on your office desktop. It is another version of an inclined file organizer. The combination of galvanized steel and solid wood certainly conforms to the principles of industrial design.
Fine quality galvanized metal and hard wooden accents create a long-lasting and durable storage solution. Multiple compartments and a label display make it easy to stay organized and free up space on your desktop.
Miscellaneous Industrial Style Office Accessories
FirsTime & Co.® Gear Industrial Desk Clock
This battery-powered gear tabletop clock introduces machine components into a small industrial desktop accessory. This gear desk clock screams industrial style design and is the perfect complement to your office décor.
This industrial desk clock stands 6″ tall and 5.5″ wide, making it a great addition to any surface but not taking up too much space on a desktop. This novelty clock is crafted of satin black resin and an aged rust finish, making it a great piece for any rustic or industrial themed décor.
This gear desk clock would be the perfect complement on an industrial design office desk.
MyGift Industrial Pipe & Gray Wood 6-Inch Metal Bookends
This MyGift Industrial Pipe & Gray Wood Metal Bookends will make a great addition to the industrial look of your workspace. Realistic pipe fittings and weathered gray finish create a stylish industrial-urban accent to your desktop.
Item dimensions are 5″ x 5″ x 6.1″ so they have a small footprint on your desk so that they do not add clutter. These sturdy bookends are heavy enough to keep books positioned upright.
Add a touch of industrial ruggedness to your workspace with these bookends constructed from wood and metal pipe. These could look great on a large or small industrial desk.
Kalalou NDE1281 Desk Top Note Roll with Holder
This desktop note roll with holder will add a vintage component to your desktop. Dimensions are length: 9.00″, height: 4″, and width: 7″. The finish is brass adding to that industrial design decor.
This novel desktop item will add not only a stylish aspect to your office décor but also a utilitarian component as well providing a unique, non-electronic note holding capability.
This vintage accessory would complement a modern industrial desk very nicely.
Industrial Desk Accessories Summary
I hope the question what are industrial desk accessories has been answered sufficiently in this article.
A unique combination or distressed, torched, or reclaimed wood, galvanized metals, sturdy and rugged design and construction, stylish as well as utilitarian, and the incorporation of machine-related components like gears, tools, and iron pipe and fittings are some of the components that make up industrial office accessories for the desktop.
If you want to create that unique industrial décor and design, consider incorporating some of the above items onto your desktop. You may find that walking into your industrial office will give you a new and positive attitude to tackle the day's challenges in a productive manner!