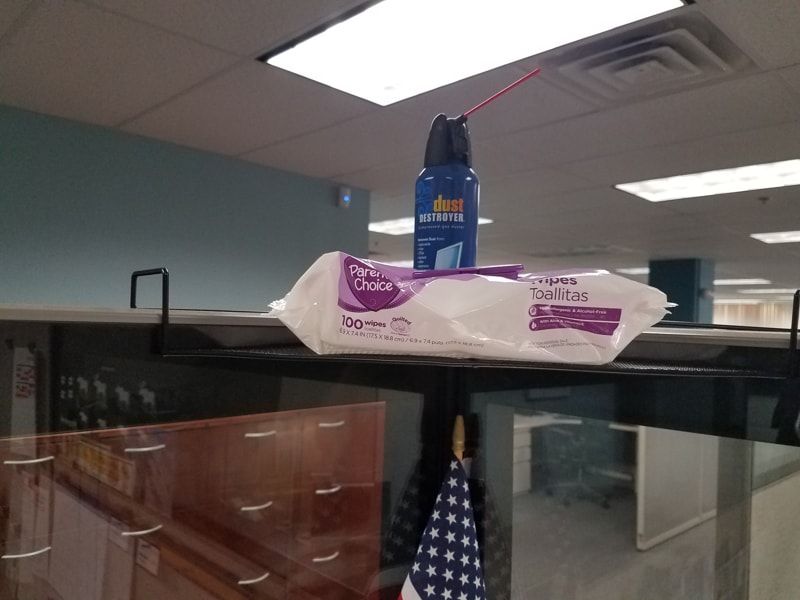 (Update – This product shown above and detailed in this article is currently unavailable but there is another accessory that is available that is pretty much the exact same product and is called an Office Cubicle Floating Corner Shelf. All links in this article will point to the available corner cubicle storage rack.)
A Corner Cubicle Storage Shelf will Expand Office Storage
I am always looking for cubicle accessories which will increase my storage capabilities within my cubicle at work.
Well, I recently came across another shelf that actually sits on top of my new cubicle walls. It is called a Corner Cubicle Storage Shelf.
My corner cube shelf seen at the top of this article I use to hold, believe it or not, baby wipes that I use to wipe down my desk.
Surprisingly, they are cheaper than your typical Lysol wipes and last much longer. I also use it to hold my compressed gas duster that I use regularly for my keyboard and any place I cannot easily clean in my office.
(Don't miss my youTube video further down!)
Within the past year, my cubicle moved from one floor to another in my company. I wrote about my cubicle transformation in an article displaying my many cubicle accessories.
Another twist was that the type of cubicle changed from my previous cubicle. I was hoping to have a privacy door for my cubicle but no such luck. Believe me, I asked for one but I guess that request was pushing it at the time.
My Former Corner Cube Shelf Shown Below

As you can see from the image below my cubicle walls have glass on the top part now which is a big difference from my previous cubicle. If you look closely, I can see into my neighbor's cubicle which can be good at times and not so good at others.
My Current Cubicle Corner Shelf Shown Below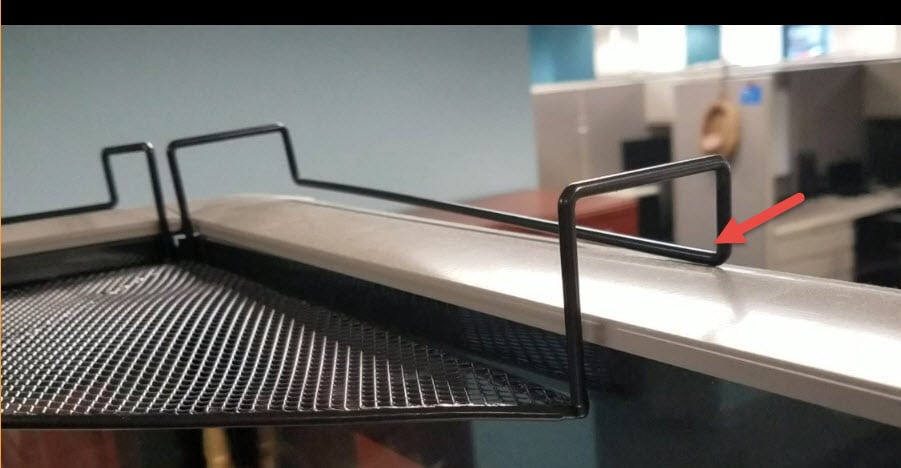 Years ago I picked up the corner shelf depicted above which works great since there are needles that hook into my cubicle walls. Well, recently I picked up a cubicle corner storage shelf which connects to the corner of a cubicle at the top of the walls which is above the glass windows.
At the time I purchased it I thought it would be wide enough for my cubicle wall thickness. As it turned out, it works but it doesn't perfectly fit the top of the walls as seen below.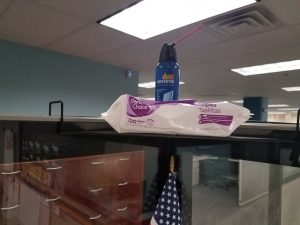 It was about 1/2" too short, as you can see above, to wrap totally around my cubicle walls BUT it stayed there without a problem and I was able to hang some wipes and some compressed gas in the corner of my office as you can see in the image to the left.
Obviously I would recommend purchasing a corner storage rack that fits your cubicle walls perfectly but this actually did the trick.
You should make it a point to measure the width of your cubicle walls before purchasing this item. I would say that a 2″ wall would hold this storage rack perfectly. You can see the dimensions below of the storage rack.
Corner Cubicle Storage Rack Detailed Images
Corner Cubicle Shelf with and without dimensions
| | |
| --- | --- |
| Material | Iron |
| Mounting Type | Wall Mount |
| Room Type | Office |
| Shelf Type | Glass, Metal |
| Product Dimensions | 11″D x 16.2″W x 11.81″H |
| Shape | Cubical |
| Brand | Bioristar Tool |
| Size | Fit 1.9 in thick cubical wall |
| Assembly Required | Yes |
| Manufacturer | Bioristar Tool |
My Corner Cubicle Storage Shelf YouTube Video
Check out my youTube video below showing the storage rack in my office cubicle!
If you think you could use this in your own cubicle you should make it a point to check the width of your cubicle walls.
Benefits of Cubicle Corner Shelves
Expands the footprint of your small cubicle.
Allows you to unclutter your desktop.
Helps decorate your office by using it for small plants or framed pictures.
Can hold smaller desk accessories so they're always available.
It's a novel cubicle accessory that will upgrade your cubicle's décor.
This is just another in a long line of specialized cubicle-related accessories that just might make your work life a little bit easier. Any type of wall desk organizer can also make a difference in the use of space in your cubicle or workspace.
If you have any questions or comments you can leave them in the comments or use my Contact Me page.
Bob has been blogging for over 20 years and has been an office and cubicle dweller for more than 40 years. He created the popular office website CubicleBliss in January 2011 and rebranded it as WorkspaceBliss in April 2020. Over the years, he has been a regular writer for popular blogs such as DailyBlogTips and WorkAwesome (can read his articles here).
In the office he's been an IT Manager, Applications Engineer, Systems Analyst, Software Project leader, and Programmer Analyst in his long career. He's a Certified Microsoft Professional and possesses a Masters of Science degree and two Bachelor of Science degrees, one of those in Informational Technology.