(Update – This product is currently unavailable but there is another accessory that is available called the Cubicle Corner Shelf which is pretty much the same product as seen in this article.)
I am always looking for cubicle accessories which will increase my storage capabilities within my cubicle at work. Well, I recently came across another shelf that actually sits on top of my new cubicle walls. It is called a Cubicle Storage Shelf. (Don't miss my youTube video further down!)
Within the past year, my cubicle moved from one floor to another in my company. I wrote about my cubicle transformation in an article displaying my many cubicle accessories. Another twist was that the type of cubicle changed from my previous cubicle. I was hoping to have a privacy door for my cubicle but no such luck. 
As you can see from the image below my cubicle walls have glass on the top part now which is a big difference from my previous cubicle. If you look closely, I can see into my neighbor's cubicle which can be good at times and not so good at others.


Years ago I picked up the corner shelf depicted above which works great since there are needles that hook into my cubicle walls. Well, recently I picked up a cubicle corner storage shelf which connects to the corner of a cubicle at the top of the walls which is above the glass windows. At the time I purchased it I thought it would be wide enough for my cubicle wall thickness. As it turned out, it works but it doesn't perfectly fit the top of the walls as seen below.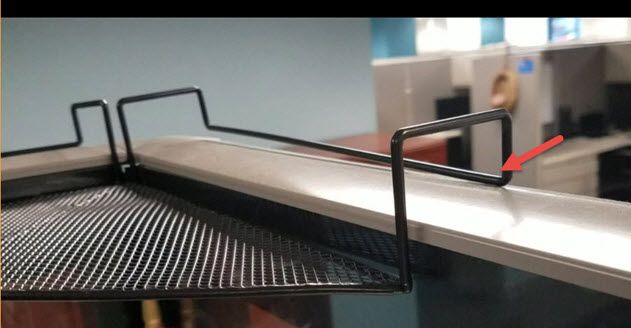 It was about 1/2" too short, as you can see above, to wrap totally around my cubicle walls BUT it stayed there without a problem and I was able to hang some wipes and some compressed gas in the corner of my office as you can see in the image to the left.
Obviously I would recommend purchasing a corner storage rack that fits your cubicle walls perfectly but this actually did the trick. You should make it a point to measure the width of your cubicle walls before purchasing this item. I would say that a 2″ wall would hold this storage rack perfectly. You can see the dimensions below of the storage rack.
Full Product Dimensions – 16" x 11.5" x 2"
Color – Black
Material – Metal
Slides neatly over cubicle wall. No Screws Required.
Ideal for displaying office decorations like plants, books, or picture frames.
Package includes: 1 PC Office Cubicle Sundries Storage Rack
Stylish metal mesh surface
Check out my youTube video below showing the storage rack in my office cubicle!
If you think you could use this in your own cubicle you should make it a point to check the width of your cubicle walls. This is just another in a long line of specialized cubicle-related accessories that just might make your work life a little bit easier. Any type of wall desk organizer can also make a difference in the use of space in your cubicle or workspace.
If you have any questions or comments you can leave them in the comments or use my Contact Me page.