Do you want to know how to organize your desk, office, or cubicle at work? Well, this article will answer that question with 15 top tips to organize your workspace properly. If you're wondering how do you organize your office cube or ever asked yourself how to organize my desk at work, this article will give you the steps to do so. Read on for more details.
Organization is oftentimes underrated in the office world, whether you work in a closed office space with a door or a cubicle.
At least for me, a well-organized workspace allows me to be much more productive and I think this is probably the same for most workers.
15 Top Tips on How to Organize your Desk, Office, or Cubicle at Work
I've worked in an office environment in an office building for most of my working career which spans more than 40 years, so I certainly have experience organizing an office space.
I have utilized these techniques in my offices and cubicles over the years and they have worked for me.
Need to know how to organize your cubicle at work? Well, most of my career has been working in cubicles but, for many years, I worked in an office with a door as an IT Manager.
So, if you want to know how to organize your office at work in general or, more specifically, how to organize desk top items, or how to organize desk drawers, the 15 tips below should help you out.
Instead of wondering how to make work go by faster, maybe you just need to do some efficient organizing of your workspace. And instead of looking for excuses to call out of work, you can always do something about the organizational state of your office.
You may not need to incorporate all of the tips below but I know if you tailor them to suit your own working environment, I know you'll have a much more organized office or cubicle at work.
1. Start from Scratch – Grab a Few Boxes and Label Them
I think it's important to start from scratch when it comes to organizing any workspace. I know this might sound a little drastic but, believe me, it will make sense as I go through the steps below.
If you work in a cubicle, you should have one box for your overhead bin, one box for your desk drawers, and one box for your desktop items. Label each box and just place everything in the boxes.
If you work in a larger office with a door, you may need a few more boxes but, for demonstration purposes, you can mimic what I have mentioned above for a cubicle. If you can't get the boxes at your place of employment just swing by a local liquor store or a grocery store.
They will have plenty of boxes they can give you at no charge.
2. Clear off your Desktop and Place Contents in the Box Marked Desktop
The process is pretty straightforward. Since we are starting from scratch, it is imperative to remove all of the items off of your desktop and place the contents in the box marked Desktop.
At this point your desk is entirely clear of all of the items that were once sitting on top of it. This will give you sense of relief knowing that you can now make some changes going forward.
3. Thoroughly and Physically Clean your Desktop
There is something cathartic, at least for me, in thoroughly cleaning anything. That includes my office desktop. You should be able to find some Lysol Wipes or they also sell Lysol Spray. Either one, just find some wipes or even Windex with some paper towels. However you prefer cleaning your desktop, just find an option that works for you.
4. Rinse and Repeat with your Desk Drawers and Overhead Bins
Remove everything from your Desk Drawers and place them in the box marked Desk Drawers. Do the same with your overhead bins and place those items in the box marked Overhead Bins.
If you work in a larger office you may have a free-standing bookshelf and I think it makes sense to remove all of the books and knick knacks you might have in that bookshelf as well and clean out the shelving.
So, at this point you now almost have a brand new office or cubicle with everything cleaned out. Now you have a blank canvas and you're ready to paint an organized workspace!
How to Organize Your Desk
5. Purchase some Strategic Desktop Organizational Accessories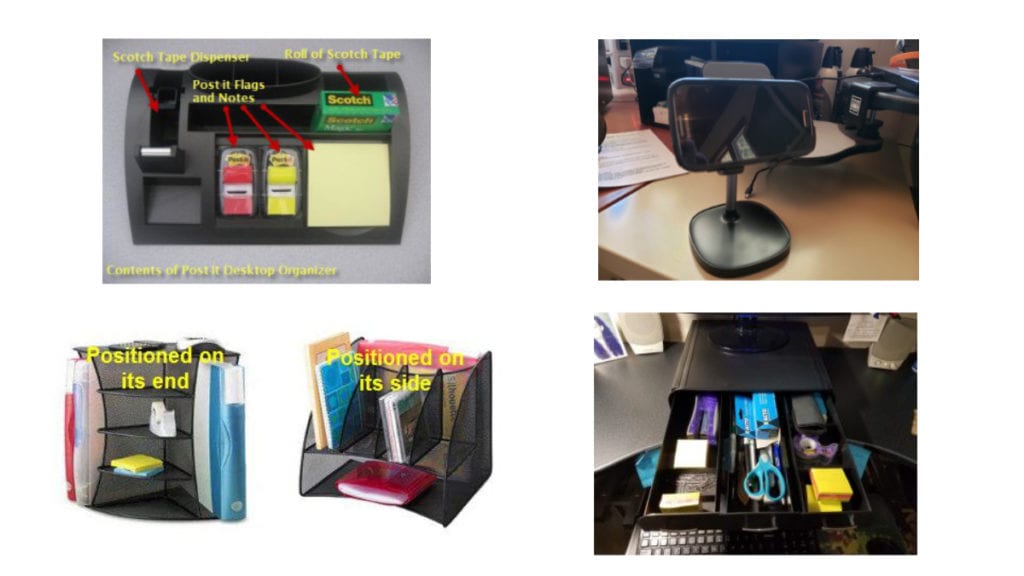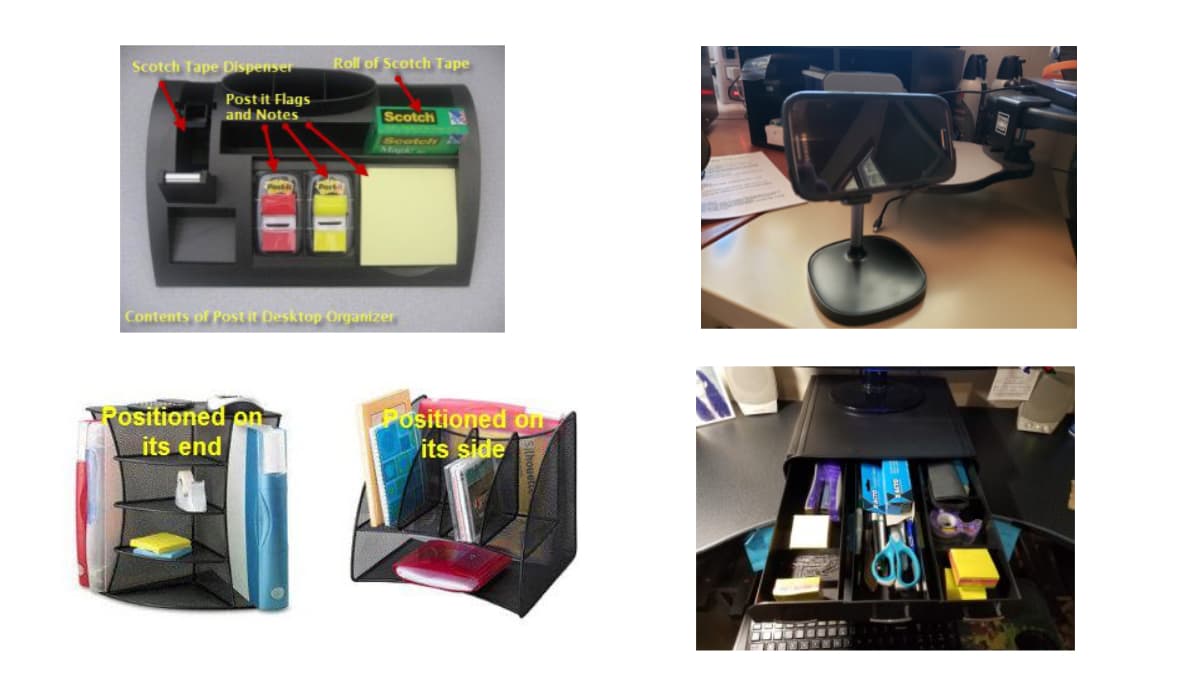 Desktop Organizer
I use a desktop organizer made by Post-it because it consolidates a lot of small office-related items in one small footprint. Any type of desktop organizer will allow you to have many items in one small area of your desk so that you know where to find those items like Post-it Notes, Post-it Flags, scotch tape, pens, pencils, scissors, paper clips, and binder clips. I love my Post-it desktop organizer.
Corner Shelf Organizer
One desktop item that I own is a corner shelf for desk organizer which actually fits perfectly into the corner of my office desktop. The Safco corner shelf has a small footprint but takes advantage of a corner piece of real estate that is hard to store anything. I store books and manuals in mine that I refer to often throughout the day. The one that I own actually has two configurations which makes it more versatile.
Desktop Phone Stand
I always have my cell phone at the ready. And I find that ever since I purchased a desktop phone stand it is always at a good height and it's always in the same place. For short money the Lisen desktop phone stand is a great little investment.
Monitor Stand with Storage
Ergonomically, it is important for the height of you monitor to be at eye level. Because of this, I purchased a Perch Monitor Stand which not only propped up my monitor a couple of inches but it also contains 3 drawers into which I store a myriad of desktop items like my letter opener, stapler, paper clips, elastics, extra scotch tape dispenser, etc.
The additional storage capabilities of the Perch monitor stand may work in conjunction with an item like the Post-It Desktop Organizer or in lieu of it. It's basically up to what are your needs.
Headphone Hanger
I use headphones all the time for meetings and for just listening to music or to talk radio. They drown out any background noise and I simply can't live without them in the office. The headphones hanger I own, shown here, clamps to my desktop and allow me to hang my headphones so they aren't even really on my desktop.
The most important thing is that they are always in the same place so they are easy to find without cluttering up my desktop.
6. Review and Purge Desktop Items in Box Marked Desktop
This is the most important step. One by one, take each item out of the Desktop box and make a minimalist determination. Do I keep it or purge it? This is your chance to only include anything back onto your desktop that you need.
So, what is left in the box is what you don't need and can place them out in a common area for your coworkers to snatch up!
After this exercise you not only have an organized desktop but you also have the minimum amount of items on your desktop which certainly limits the clutter that had built up before you started.
How to Organize Desk Drawers
7. Utilize a Desk Drawer Organizer
Now that your desk drawers are entirely clear of any items and they are free of any dirt and grime, it's time to implement some proper desk drawer organizers. The first thing you have to do is to measure the inside of your drawers with a tape measure. Then head over to Amazon and type in office desk drawer organizer and find some desk organizers that work for your office desk drawers.
8. Review and Purge Items in Box Marked Desk Drawers
You are basically going to do the same you did with your desktop items. Review each item and only place back into your desk drawers what you really need. You'll be left with only the items that you don't need and can offer them up to your coworkers again!
9. Perform the Same Review-and-Purge Exercise for Overhead Bins, etc
Since the process has already been identified above, you're just going to complete the exercise with your overhead bins, shelves, or any other area of your office cubicle or office with a door that you have identified.
Other Helpful Office Organizational Tips
10. Purchase a Printer Stand with Storage
Let's assume you also have a small printer on your desktop. I purchased a printer stand for my office desktop because it not only holds the printer at an optimum height but it also has storage bins underneath not only for printer paper but for all sorts of other desktop items you may need to store.
I purchase a Fitueyes printer shelf for desktop and it allows me to lift my printer up to a perfect level for me and provides an abundant amount of storage underneath the printer.
11. Get a Label Maker – it's a Must in an Organized Office
Years ago I purchased an extremely handy Brother P Touch Label Maker and use it to label my hanging file folders as well as anything that really makes sense in my office. One item I labeled were the drawers of my Perch monitor stand that I mention above so that I know exactly what is in each drawer before I open one up.
12. Buy a File Cabinet and Hanging File Folders
If you have a cubicle your desk drawers will have an existing drawer for file folders. But, to be honest, it may not be large enough. It certainly wasn't large enough for me. If you have an office with a door, you should easily be able to add a file cabinet but in a cubicle, it may be tight.
I know there are many out there who file everything electronically but, for me, a file cabinet with clearly marked alphabetical hanging file folders is a must. It's also a must in a home office as well.
13. Use the Walls!
Organizing a small office or cubicle can be challenging. Sometimes the most obvious organizing tip is to utilize the walls. If you're in a cubicle, there are are a variety of cubicle shelving products that you can invest in which will allow you to take items off of your desktop and onto your walls.
You should never overlook the walls of your small office when it comes to maximizing your organizational capabilities. Take advantage of every inch of your limited real estate. It will be worth it in the long run!
14. Buy a Whiteboard and Use It
If you've ever wondered how to hang a whiteboard in a cubicle, it can be done! There are specialized products that have been developed to allow you to do so. But the real question is, why bother?
I purchased a magnetic dry erase board for my cubicle and always would write my latest projects on it in order of importance. For me, having a list right there in my face helped me keep on track. On top of it, I could place it on my cubicle wall.
15. Perform Regular Weekly Review and Maintenance
Sometimes when we complete a rigorous exercise like the one I have outlined above, we think we're all set. Not true! In time your desktop may become cluttered with items that just seem to accumulate out of thin air.
That's why it's important to review and clean your office desktop, drawers, and essentially anything in your office. Just target a ½ hour each Friday for cleaning your desktop with some Lysol wipes and just removing anything on your desktop or in your drawers or overhead bins that you don't need. Practicing spring cleaning tips for your office year round!
If you target Friday afternoon you'll feel better going into the weekend and on Monday morning at least you'll be entering an office or cubicle that is clean. You'll have that going for you!
Summary of How to Organize your Desk, Office, or Cubicle at Work
I hope this list of 15 tips can help you get organized and stay organized. So, if you've oftentimes wondered how to organize your desk, how to organize desk drawers, how to organize desk top items, how to organize your cubicle at work, or simply how to organize your office in general, I hope the 15 top tips above will help you in your quest to become a much more productive and organized employee!
What to Read Next: