Do you need some tips on how to simulate natural light in a windowless office? Well, you came to the right place! This article will give you a list of windowless office lighting ideas to illuminate your office space.
How to get natural light into a room without windows is a perplexing task for those of us who live in an office without windows. There are some options for simulating natural light that will be addressed in this article.
This is an issue that is near and dear to me. I've been there right with you working in an office with no natural light far away from a wall of windows.
I've also been working in a cubicle along a wall of windows so I certainly know the stark difference. Natural light solutions are certainly available and you'll be presented with specific examples below. You have options for effective workspace lighting for a windowless office.
Do you find yourself struggling to stay awake during the afternoon? Are you feeling constantly drained and out of energy? Do you often wonder how to make time go faster at work?
If so, then you're not alone. Many people find it difficult to adjust to working in a space without natural light. So instead of trying to come up with bulletproof excuses to get out of work or looking for good excuses to work from home, how about fixing the problem?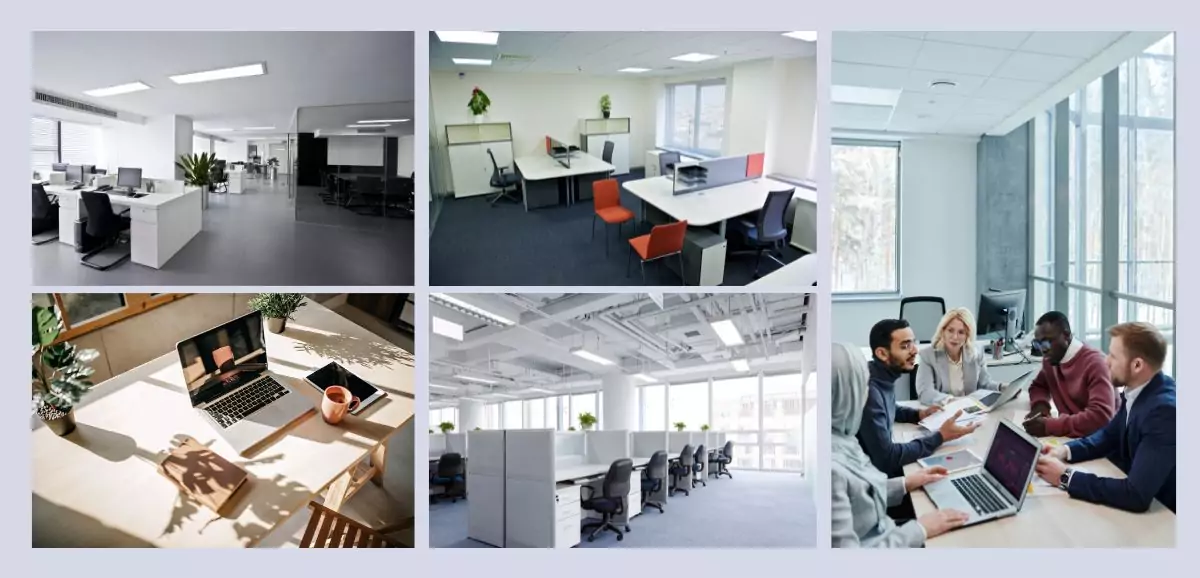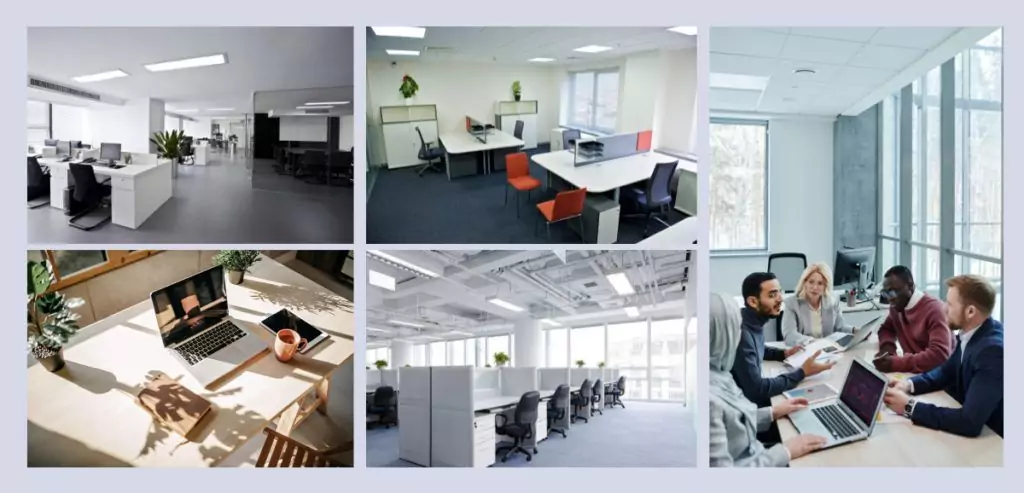 This article will show you how to make a windowless office less depressing. We'd all love a natural light office but there are some clever ways to simulate natural light. Simulating natural light for office with no windows is one way to have some representation of a natural light office.
This article will present some tips and strategies for light solutions for windowless rooms. It is important to learn how to decorate an office with no windows but enhancing the lighting is certainly paramount. There are many unique ideas to decorate office walls but solving the lack-of-light issue is your first task.
There are certainly some ways in which you can enhance windowless office lighting which will make a difference in your mood and productivity in the office. So let's get started!
How to Simulate Natural Light in a Windowless Office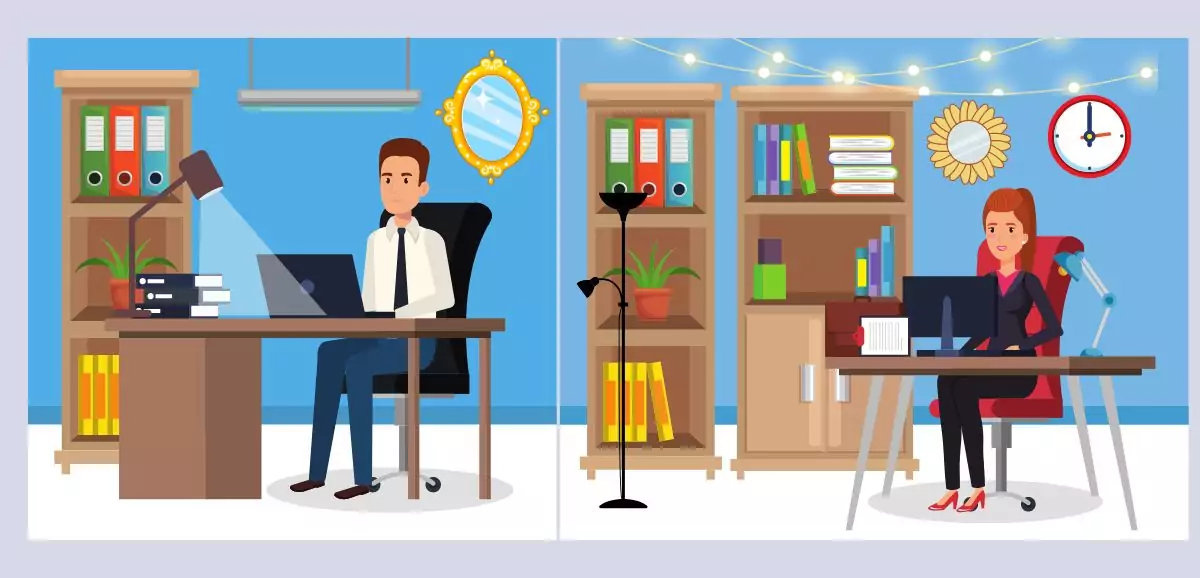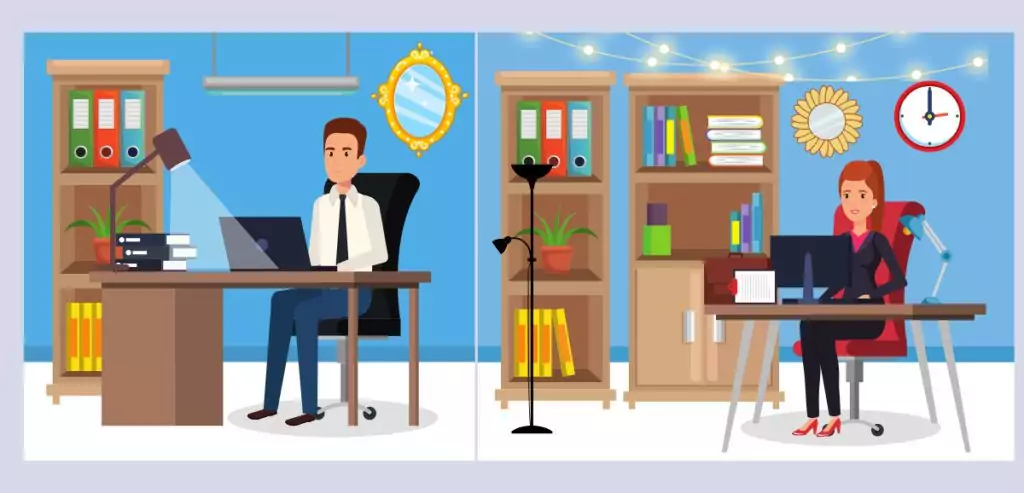 When we work in the corporate world, we need to kowtow to the powers-that-be.
I've certainly been there in my working career where I felt that I'd been jerked around and moved at the whim of management.
There is always some reason for moving various departments around within a company.
More often than not it's because of the promise of enhanced collaboration between different departments.
I can certainly understand the rationale, but sometimes the result of a move is that you are now further away from any type of natural light or windows.
You are now stuck in a windowless office and for no reason other than you work for a certain department.
No natural light in office environments is a tough situation as I'm sure you can understand. Well there is certainly hope. There are ways in which you can enhance your energy at work with the proper lighting.
So, as a result of the move you need to come up with some light solutions for windowless rooms. How to simulate natural light in a windowless office is possible! Check out some of the natural light solutions for your office or home below.
Natural Light Solutions for Windowless Rooms
Best Lighting for Office with No Windows – How to Get Natural Light into a Room without Windows
So what's the best light for office with no windows? There are a number of options from which you can choose as well as some other solutions to enhance the lighting in a windowless office. How to get natural light into a room without windows is a question that certainly has a number of solutions.
And if you work from home in a dark office you're certain looking for the best lighting for home office with no windows. This article will address your dilemma. Read on for more details.
1. Add LEDs as Faux Skylights for Windowless Office Lighting
How to bring natural light into a room without windows is challenging but it can be accomplished.
LED lights can help achieve the color, temperature, and level of brightness which can simulate natural light in a windowless office. Basically, these are lights that mimic natural light. Office lighting that mimics sunlight is a must in a windowless room.
If you can place them recessed into the ceiling mimicking skylights, this can be highly effective to help brighten up a windowless office.
They will, in this scenario, be a viable replacement for a natural skylight effect.
2. Lighten your Desktop with a Full Spectrum Sunlight Desk Lamp – Sun Lamp for Windowless Office / Natural Light Lamp
In 2006, Vandewall et al concluded that there is a direct relationship to human performance with full spectrum white light.
In recent years there has been a boon in the manufacture of full spectrum lamps used to simulate natural light in a windowless office environment. They just might be the best light bulbs for an office with no windows.
They are lights that simulate sunlight which is essentially what you are trying to accomplish in a dark office.
The one shown here made by Lavish Home is one I have used myself in my cubicle at work. It's a reasonably-priced natural light desk lamp and provides a nice amount of light for a small office.
It's a great lamp for an office with no windows. If you're looking for a natural light office, this desk lamp could certainly help. Are they they the best lamps for an office with no windows? As far as value is concerned they just might be.
3. Incorporate a Floor-to-Ceiling Natural Light Lamp for Windowless Office Lighting
I used to work with someone who actually had an office with a door but the office was nowhere near an outside window. What was amazing about this guy's office was that the lighting was perfect.
He had a really cool desk lamp but there was one thing that stuck out in his office. It was a floor lamp like the Lavish Home floor light shown here.
It just really classed up the office and it added a lighting that really made the office. It was essential a natural light lamp for office lighting.
It wasn't overbearing but it gave just enough light to allow my coworker to have plenty of light but also a really nice ambience to the workspace.
He knew the power of natural light in office confines and it was quite remarkable and something I never forgot over the years. He certainly knew how to get natural light into a room without windows.
4. Energize with Light Therapy – Lights that Simulate Sunlight – Natural Light Simulator
The SMY Blue Light Energy Lamp seen here is a remedy for conditions such as Seasonal Affective Disorder which is related to a lack of sunlight. People tend to be affected with this condition during the winter months.
Office workers who are relegated to offices or cubicles that are far from any windows can be particularly affected. An energy light is basically a natural light simulator.
I, for one, use an energy light in my office cubicle each morning especially during winter months when the sun isn't even up when I arrive at work. It is a natural light lamp for office that can simulate blue light of the sun.
You use it for a recommended period of time so that you can be exposed to blue light which represents sunlight.
Please know that this light is only to be used for a recommended amount of time, preferably in the AM, and not throughout the day to light up the office.
5. Wall Color Upgrade will Lighten Up an Office with No Natural Light
If you work in the corporate world and have some pull with management, you may be able to request a change in the color of your walls.
If you're in a home office setting your choices are endless. If you want to learn how to make a windowless office less depressing then upgrading the wall color is a great step to making that happen.
Bright colors, such as blues and pastel greens are a great choice for office walls. Blue creates a more natural daytime feeling in the office if you have the opportunity to have the walls painted.
But I'm not convinced that this is a viable possibility in most scenarios. But you have other options that you can implement on your own without management's blessing.
Hang Colorful Posters
If you can't paint your office walls consider adding some colorful posters to your office walls. There are specialized hangers you can utilize to hang items like posters from an office or cubicle wall.
Hang Framed Watercolor Paintings
You can pick up some colorful framed watercolor prints at a local home goods store. Those will add some color to your drab office walls.
Add Light-Colored Wallpaper
If you work in a cubicle, there is a specialized product called cubicle wallpaper that will add some color to your grey cubicle walls.
You can even buy some generic wallpaper and affix it to the walls with T-Pins.
Even if you have an office with plaster walls, a splash of color introduced with actual wallpaper can lighten up a workspace.
Obviously you might want to run it by management especially if you are covering up plaster walls. They may have some type of policy against workers affixing anything to permanent walls.
Affix a Removable Faux Window Mural – Fake Windows for Windowless Rooms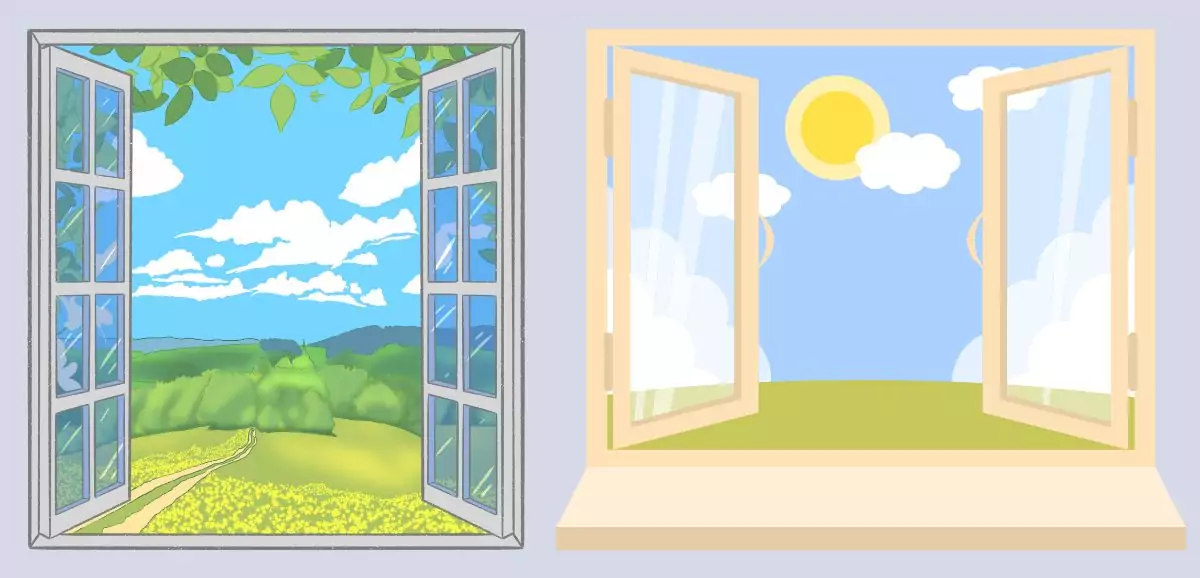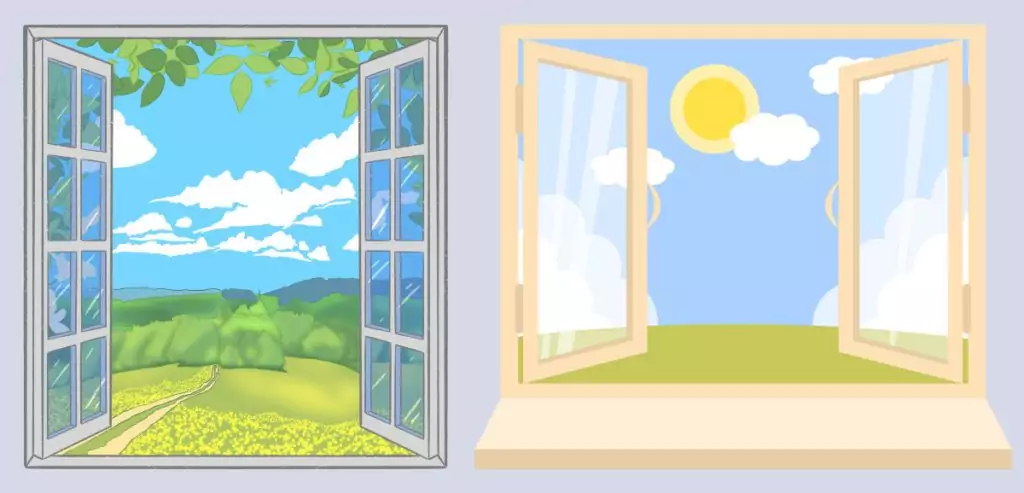 For years I have had an actual cubicle window in my office cubicle at work. Fake windows for windowless rooms are certainly a way to go to add some life to any room without any light.
It was actually a frame made by someone out of wood and it had four different scenes that you could place within the frame depending on your mood.
The window mural wall sticker seen here is an easier option for a cubicle or for an office wall. One great feature is that it is removable if you ever want to move it in your office or just get rid of it.
This open might go over a little better with management as it clearly can be removed if need be. So if you are looking for fake windows for windowless rooms, a removable faux window mural just might do the trick.
6. Nature-ize with Living Greens
As a way to compensate for a lack of natural light you should enhance your office décor with a few light-tolerant plants, such as spider plants, ferns, or succulents.
These plants will also help keep your office air clean and healthy.
The palm shown here flourishes in low-light conditions and are made for an office where there is a lack of sunlight.
Adding some greenery might not magically add light to the office but it will feel more like you are in a lighter environment.
7. Let the Light Bounce with Mirrors and Reflective Surfaces for a Natural Light Office
Mirrors are a great addition to any office especially an office with no natural light. Mirrors are reflective as are metallic materials and finishes.
Light can be reflected off other materials as well to help light fill the office better.
What is unique about the Gray Wash Windowpane Mirror shown here is that it not only is a mirror but doubles up as a faux window to the outdoors.
Adding a number of mirrors to your office or cubicle will allow the limited light you have to fill your workspace.
How to Simulate Natural Light in a Windowless Office – A Recap
How to get natural light into a room without windows is a dilemma for many of us, especially in small offices. I hope this article will help you try to simulate natural light in a windowless office.
Light solutions for windowless rooms will always be valuable because there are a limited amount of windows available for any space. If you can incorporate these solutions into a dull and dreary workspace the changes could be transformational.
Don't forget it's not only lighting that can brighten an office with no windows. How to make a windowless office less depressing? You can add colorful posters, upgrade the wall colors, and add faux window murals which are essentially fake windows for windowless rooms.
A natural light office is simply not in the cards for all of us. I can certainly relate to this fact being relegated to cubicles away from windows for most of my working life.
Windowless office lighting options are numerous. If you can incorporate these into your lifeless and bleak working environment, you may find that the change will not only simulate natural light but will stimulate you to become a happier and a more productive employee!
Frequently Asked Questions about How to Simulate Natural Light in an Office
How can I lighten a dark office without natural light?
Here are some quick solutions to lightening up a dark office without natural light:
Lighten up the wall color if at all possible. Lighter paint colors like pastel yellow, light blue, pale shades of grey, light orange, or pink will brighten up a dark office.
If you are within the confines of a cubicle you could attach some lighter color wallpaper that is peel and stick or you could use any wallpaper and affix with T-Pins.
Utilize LED lighting or natural light spectrum desk and floor lamps. These natural light solutions will make a huge difference in lightening up a dark office.
Add a stick-on faux window to one of your walls depicting a lighter outside scene.
Introduce reflective surfaces like a mirrored pencil cup holder, wall mirrors, or brass desk accessories. These will allow the light you've introduce with desk or floor lamps or overhead lighting to spread throughout the office.
How do survive an office with no windows?
A work walk is a great way to break up the day. If it's during your lunch hour that is more beneficial but even if it's on a break for 15 minutes it will allow you to get some fresh air and stretch your legs.
Consider purchasing an energy light that you can use to provide some simulated sunlight each day. These lights are used for a specific amount of time to give you that light exposure and energy boost. These are used to combat the effects of Seasonal Affective Disorder.
Purchase an LED desk lamp or a natural spectrum desk lamp or floor lamp. These lighting solutions will provide an immediate beneficial impact on an office with no windows.
What to Read Next: