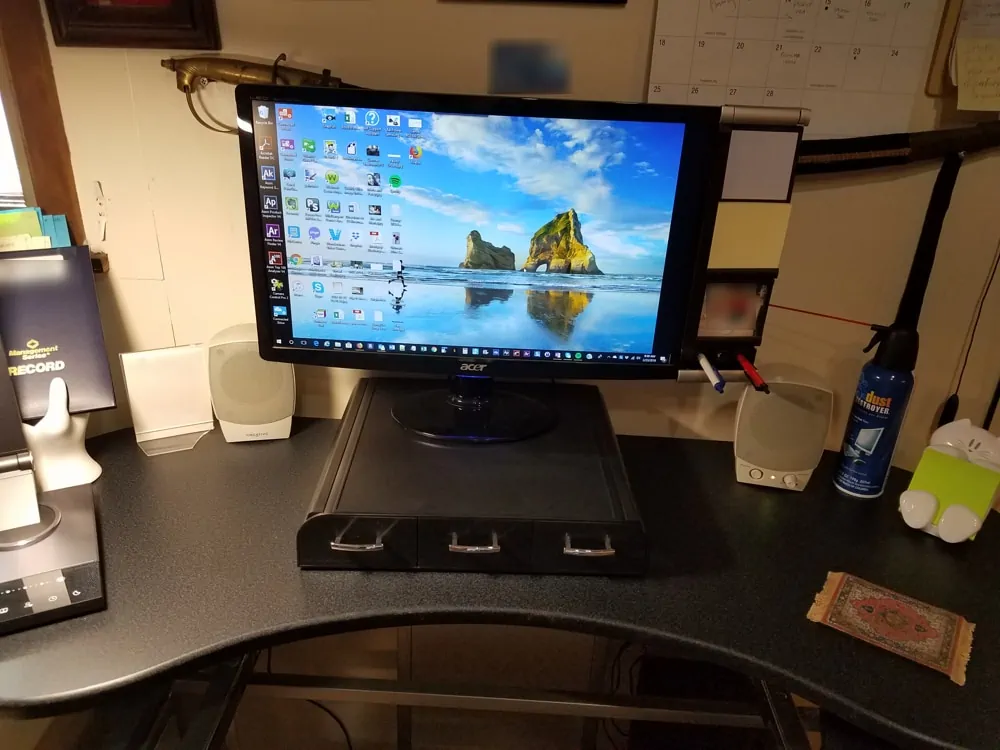 Are you looking for a way to boost your monitor to eye level and to unclutter your desktop at the same time? This article will describe a Mind Reader Perch Monitor Stand Riser with Drawers that I use in my home office.
In this article about staying healthy in the office ergonomically, I wrote about different areas of your body when it comes to sitting at a desk throughout the day. One area in particular is the computer screen and eye level which is an important consideration when it comes to ergonomics.
A Monitor Stand Riser with Drawers is a Dual Benefit Accessory
In that article I wrote that your computer screen should be at eye level or slightly lower in order to prevent any straining whatsoever.
In my cubicle at work I use this monitor cubicle hanger and it is perfectly positioned at the right height for my eyes. But, since I now work a little more from home, I realized that my home office computer monitor was a bit lower than it should be.
So I started researching monitor stands and I found the Mind Reader Perch Monitor Stand which you can see above.
It is one of those cool office gadgets that is functional and really cool as well. I thought that not only would it raise my monitor a couple of inches but it would also allow me to store desktop items out of sight.
YouTube Video of my Monitor Stand with Drawers
Check out the youTube video below of me setting it up in my home office.
My home office desktop was a bit overcrowded, as you'll see below and in the video above, so I thought that the Mind Reader Perch Monitor Stand would be an excellent addition to my home office.
There are so many different types of monitor stands out there but this one would allow me to store items in 3 small drawers that came out from the unit. I also liked the fact that those drawers are covered so it keeps the small items out of sight when not needed.
Detailed Images of my Mind Reader Monitor Stand with Drawers
If you too could use a boost of your monitor and clear off your desktop at the same time, you should seriously consider this reasonably-priced ($15) Mind Reader Perch Monitor Stand and Desk Organizer.
Summary of Monitor Stand with Drawers
Mine has certainly cleaned up my act in my home office and any office or cubicle could certainly be enhanced with this innovative product.
The real benefit of my Mind Reader computer stand with drawers is that it will not only boost your monitor to be at the proper level. It will also allow you to store a myriad of small office accessories in the small drawers.
Small office organization ideas like the one above will allow you to be more efficient in a small working area.  Implementing office shelving ideas is another way that you can move accessories off of your desktop and onto an organized platform. 
There are many more cool office supplies and cool office gadgets you can utilize to become much more organized and efficient.
If you have any questions or comments please leave them below or contact me directly via my Contact Me page.
Bob has been blogging for over 20 years and has been an office and cubicle dweller for more than 35 years. He has been featured in numerous online publications such as US News and World Report, Bustle, and Work Awesome (you can read his articles here). He created the popular office website CubicleBliss in January 2011 and rebranded it as WorkspaceBliss in April 2020.
In the office he's been an IT Manager, Applications Engineer, Systems Analyst, Software Project leader, and Programmer Analyst in his long career. He's a Certified Microsoft Professional and possesses a Masters of Science degree and two Bachelor of Science degrees, one of those in Informational Technology.
During his career he has worked in the office full-time, as a hybrid remote worker, and has worked from home permanently.