I am always on the lookout for any office accessory which can make my life easier while at work. When it comes to hanging things in a cubicle there are many different cubicle accessories which you can use to do the job. I wrote about using T-Pins in an office to hang anything from your cubicle walls in this article. It is a really great option and a very reasonably-priced one too.
Another great option especially if you want to hang something like a bulletin board or a white board is to use Best-Rite Cubicle Board Hangers. They are made specifically for a cubicle wall as are many of the products that I have reviewed on this site including my flat panel monitor cubicle hanger, my note rail that I wrote about here, and historically one of the most popular item on this site my cubicle shelf. You can check out all of the cubicle wall accessories I have reviewed by clicking here.
Getting back to the Best-Rite Cubicle Board Hangers, these are versatile hangers in that they fit perfectly for a cubicle wall measuring 1.75″ – 2.5" in thickness. I must tell you that those measurements pretty much span the gamut of cubicle wall thicknesses so unless your cubicle wall is greater than 2.5" or less than 1.75" these hangers will work for you. All you do is hold them up to your cubicle wall to get a tight fit and insert the screw with a Philips screwdriver and you are in business with a very sturdy cubicle wall hanger. These will do the job if you are putting up a picture, poster, white board, or bulletin board.
Please check out the detailed images below of me setting up the hangers on my cubicle wall.
Assembling and Hanging the Best-Rite Cubicle Board Hangers
(Click on any of the images below for a larger view)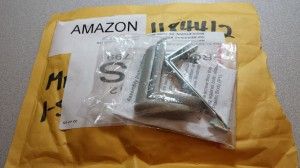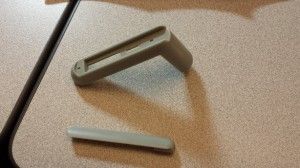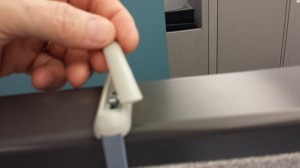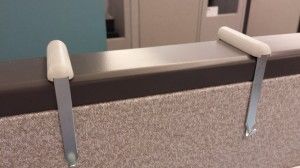 I just don't happen to have a white board to hang at the moment but,believe me, these are really strong hangers for any type of poster, white board, cork board, or any item that you are looking to hang in your office cubicle.
Features of the Best-Rite Cubicle Board Hangers
Product Dimensions – 2.8 x 0.6 x 4.5 inches
Shipping Weight – 3.2 ounces
Adjusts to accommodate wall thicknesses from 1 3/4″ to 2 1/2″.
Hang a whiteboard, cork board, or framed artwork with ease.
If you are looking for a reasonable option to hang anything in your office cubicle, these Best-Rite Cubicle Board Hangers could just be the perfect solution for you! If you have any questions please leave it in the comments or use my Contact Me page.