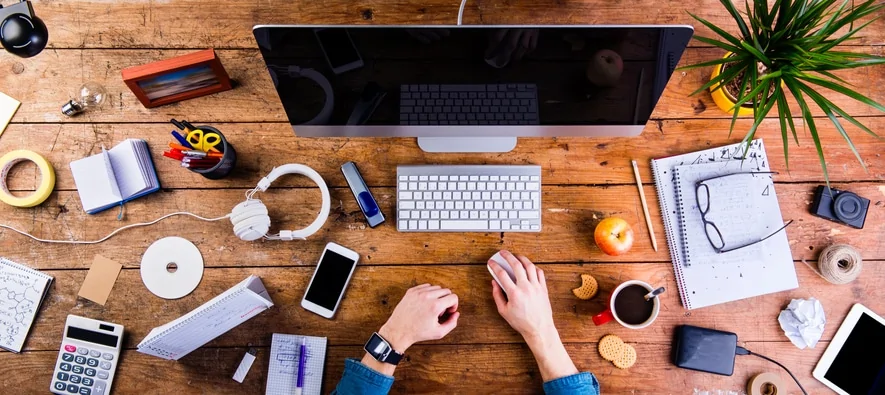 Are you looking for a good list of good office supplies you should have in your own workspace? Well, this article will provide you with a sufficient list to get you covered.
When you think about it, your office is like an extension of your home. It's the place where you spend most of your time during the day, so why not make it as comfortable and functional as possible? Whether you're looking to add a little personal touch or just want some ideas on what to put in your office, read on for some tips.
Office supplies that are cool are available if you look for them but there are also some basic office accessories you should also have in your workspace.
If you work in a loud open office vs cubicle or a private office environment, some of these options won't work for you due to your lack of personal working space. But that's one of the drawbacks of an open collaborative work space.
This article will address both the mandatory items and some that will add a little something extra to your working environment.
What are Some Good Office Supplies to Have in your Workspace?
Computer Desk
These days a computer desk is a desk which has various levels. One level is to place the computer monitor so that it is maintained at the proper eye level. Another level is for proper placement of the keyboard.
Oftentimes there is an attached side table used for storage or for the placement of an additional computer monitor. A computer desk is a great office accessory to work properly and ergonomically.
Ergonomic Chair
It is important to consider an ergonomic desk chair in any office or workspace. A bad office chair can lead to many different maladies so it's important to seriously consider a proper well-built ergonomic chair. There are a number of facets pertaining to an ergonomic chair that enhance safety.
Lumbar Support – a good ergonomic chair should always include lumbar support which essentially supports the lower back.
Neck Support – another facet of a well-made ergonomic chair is support for the neck.
Seat Height Adjustability – The ability to raise and lower the seat of an ergonomic chair is of utmost importance. You need to be able to adjust the seat of your chair so that your hands and forearms are at the proper level when typing on your keyboard. Also your sight level should be properly adjusted to view the computer monitor correctly.
Arm Support/Adjustability – Proper support of your forearms is an important aspect of any ergonomic chair. If your chair didn't have arm support it simply wouldn't properly support your body. Also, the ability of an office chair to raise and lower the arm supports to the proper height is another mandatory feature.
Proper Shelving
The proper shelving is still a needed facet of any working office. Shelving allows us to keep our items organized so that they are accessible when needed. It also keeps them out of sight if that's an option.
In a small office such as a cubicle, shelves that attach to cubicle walls are important since they allow you to store items up off of the desktop and onto a shelf so as to improve the amount of real estate but not to clutter up a desktop.
Desk Lamp
A desk lamp is another mandatory office accessory. A desk lamp allows the proper lighting to illuminate a working area.
There are desk lamps which tend to mimic the sun's rays and there are LED desk lamps that may allow you to adjust the brightness and color of the light.
Desktop Phone Stand
Everyone has a cell phone today. Having your phone in a close proximity is important. There are a multitude of phone stands available in the marketplace and most of them will allow you to view your phone not only in portrait mode but also in landscape mode. A desktop phone stand is one office accessory which has certainly become more popular in recent years.
Desk Fan
Even in a fully air-conditioned office, at times it is too warm. A small desk fan like the Zippi personal desk fan can help keep you cool in the office when you need it.
There are USB desk fans, battery-powered, or corded desk fans. They certainly come in handy when needed!
Desktop Coffee Maker
Most people today drink coffee to start off the working day. There are many different versions of coffee makers available today. One such desktop coffee maker is made by Black & Decker called Brew N' Go. The Brew N' Go is a drip version but the Keurig brand utilizes small cups of coffee, hot chocolate, or tea that can be brewed quickly and with no mess.
Printer
If you are working in an office at work there may be the availability of a network printer close to you that you can use. If you're working at home that's another story.
A printer is a necessary office accessory You can use it to print bills, print coupons and also print out digital recipes that you like.
Printer Stand with Storage
A printer stand with storage is an item that is a must especially within a small office. Also known as a printer shelf for desk it's important to have an organized area to not only store your printer but to include printer accessories like printer paper and ink cartridges.
Ergonomic Mouse Pad and Wrist Rest
Ergonomics has become extremely important in the workplace in recent years. Not only has there been more emphasis on worker safety but ergonomics also supports the bottom line.
An ergonomic mouse pad and wrist rest will eliminate the possibility of developing Carpal Tunnel Syndrome. This condition can lead to lost days of work which is certainly a concern when it comes to cost analysis.
Whiteboard
A proper whiteboard or dry erase board in an office has become much more popular in recent years. Usually located near the entrance to an office, these boards are invaluable in keeping track of what needs to be done and what has been accomplished.
Even in a small office like a cubicle you can purchase a small whiteboard which can be attached to cubicle walls. Any whiteboard, small of large, will help keep your projects on track and always visible to you throughout your work day.
Summary of Some Good Office Supplies to Have
The office environment can be a stressful place, but with the right tools it can also be productive and organized. Hopefully this list of office accessories has given you some ideas on how to make your work space more functional, comfortable, and safe!
Bob has been blogging for over 20 years and has been an office and cubicle dweller for more than 35 years. He has been featured in numerous online publications such as US News and World Report, Bustle, and Work Awesome (you can read his articles here). He created the popular office website CubicleBliss in January 2011 and rebranded it as WorkspaceBliss in April 2020.
In the office he's been an IT Manager, Applications Engineer, Systems Analyst, Software Project leader, and Programmer Analyst in his long career. He's a Certified Microsoft Professional and possesses a Masters of Science degree and two Bachelor of Science degrees, one of those in Informational Technology.
During his career he has worked in the office full-time, as a hybrid remote worker, and has worked from home permanently.