Comfort is important when it comes to your office space. Also, it's nice to have a stylish office setup since you're probably spending more time there than in your home (unless we are talking about a home office).
The weather is turning warmer here in the Northeastern U.S. and being able to cool down in the office will be essential for me in my home office and in my cubicle at work. And I'm always looking for cool office gadgets.
I found this Zippi Personal Fan online and it adds a touch of style to my office as well as the ability to cool down at any time of the day. I bought the one that you see here in white but it comes in the following colors – Black, Blueberry, Coral Blush, Graphite Gray, and Sublime Green as can be seen below. (Click on any image for a larger view)
So your options are endless when it comes to matching up the colors or styles in your own office or cubicle. So, what's so cool (no pun intended) about this personal fan? Well, the first thing you notice is the shape of the fan. It's unique and very stylish. Another obvious feature is that the 3 blades (if you can even call them that) are made of cloth so there is no possibility of any injuries from the spinning blades while in operation.
Another really cool aspect of this Zippi Personal Fan is the stand. It is black metal with small rubber footings to that it grabs to a surface. The fan also has 2 speeds which gives it plenty of cooling power. Another great feature is that it folds down so it can easily be packed away for travel.
(Click on any image for a larger view)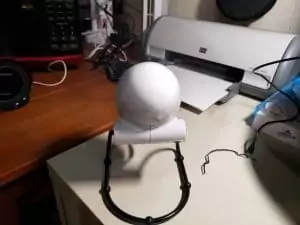 Product Dimensions – 5.3 x 4.8 x 9 inches
Item Weight – 1.75 pounds
Shipping Weight – 1.85 pounds
Item Model Number – FA1-0007-06
Color of Unit – Various
Two speed-settings
Innovative soft cloth blades
Ideal for travelers as it folds down for packing
Small footprint is perfect for a desktop or any small surface
If you're starting to feel the heat in your office, this Zippi Personal Fan might be a great option for refreshing your working environment and adding some style at the same time.
Bob has been blogging for over 20 years and has been an office and cubicle dweller for more than 35 years. He has been featured in numerous online publications such as US News and World Report, Bustle, and Work Awesome (you can read his articles here). He created the popular office website CubicleBliss in January 2011 and rebranded it as WorkspaceBliss in April 2020.
In the office he's been an IT Manager, Applications Engineer, Systems Analyst, Software Project leader, and Programmer Analyst in his long career. He's a Certified Microsoft Professional and possesses a Masters of Science degree and two Bachelor of Science degrees, one of those in Informational Technology.
During his career he has worked in the office full-time, as a hybrid remote worker, and has worked from home permanently.