I'm sure you have seen a wall of ivy on the side of a statuesque political or educational building before and found it fascinating. Well, I surely have and always found it interesting how the ivy climbs up the wall of the building and basically becomes the texture of the building.
Well, I was walking into work the other day bright and early as I typically do and saw the outside of a cubicle wall adorned with what appeared to be actual growing ivy.
I have obviously seen plants in offices before but I have never in my life seen a plant growing up a cubicle wall before and thought it was really cool! There was a plant which looked a lot like some type of ivy in a pot on a small table just outside the cubicle and the plant was growing up the side of the cubicle wall.
A rather novel use of push pins was utilized to guide the ivy up the wall which was another thing I have never seen before. I think I would've used cubicle hooks or panel wall hooks that I reference in my article Cubicle Hangers – Check out my Top 5. The cubicle hooks or panel wall hooks wouldn't be as harsh on the plant in my opinion. It just goes to show you what you can do with a little decorating talent and ingenuity. This particular cubicle wall borders a wall of windows so the plant gets plenty of light and has done very well by growing in so fast in such a short time.
Cubicle Decor Tips – Create an Ivy Cubicle Wall
Click either image for a larger view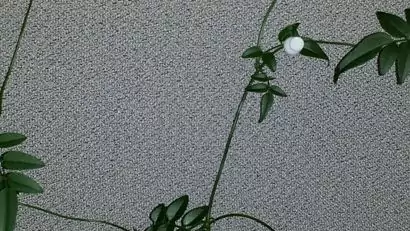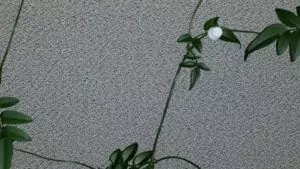 Another option for the cubicle dweller is to place the ivy plant on your desktop and let the ivy grow up the wall on the inside of your cubicle. Granted, you lose some wall space but the novelty of having a plant growing up the side of your cubicle wall is certainly unique!
It always amazes me what people can think of to add some spice to their working lives. I just wish I thought of it in the first place! Got any decorating ideas you'd like to share? Please leave them in the comments.
Bob has been blogging for over 20 years and has been an office and cubicle dweller for more than 35 years. He has been featured in numerous online publications such as US News and World Report, Bustle, and Work Awesome (you can read his articles here). He created the popular office website CubicleBliss in January 2011 and rebranded it as WorkspaceBliss in April 2020.
In the office he's been an IT Manager, Applications Engineer, Systems Analyst, Software Project leader, and Programmer Analyst in his long career. He's a Certified Microsoft Professional and possesses a Masters of Science degree and two Bachelor of Science degrees, one of those in Informational Technology.
During his career he has worked in the office full-time, as a hybrid remote worker, and has worked from home permanently.