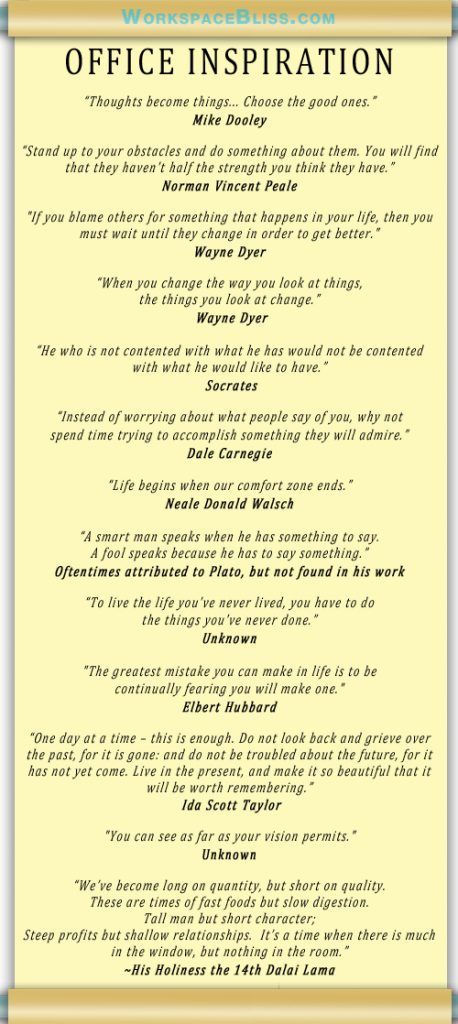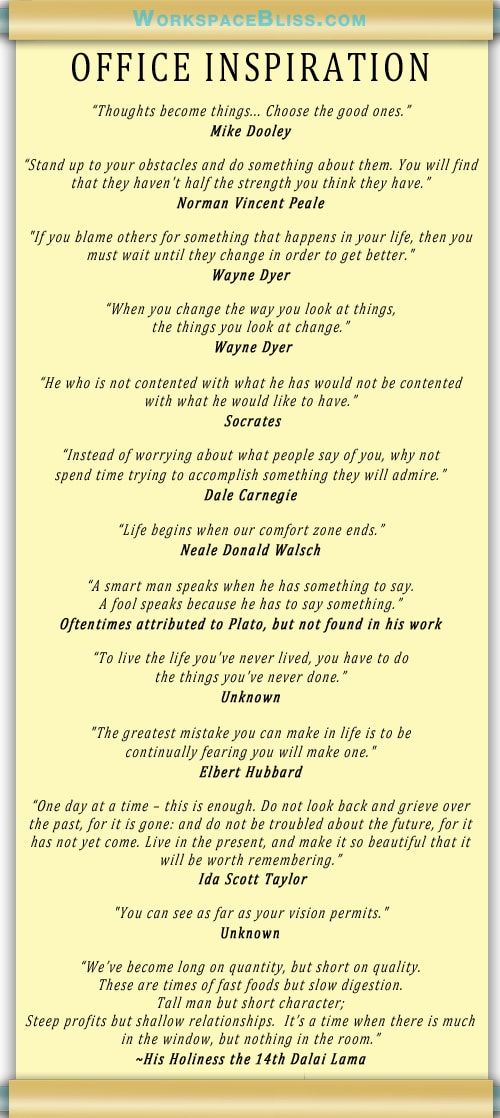 Office Motivational Quotes can Inspire your Workday
I love office motivational quotes. I think they can really allow you to look at the big picture while you are deeply involved in the minutia of daily life. While I am at work especially, I can oftentimes get bogged down by the daily tasks and the routine that comes with working on a daily basis.
That is why I need to have quotes all around my cubicle to cut through that minutia to help me get some office inspiration when I need it.
I keep my motivational and inspirational office work quotes on small pieces of paper attached to my computer monitor, hanging from cubicle clips, and anywhere that is in clear view while I'm working at my desk. I decided to create a customized image of all of the inspirational quotes that mean the most to me in my office cubicle.
Please feel free to pin this on Pinterest (just hover over the image) or share it on Facebook, Twitter, or with anyone who also might like some office inspiration from these office motivational quotes during their work day.
I go into Pinterest on a regular basis and have a number of group boards that I have created. One is called Office Productivity which contains a number of quotes and pins that can help you throughout the day. I'd also love you to join my Workspace Nation group board which is by far my largest! Just follow the board and I'll let you join and probably will follow you back!
Office Motivational Quotes Banner Download for Free!
Office Work Quotes to Inspire Your Day
Download your PDF of the above image here and please display it proudly! I think it's important for anyone who can glean some office inspiration from the above quotes will have access to them throughout the day.
There is something about having quotes or thoughts on your cubicle wall shelf or anywhere in your office that you can look to when things get tough in your working day. I hope you take advantage of this free giveaway and look at these quotes daily as I do to get me motivated to start or end my working day.
Do you have quotes that you have up in your own office that you may want to share with us? Office motivational quotes have a way of allowing me to focus on what is important in life. I just wish I could come up with a quote that is worthy of being included in a list like the one above.
Maybe you could share one of your favorite quotes in the comments. I hope that these office work quotes add some inspiration to your working life or your life in general!
Bob has been blogging for over 20 years and has been an office and cubicle dweller for more than 40 years. He created the popular office website CubicleBliss in January 2011 and rebranded it as WorkspaceBliss in April 2020. Over the years, he has been a regular writer for popular blogs such as DailyBlogTips and WorkAwesome (can read his articles here).
In the office he's been an IT Manager, Applications Engineer, Systems Analyst, Software Project leader, and Programmer Analyst in his long career. He's a Certified Microsoft Professional and possesses a Masters of Science degree and two Bachelor of Science degrees, one of those in Informational Technology.