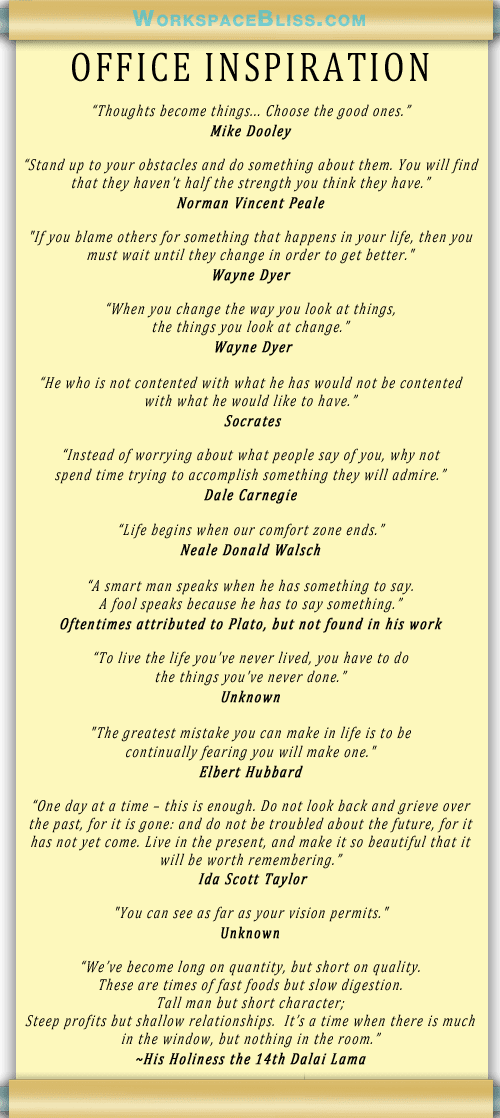 I love quotes. I think they can really allow you to look at the big picture while you are deeply involved in the minutia of daily life. While I am at work especially, I can oftentimes get bogged down by the daily tasks and the routine that comes with working on a daily basis. That is why I need to have quotes all around my cubicle to cut through that minutia to help me get some office inspiration when I need it.
I keep my motivational quotes on small pieces of paper attached to my computer monitor, hanging from cubicle clips, and anywhere that is in clear view while I'm working at my desk. I decided to create a customized image of all of the inspirational quotes that mean the most to me in my office cubicle. Please feel free to pin this on Pinterest (just hover over the image) or share it on Facebook, Twitter, or with anyone who also might like some office inspiration during their work day.
Download your PDF of the above image here! Do you have quotes that you have up in your own office that you may want to share with us? Quotes have a way of allowing me to focus on what is important in life. I just wish I could come up with a quote that is worthy of being included in a list like the one above. Maybe you could share one of your favorite quotes in the comments. I hope that these quotes add some inspiration to your working life or your life in general!