Are you looking for office shelving ideas for your workspace at work or in your home office? This article will give you a multitude of shelving ideas for office to get you organized and productive at the same time.
There are a multitude of office shelf ideas out there that can add to our office productivity. Efficiency can mean the difference between completing your tasks in an 8-hour workday versus a 10-hour one, and this is why so many office and cubicle accessories are geared toward making us more productive.
Productivity plays a huge role in corporate life: it can influence everything from our eligibility for promotions, to salary increases, and even our overall job satisfaction. Therefore, an organized and efficient workspace goes well beyond one that is just aesthetically pleasing.
Home Office Shelving Ideas are Plentiful
With more remote working in this day and age, shelving for home offices are becoming increasingly more important. More manufacturers are stressing home office shelving units for the worker who doesn't need to commute any longer.
File cabinets, drawer organizers, wall-mount calendars and whiteboards, and shelving units can all make us "look" better as we do the job, but they can also influence how efficient we are in getting it done.
When it comes to shelving ideas for offices, long gone are the days of boring and predictable wood bookcases (though they still work best for some traditional workspaces). Now we see everything from custom built-in bookcases in sophisticated executive offices to minimalist floating shelves that can be moved around as our needs change.
Utilizing salvaged wood and black pipe, an example of a DIY rustic bookcase is shown below that was built into the corner of a home office. There's nothing more satisfying than creating a unique built-in home office shelving unit to organize the multitude of books you own.
(Click Image Below to View Video)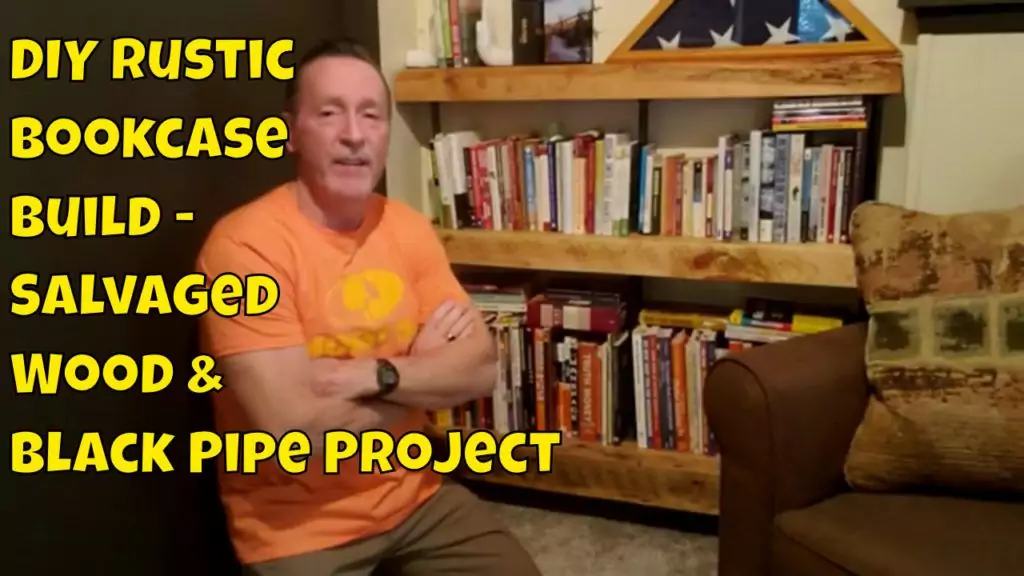 Even when it comes to small office shelving ideas, there are a myriad of cubicle shelves you can purchase to stay organized in that small space. Or you can build a shelving unit yourself as seen in the video above. These options will work great in a small home office or a private office cubicle vs an open office working environment.
No matter what kind of shelving unit you choose for home office storage, this mainstay of office décor will create storage solutions and add style to your surroundings. You may even want to add some industrial office decor into your shelving choices which is very popular in this day and age.
Read on to learn more about our favorite office shelving ideas below.
11 Office Shelving Ideas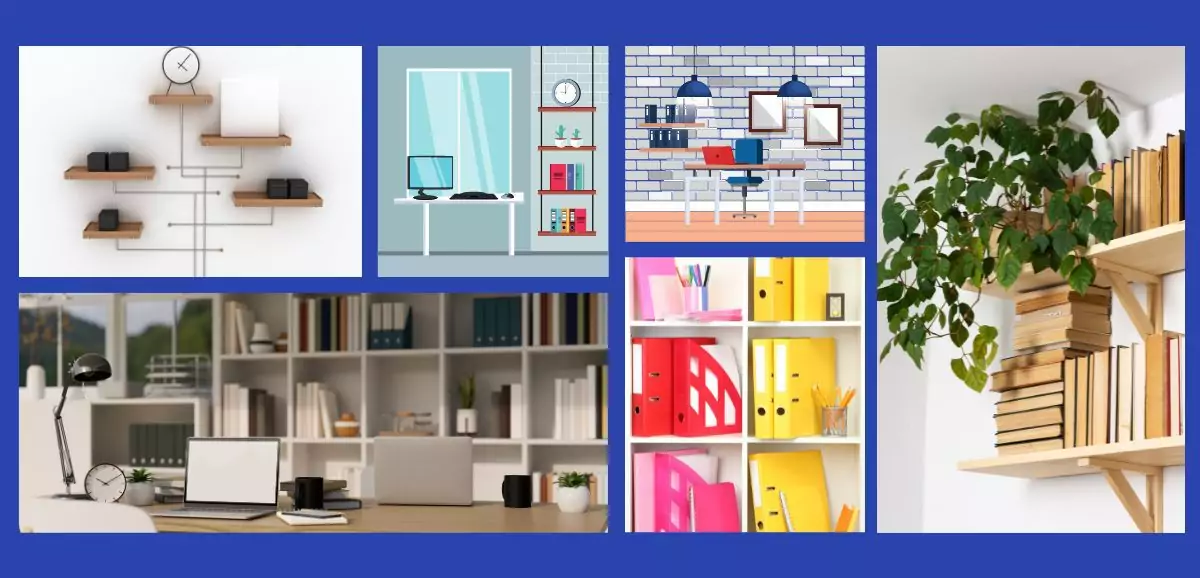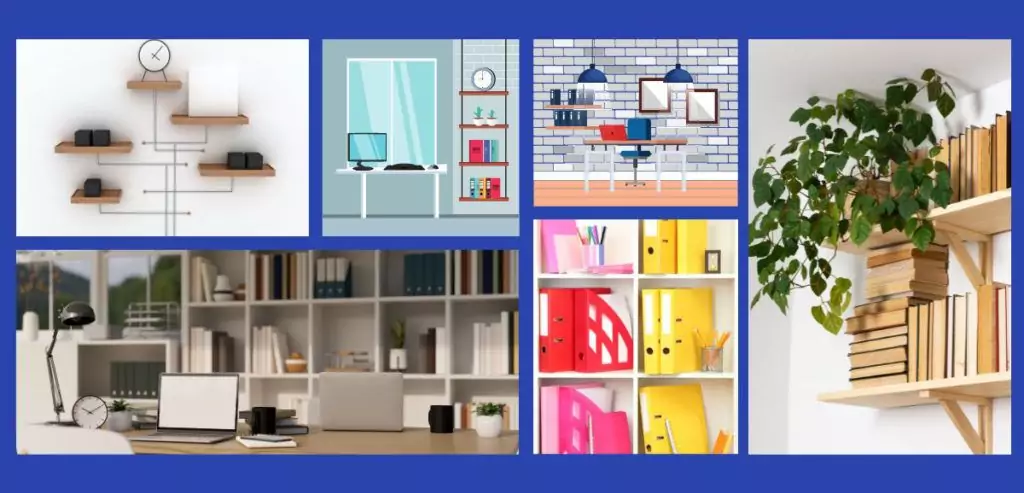 Office Wall Shelving Ideas
While these types of floating acrylic shelves are often geared toward bathrooms or pantries, do not overlook their effectiveness in an office as well. These can be used for incoming and outgoing mail or other files, creating an attractive way to get paper off your desk and create a workspace with fewer distractions.
Floating office shelf ideas for the office are certainly very popular based on the fact that they seem to just float on the wall.
Acrylic is an extremely popular choice in décor since it goes with absolutely everything. These clear shelves are designed to almost disappear into the background, which works well in minimalist décor.
As a bonus, acrylic shelves are affordable and easy to install. However, you would not be able to store any heavy equipment on these.
Office wall shelving ideas can take the form of a piece of art. That certainly could be said for this clever cube shelf unit from Greenco. While cube shelves are often used in interior design to display favorite objects, they can also be used effectively in a workspace to store various office tools and accessories.
This type of shelving in your home office design could hold various manuals and instructional booklets along with smaller items like pen caddies, a clock, or a family photo. Home office shelving units like this one is not only artistic but functional as well.
We love how this particular wall-mount bookcase mimics a standing bookcase but without the heft. The metal frame and dark shelves have an industrial office shelving flair, and the wall mount system with five shelves means this unit can hold a significant number of your books, manuals, files, and more.
This shelf unit from Nathan James comes in a number of different color combinations to suit any office décor, and it also comes in three, four, and six-shelf models for office storage. An easy assembly process and a price that handily beats out the more expensive versions from other retailers make this a great choice for all office designs.
One of the most effective ways to use office shelving to design an efficient and productive workspace is with basket-style shelves. These tend to be even more useful than other floating shelves as they simply hold more stuff.
This set of three floating shelves from CRUGLA offers you a quick and easy way to scoop up the excess clutter from your desk and find it new home. Luckily that home is within reach of your workspace, so the items you need throughout the workday are easily accessible.
These shelves can hold everything from notepads and pens to invoices and extra staples for better office organization.
Many designers use rustic finishes in workspaces to bring in warmth and texture; offices can sometimes feel sterile. A savvy CEO knows that a warm and inviting workspace can also lead to greater job satisfaction and productivity.
Rustic wood shelves like these from Umsicht can make an office space feel cozy and provide extra storage for small tools and accessories. This is another example of art when it comes to office wall shelving ideas.
Another way to build an efficient workspace is to choose a desk with built-in shelving. These can be especially useful when planning a home office in a small apartment. With shelves nestled just above the workspace, these kinds of desks keep everything you need within easy reach.
Desk Shelving Ideas / Office Shelf Ideas
We love how the Spirich Home Office Desk with Storage Shelf fits a tremendous amount of function into a small space, with upper and lower shelves as well as a corkboard behind the desk. This unit offers a lot of bang for your buck, is easy to assemble, and works well in small home offices. Be sure you choose a slim profile office chair to work with this desk, which could be overpowered by a bulky chair.
The clever design of this Bestier computer desk with side office shelving keeps shelves to the side, with space for everything from extra copy paper to pens and pencils within easy reach. It is one of our favorite small home office ideas and comes in seven different finishes to match any office decor. Desk shelving ideas have become much more popular recently.
Our favorite desk with built-in shelves is the Monarch Specialties corner desk, which can be assembled with the desk to the left or right of the shelving, depending on your preference. The cube-style storage maximizes your productivity by leaving only your computer on the desk space, with distractions tucked neatly out of the way as you work.
You could also purchase coordinating storage boxes to show fun pops of color in these cubes. It's another great example of desk shelving ideas that are available in the marketplace.
It's also important with a working environment seen above is to ensure you implement the proper office lighting solutions. Without proper office lighting like a sunlight desk lamp, not only will you strain your eyes but your office ambience will lack as a result.
Finally, we have some options for standalone bookcases, which may be your preference if you have ample floor space around your desk. You will note that these office shelving ideas allow for varied spaces in which to store your books, knick knacks, journals, or any of your many office accessories.
Office Wall Shelving Ideas
9. Standing Bookcase Office Shelving Design Ideas
The Agoteni Wood Cube Storage Organizer is a decidedly modern piece with its sleek lines and metal legs. The sturdy MDF unit with melamine coating is scratch-resistant and features seven storage spaces. We love this bookcase for its style as well as its ample storage space for your office.
The Haton Industrial Bookshelf combines rustic wood with a metal frame backdrop for an industrial look; it comes in four- and five-tier models and each tier can hold up to 22 pounds. This is a great choice for anyone with an abundance of manuals and other heavy books.
This bookcase from IRONCK is a classic choice when you want a simple and streamlined look to go with any décor. It is easy to assemble and comes with a tip-over resistance device, so you can rest assured it will be secure and serve as a handy storage unit for all of your office essentials.
Everyone who works at home or works in an office environment knows the importance of office shelving solutions. If you find what works best for your own personal working space, not only will it improve your productivity but it will also make your working area a special one for years to come. Implementing office shelving ideas that can enhance that work area can make the difference between a drab, dull working area and a productive, happy environment in which to pass your 9 to 5!
Frequently Asked Questions about Office Shelving Ideas
What are some good small office shelving ideas?
Space is such an important aspect of a small office or a cubicle. Obviously you cannot have an elaborate office shelving system like you can in a larger office. Here are some small office shelving ideas that you could incorporate into your small space.
What are some home office shelf ideas?
With the advent of the pandemic, the home office has taken on a brand new meaning, to say the least. It is amazing how many workers are not afforded the luxury of working from the pleasing confines of their own homes. So what are some home office shelving ideas that you can incorporate into your work-from-home space?
What should I put on office shelves?
Personal Photos: An office should be a place surrounded by items which remind us of what's important in our lives. There's nothing like personal photos of loved ones to do just that.
Books/Trade Journals: Maybe this is obvious but in our offices at home or at work we need a place to store books or trade journals that we refer to on a regular basis. Shelving provides us with this much-needed storage.
Personal Knick Knacks: Once again, it's important to surround ourselves with personal items that will remind us of happy times such as vacations we took or items created by our children as presents.
Important Often-Utilized Office Accessories: Are you oftentimes looking for your stapler, binder clips, or Post-it Notes? Keep then available in an orderly manner on an office shelf and it will always be available without searching through a desk drawer.
How can I make my office shelves more interesting?
Irregular Book Stacking: When arranging your books or journals you should not only stack them in their ends but also on their sides. It's important to ensure that at all times the spines with the book or journal name is always visible for quick access.
Decoupage: Spice up your shelving with decoupage to give them a personal touch. You can also do this to match the existing décor in your office or workspace.
Color-Coordinate Books: Why not try a new tack and arrange your books by cover color and book spine to create a delightful color-coordinated backsplash to your office shelving? It's a unique way to utilize an unused decorating component.
Incorporate Industrial Décor: Industrial style décor is a great way to spice up your office shelving. You can pick up iron piping/rustic wood bookends to add that industrial office shelving to your book shelves as well as solidly hold your largest books in place.
Vase with Flowers/Succulents: If you have the space adding some color and class to your office shelves with a glass vase and some real or artificial flowers. Artificial is probably preferable due to maintenance issues but, if you're so inclined, pick up some fresh flowers each week for your office. Another option for some greenery is a small pot of live succulents. They are easy to care for, require very infrequent watering, and add a nice touch to your shelves.
Personal Mementos: Any small item from a vacation or a personal photo is always a great addition to an office shelf. Viewing them on a daily basis will remind you of why you are working so hard each day.
What are some office wall shelving ideas?
Floating Shelves: Certainly a popular choice for office walls is a floating shelf. Floating shelves are all the rage because of the minimalist look and the lack of any visible support of the shelf. Office shelves wall mounted that are floating would require plaster walls to secure the hardware so they wouldn't be appropriate for a fabric cubicle wall. This is certainly a limitation for cubicle dwellers.
DIY Bricks and Wood Shelving: If you want to go a DIY route, how about picking up some bricks and wooden planks? Without any fasteners, you could create a rustic look along your office wall. Just stack the bricks up to give you the height you need in between the shelving. This will allow you to have varying heights of each shelf if you so desire.
Wood Ladder Pipe Wall Shelving: Looking for an industrial style shelving unit? There are many uniquely arranged iron pipe with wooden shelving units from which to choose.
Add Sliding Library Ladder Hardware: Is your home office shelving is too high for you to reach the books higher up? Consider adding rolling library ladder hardware that will allow you to reach the highest books. There are many different options out there available to class up your office and to help you out.
What to Read Next: