Are you tired of waiting in line for the company microwave? This article will solve that problem for you with an innovative crock pot warmer you can use at your desk!
Every now and again something comes along that can make a big impact on my working life. My Crock-Pot Food Warmer is one of those items. I came across this product while on Amazon and what particularly caught my eye were the many (over 15,306 of them) reviews with an overall average of 4.7 stars (as of 11/16/2022).
The Crock-Pot Food Warmer New Look
The exterior of the crock pot lunch warmer has changed a bit since when I purchased it years ago but, from what I can tell, the interior metal container is exactly the same as the one that I show in detail in this article.
They even gave it a new name calling it a Crock-Pot Electric Lunch Box. Either way, it is essentially the same item as I own.
I put a lot of stock in Amazon reviews so I started reading some of them. Nearly every one of them was exemplary and after reading a couple of the less than 5-star reviews, the issues that were brought up weren't even factors for me.
Someone commented on the fact that the cord wasn't long enough. For me that wasn't an issue. Check out my YouTube video of my CrockPot lunch warmer below to see me using it in my office cubicle!
YouTube Video of My Mini Crock Pot Lunch Warmer in Action
While it is in heating mode I usually place mine on the floor under my desk (even though in the video above I simply kept it on my desk) and plug it into the power strip that all of my other corded accessories are plugged into.
If I wanted to I could simply run an extension up into a cord slot (as I did in the video) and heat up my crock pot warmer on my desktop.
But why keep it on my desktop to heat it up? It would only take up space in my mind and you know how I feel about clutter! The cord length is 3 feet which is more than sufficient for me and probably for you too.
Crock-Pot Lunch Warmer Impressive Reviews on Amazon
I've been using it for years now and I love it! The design may have slightly changed at least on the exterior but the reviews are still stellar!
My wife is even making it a point to make more soups than she previously had in the past.
But this Crock Pot Warmer isn't only good for soups. I heat up leftover pasta, enchiladas, and basically anything in this rather unique unit.
I used to think that my Black and Decker One Cup Coffee Maker was my favorite cubicle accessory but I think this one has taken over! I always say that a picture says a lot more than words so please check out my images below of my new crock pot warmer when I just got it and using it in my office cubicle!
Mini Crock Pot Warmer Detailed Images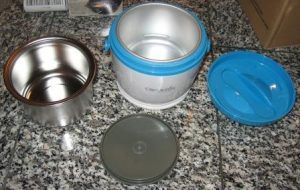 Crock-Pot Food Warmer Features
Dishwasher-safe removable food container with inner lid holds up to 20 ounces of your favorite foods
Leave the warming base of the crockpot lunch warmer at work (what I do) and use the removable food container to transport your favorite foods for even more convenience
Carrying handle for easy travel
Dishwasher safe outer lid and cord storage for easy travel
Crock Pot Warmer Product dimensions: 8.1 x 8 x 7.7 inches ; 1 pounds
Great for heating up leftovers or soup from a can at work.
Shipping Weight: 2 lbs
If you have been looking for a way to avoid the company microwave and still have a warm lunch, this Crock-Pot Food Warmer is a solution that I highly recommend! And if you think that 20 oz is not enough for you, it is plenty for me and I am a big eater. I'm so glad I found this crock pot warmer not only for my benefit, but to also be able to tell you about one of my really cool cubicle accessories!
Frequently Asked Questions about the Mini CrockPot Lunch Warmer
Will this lunch Portable Crock Pot be smelly in the office?
While the CrockPot lunch warmer is warming your leftovers there shouldn't be any smells being given off since it is completely sealed at the time it is warming. When your stew, soup, or pasta is done being warmed up and you pop off the top the odors will infiltrate the office just like it would after heating in a company microwave.
Is the Crock Pot warmer worth the investment?
The current price of the 20 ounce Crockpot Electric Lunch Box is $34.95 on Amazon. To me, for the convenience of not having to wait in line for the company microwave, it is more than worth it. Also, I enjoy eating at my desk so I just pop the 20 ounce metal interior container into the plastic exterior unit about an hour or so before I'm ready for lunch and I'm good to go.
There is nothing more enjoyable to me than eating a lunch of leftovers from a delicious meal the night before. Hey, it's a lot better than settling for a peanut butter and jelly sandwich!
Is the interior metal container of the desktop CrockPot warmer dishwasher safe?
Yes! One of the best things about this unit is that you can leave the exterior of the lunch Crock Pot in your office and just bring the interior metal container home. You can then toss it in the dishwasher, remove it, and put some new leftovers into the metal container for your next day's lunch. It couldn't be easier!
Does this Crock Pot lunch crock present any type of fire hazard in the office?
What is great about this Crock Pot lunch crock is that when it is warming the exterior of the unit doesn't get hot at all. There isn't even a chance of burning yourself on the exterior of the unit. Obviously you want to be careful when removing the metal interior unit after heating is complete.
What material in the crock pot lunch warmer is the metal inner container made of?
The manufacturer states that the inner container is made of food grade stainless steel, and the inner lid which goes on top of the inner container is made of BPA-free plastic. It is certainly durable and should last for many years.