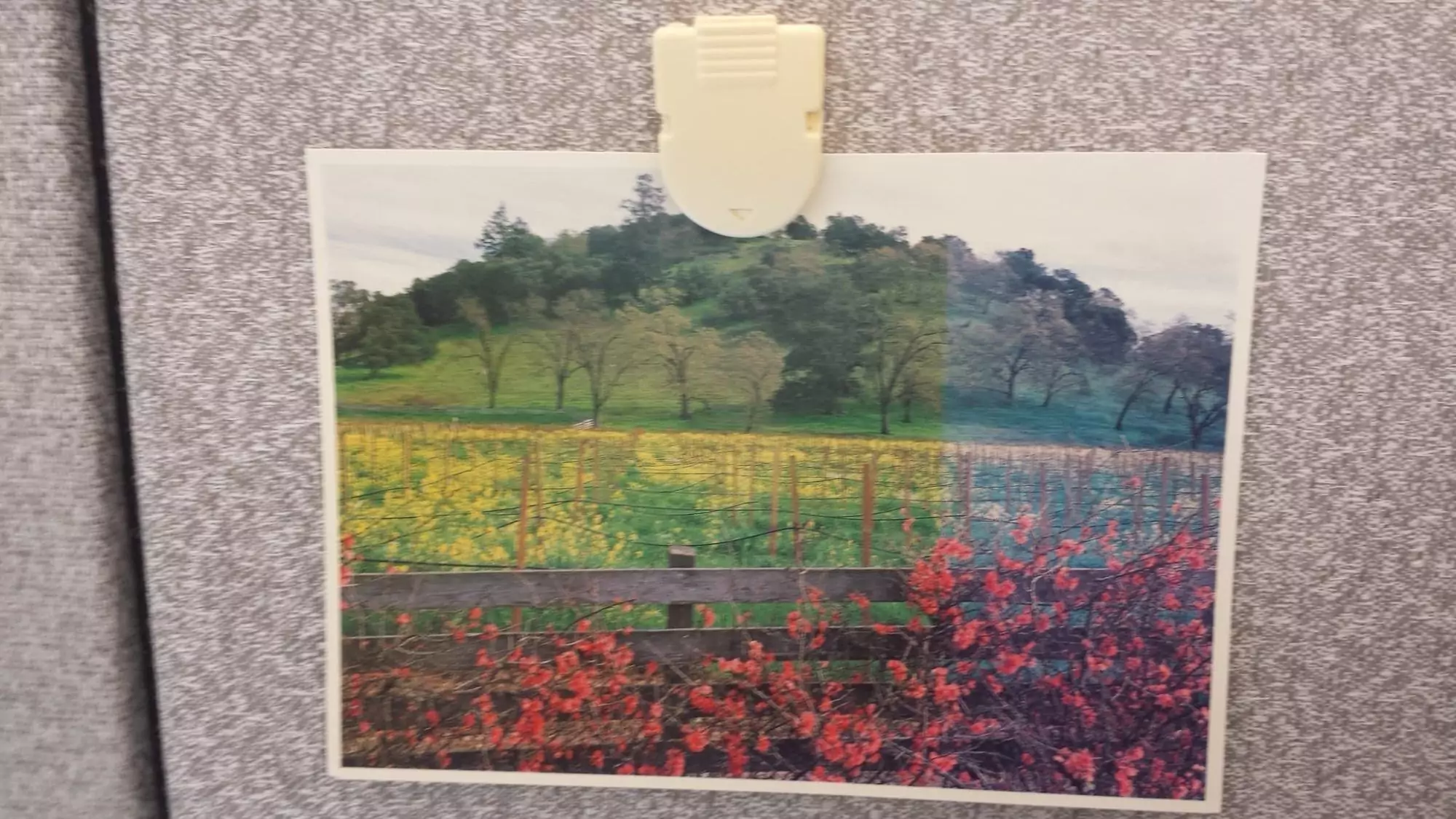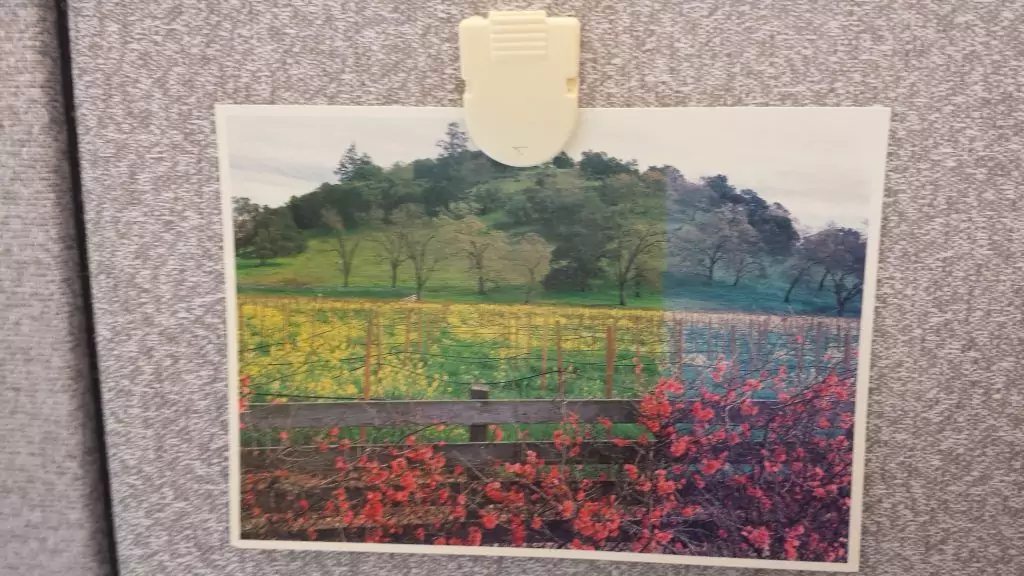 If you have worked in a cubicle for any amount of time, the question how do you hang things in a cubicle must've surely crossed your mind. This article will answer that question for you.
If you work in a loud collaborative work space office environment, this is obviously not an issue for you because in an open office environment you don't have your own personal walls.
A more specific example of how to hang things on cubicle walls is how to hang pictures in a cubicle. I've worked in a cubicle for too many years that I want to count and am always looking for great accessories to help with hanging pictures, signs, artwork, shelves, a whiteboard, or a unique product like a cork bar.
How do you Hang Things in a Cubicle?
There are many different products, tools, and accessories that you can utilize but it definitely matters what you are trying to hang in a cubicle. I put together an article called Cubicle Hangers – Check out my Top 5. Within that article I addressed many different types of hangers in a cubicle.
There are a number of different items that you could hang on a cubicle wall. In the past I've needed to hang light posters, single pictures, framed pictures, a dry erase board, a heavy poster, and a light jacket or suit jacket from the outside of my cubicle wall.
If you are looking for ideas to decorate office walls, especially inside a cubicle, it will certainly help you to know the best way to hang anything such as a framed picture, poster, or colorful landscape.
Some specific examples of how to hang things in a cubicle are detailed below. If you need to know how to hang pictures on fabric cubicle walls the next section will answer this question.
How to Hang a Single Picture on a Cubicle Wall
How to Hang a Picture on a Cubicle Wall
How to hang pictures on cubicle walls is always somewhat of a challenge if you don't know what to use. But, as you can see above, there are specific and exclusive products manufactured to solve this problem.
As you can see in the picture at the top of this article I simply used a panel clip which is the best thing to use with a picture that you don't want to harm. You don't want to stick a hole in it with something like a Push Pin.
No-Hole Bulldog Clips is another great option for hanging a single picture even though you pin to the cubicle wall but the picture is sitting in like a binder clip and does not get harmed. These are two great options if you need to hang a single picture on a cubicle wall without harming it.
How to Hang a Light Poster on a Cubicle Wall
Hanging a light poster can also be accomplished using the options above but there is another option you could use.
There is a product called Scotch Mounting Squares or cubicle mounting squares which I used to hang a light poster as you see below from my cubicle wall. The small squares will affix to a fabric cubicle wall.
If you check out my cubicle hangers article you will see that I affix the mounting squares at each corner.
Since the poster is fairly light, the Scotch Mounting Squares work well for hanging a poster like this one.
If you have a heavier poster you should check out the next section.
How to Hang a Whiteboard or How to Hang a Heavy Poster on a Cubicle Wall
One product that you can utilize to hang a whiteboard or a heavy poster on a cubicle wall is called Best-Rite Cubicle Whiteboard & Tackboard Hangers. These hangers actually grab the cubicle walls and hang from them.
The hangers adjust for differing widths of cubicle walls which is found out there in offices. Not all cubicle walls are the same thickness. These are great for hanging cubicle posters.
These hangers seen above can be used to hang heavy objects on a cubicle wall. You can read more about the Best-Rite Cubicle Hangers in this article.
If you are asking the question "How do you hang things in a cubicle?", I hope this article has helped out. If you are looking for a more definitive article on various hangers you can use in a cubicle, please check out my Top 5!
Frequently Asked Questions About How to Hang Things in a Cubicle
A cubicle wall holds its challenges when it comes to how to hang things on fabric cubicle walls. The following are a list of frequently asked questions when it comes to how to hang stuff on cubicle walls.
How do you hang fabric on a cubicle wall?
Sometimes people want to create their own cubicle wallpaper using fabric that they either have at home or buy in a fabric store. Adding some color to grey cubicle walls can make a big difference in the ambience within the confines of the cubicle. You can create your own ultimate cubicle.
Affixing fabric to a cubicle wall can be accomplished in a number of different ways. Cubicle clips or panel wall clips can be used at each corner of the fabric to hold the fabric in place on your cubicle wall. Cubicle mounting squares will also do the trick.
Another option which I think is actually a better option is to use t-pins which can be used not only to pin fabric on a cubicle wall but also will allow you to hang pictures in a cubicle.
How do you hang heavy things on a cubicle wall?
How to hang heavy things on cubicle wall? I've used versatile t-pins in the past to do just that. The T design allows you to not only push them into the fabric cubicle walls but to also secure a framed item like a poster, picture, or diploma. It's a simple way to solve the problem of how to hang frames on cubicle walls.
Another option is to use adjustable cubicle wall hangers. They hang over the top of a cubicle wall and allow you to hang a heavy item on a cubicle wall. Best-rite cubicle wall hangers are great for hanging heavy posters or pictures on a cubicle wall.
How do you decorate a cubicle wall?
Here is a list of a number of ways in which you can decorate a cubicle wall.
Hang family pictures using t-pins, mounting squares, or push pins that can be inserted into a keyhole in the back of the frame.
Affix some colorful fabric or your favorite team's flag on your cubicle wall using t-pins, push pins or cubicle clips which are often referred to as panel wall clips.
Buy a cubicle corner shelf and hang a plant to add some nature to your cubicle environment.
Buy some cubicle posters that mean something to you and are motivational and hang them using t-pins, mounting squares, or cubicle wall hangers.
Purchase a cubicle window or a faux window peel and stick mural that you can attach to your cubicle wall. An ocean or mountain snow scene will allow you to daydream about your next vacation.
How do you use a cubicle clip?
Grab the cubicle clip and insert the stainless steel needles into the fabric cubicle walls.
Ensure that the clip is snug into the wall without.
Depress the front of the clip and insert whatever you are attempting to hang into the haws of the clip. It could be a photo, postcard, company documentation, or a to-do list. Anything that will stay within the jaws of the cubicle clip.
You could also use it to hold up a framed photo if there is a lip in the back of the frame. The frame will stay hung on top of the cubicle clip which is hung firmly into the cubicle wall.
Bob has been blogging for over 20 years and has been an office and cubicle dweller for more than 35 years. He has been featured in numerous online publications such as US News and World Report, Bustle, and Work Awesome (you can read his articles here). He created the popular office website CubicleBliss in January 2011 and rebranded it as WorkspaceBliss in April 2020.
In the office he's been an IT Manager, Applications Engineer, Systems Analyst, Software Project leader, and Programmer Analyst in his long career. He's a Certified Microsoft Professional and possesses a Masters of Science degree and two Bachelor of Science degrees, one of those in Informational Technology.
During his career he has worked in the office full-time, as a hybrid remote worker, and has worked from home permanently.