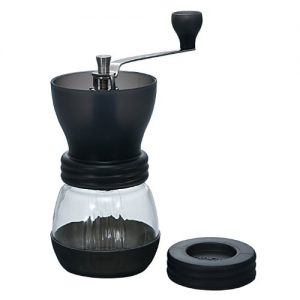 OK, does that title seem a little bit strange or out-of-place to you? What gives? A burr coffee grinder in an office? Yea, that's right!
My love of coffee has reached a new level. If you read the article that I wrote a while back then you know that I make my own coffee each morning in my cubicle with my Black and Decker Brew N Go. It's truly the best office coffee maker that makes an awesome cup of java from ground coffee that you place into a filter.
It is not a Keurig (not a big fan of those) – it's a personal drip coffee maker that I bought on January 22nd, more than 3 years ago, and it's still going strong! And yes, my company offers us free coffee but it doesn't meet my coffee snob levels so I choose to buy my own and brew my own coffee each morning. (Many images of me making coffee in my cubicle further down in the article)
When I say that my love of coffee has reached a new level, I have never gone the route of grinding my own coffee beans – until now. I have always purchased top quality coffee and have tried to use the best water that I have access to when I brew my own coffee at work or at home. I had also heard that when the coffee beans are ground makes a vast difference in the flavor of the coffee. If you grind 15 minutes earlier they say that the coffee will not be as flavorful as grinding it directly before brewing.
Recently my daughter's boyfriend told me about a Hario hand crank coffee grinder seen in the image above that he purchased a while back to grind his coffee beans at home. I had also read enough about coffee grinders that if I were ever to purchase an automatic or a manual coffee grinder, I knew it had to be a burr model.
Some coffee grinders that you buy are blade coffee grinders which are oftentimes used to grind up spices. These blade grinders basically just chop the coffee beans into tiny bits much like a food processor would do. The Hario coffee grinder uses conical burrs which are said to be the best choice for drip coffee makers which is what I own. They are also less expensive than flat burr grinders which was an enticing reality for me. This unit sells for about $40 which is very reasonable for a burr coffee grinder. With a burr coffee grinder, the coffee bean passes between the burrs and are at first broken up into small chunks and then ground to the desired coarseness.
To adjust the coarseness of the coffee ground with this Hario model, it simply requires a turn of a knob. There is also a consensus out there in the coffee world that a burr coffee grinder yields a much more flavorful cup of coffee due to the consistency of the ground size and how the coffee is ground in comparison to blade coffee grinders that pulverize the coffee beans. This version is a hand-crank model which makes it not only cheaper but I think adds a level of personalization to the grinder and ultimately to the cup of coffee. You feel like you have a hand in crafting your personal cup of coffee.
Some Images of My Hario Burr Coffee Grinder
(Click on any of the images below for a larger view)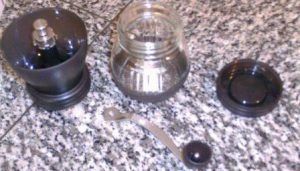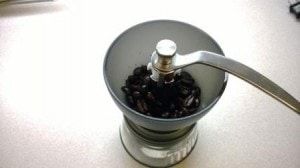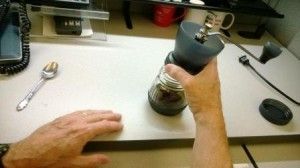 Here is an excellent Amazon video review of how to use this grinder that I got from Amazon and watched it before I bought the unit. If you want to learn how to use this product this is an awesome short tutorial. I couldn't have done any better.
Features of the Hario Hand Crank Coffee Grinder
Item weight – 1.3 lbs
Features conical ceramic burrs
Grind setting is easily adjustable
Dishwasher-safe
Hand crank is easy to operate

If you want to add a jump start to your day in Cubicle Nation, don't hesitate to jump on one of these hand crank burr coffee grinders. Here are a few other options for you in the way of a hand crank coffee grinder.
Other Highly-Rated Manual Burr Coffee Grinders
I don't think you could go wrong with any of the options presented here in this article. Don't forget that you can always ask questions in the comments or use my Contact Me page!