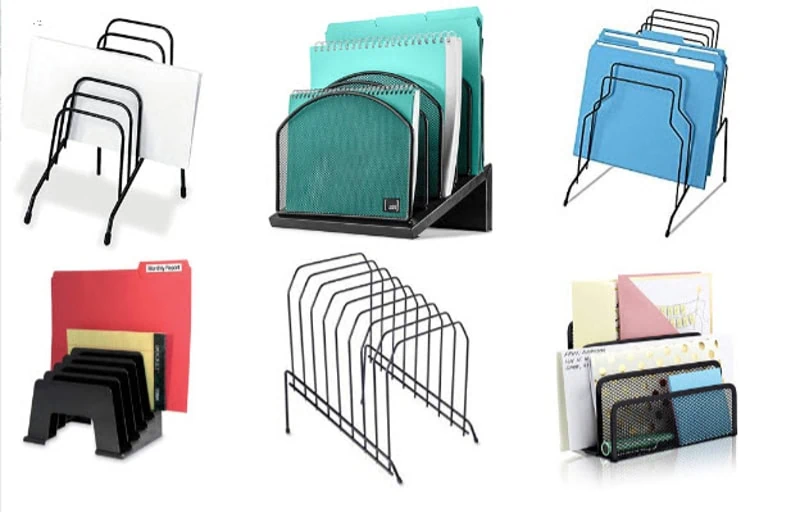 Do you need somewhere to store your file folders on your desktop without taking up a lot of space? Well, this article will present you with a product called an inclined file organizer or incline file sorter that will allow you always have your file folders at your fingertips.
In the articles I typically write on this site I talk about one particular product and give my opinion on whether or not it benefits me in my office cubicle or home office. Well, this article won't deal with one product but a class of products for your desktop called Inclined File Organizers
.
An Inclined File Organizer Will Keep You Organized
You can use these file folders organizers for mail, journals, file folders, or whatever you deem helpful. I use mine in my office cubicle and in my home office to organize my respective projects in order of priority.
I place the most important and timely projects in front and the less important projects toward the back. What is great about these inclined file folder organizers is that they are stepped so the project folders in the back don't go completely unnoticed. They are still there and visible.
I bought my inclined file organizer at a local department store in the office accessories aisle and it basically has the same design and sturdiness as the file folder organizers I have seen on Amazon and are in the picture above. Check out these inclined file organizers on Amazon.
The one I have in the images below is made of solid metal and has a meshed component as you can see. The mesh look adds a nice design element to the slanted file organizer unit.
My Incline File Sorter – Various Images
Here are a few images of my desktop file sorter that I purchased at a local office store. It essentially has the same basic features of any incline file sorter that you will find online.
Inclined File Folder Organizers Features
Stepped design allows you to view all file folders in one view.
Can be utilized for mail or anything that you want to organize.
Many different options for usage.
Your important files are right at your fingertips.
Looks great on your desktop.
Highly-Rated Popular Inclined File Organizers
Here are some very popular incline desktop file sorters
you can find on Amazon.
If you too feel that an Inclined File Organizer
could look great on your own desktop you may want to look into this unique office accessory. I've heard that some people even use these file organizers in their kitchen cupboards to hold chopping boards or sheet pans!
Frequently Asked Questions About Inclined File Organizers
What else can I put in an incline file sorter besides folders?
Since the file folders organizer is slanted or inclined there are certainly other options for storage on a desktop. Oftentimes I will put trade journals that I read regularly within the slots of the desktop file organizer. Other items that I store in the incline desktop file sorter are company manuals, mail that I have yet to read, and even magazines that I plan to read on my next break. What you can put in a file folder holder for desk is essentially limitless.
How could I use a desktop file organizer at home?
A great way to use a desktop file folder organizer at home is for important mail that you need to address. You could have the most important items at the top and readily-visible. The stepped design will allow you to see all of your mail items at the same time which is why it's so great as a desk folder holder in the office. It also would be a great way to store recipes that you cook on a regular basis or even small cookbooks in the kitchen. As stated earlier in this article I've heard of some people using a desktop file folder organizer to store sheet pans inside a cupboard. What an ingenious idea!
What is better – a hanging file folder in a file cabinet or a desktop file folder organizer?
It depends what you are looking to accomplish. If you are simply looking for storage of many file folders then a file cabinet with many hanging file folders is your best option. If you are looking to quickly access a finite amount of file folders, an incline desktop file sorter is the better option. The reason is, if you have to rummage through a file cabinet to find the file folder you are searching for, it will take time especially if you are on the phone with a customer or a client.
What to Read Next:
Bob has been blogging for over 20 years and has been an office and cubicle dweller for more than 35 years. He has been featured in numerous online publications such as US News and World Report, Bustle, and Work Awesome (you can read his articles here). He created the popular office website CubicleBliss in January 2011 and rebranded it as WorkspaceBliss in April 2020.
In the office he's been an IT Manager, Applications Engineer, Systems Analyst, Software Project leader, and Programmer Analyst in his long career. He's a Certified Microsoft Professional and possesses a Masters of Science degree and two Bachelor of Science degrees, one of those in Informational Technology.
During his career he has worked in the office full-time, as a hybrid remote worker, and has worked from home permanently.