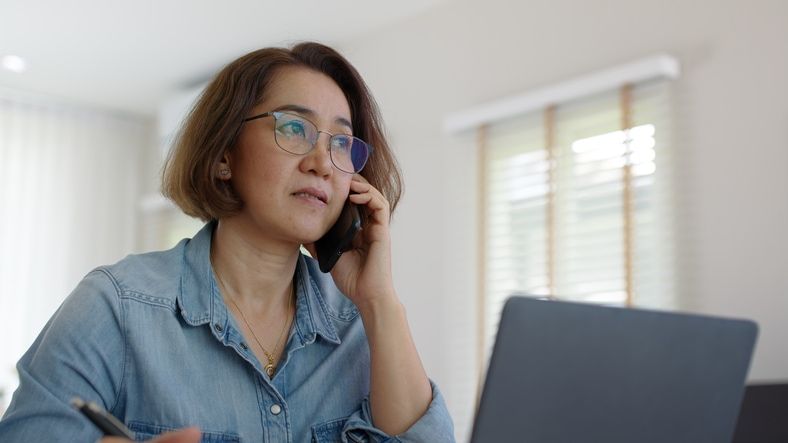 Are you looking to work from home today? Well, if you have the technology to do your job from the comfort of your home office, this article will give you a comprehensive list of good excuses to work from home.
Believe me, I've been there and have used these excuses more than once. We can all use a good excuse for working from home every now and then. Read on for more details.
Working from home is a luxury for some of us who actually can do our job remotely. Not everyone can work from home. If you are in the service industry you just have to be at the restaurant or the hotel.
If you work on the manufacturing floor you simply have to be at your work station. You really have no work-from-home options.
If you are a remote worker and want the day off from work, here are 11 good excuses to miss work on short notice. If you are a non-remote worker here are 20 good excuses to get out of work entirely for the day. If you simply need a good reason to leave work early, you have many different options.
What is Working from Home?
So, what does it mean to work remotely? To put it in simple terms, working from home is the ability to do your job via your computer using a secure logon into your company's network from the comfort of your own home.
The acronym WFH is often used to refer to the concept of working from home. It is also considered remote work.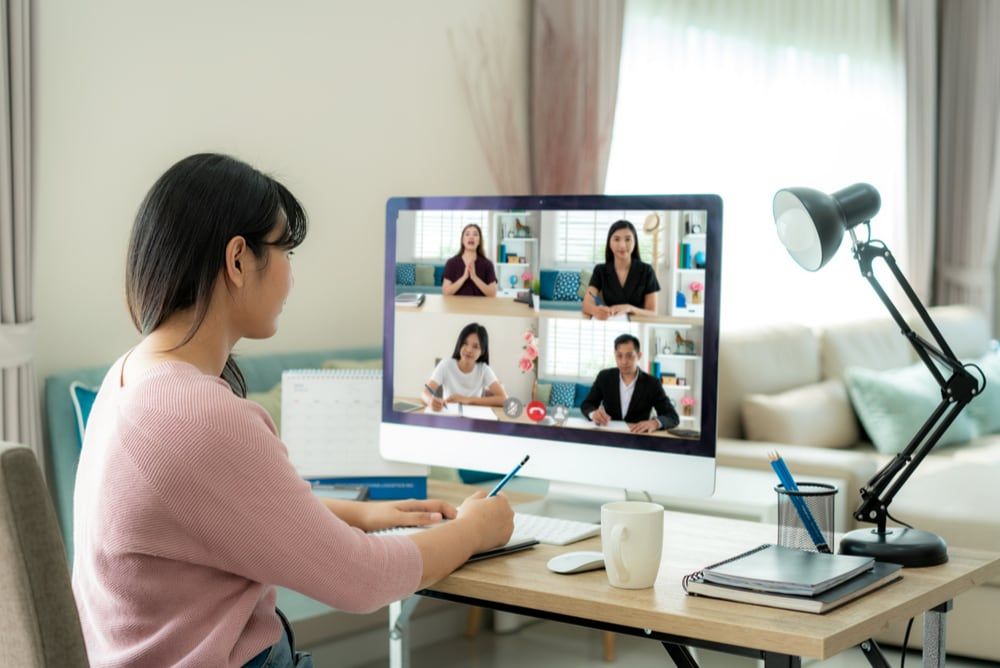 Most companies today provide employees with laptop computers so that they can easily transport the laptop home each evening or whenever they feel there will be a need to work from home the next day.
When the COVID outbreak occurred in 2020 many companies ensured that whoever could work from home was allowed to do so.
If you do have the ability to work from home and did so during the pandemic on a regular basis, you certainly can understand the advantages of working from home.
If you're looking to skip the commute today, here is a bulletproof list of perfectly reasonable excuses to work from home in your pajamas. They are also called WFH excuses.
21 Good Excuses to Work from Home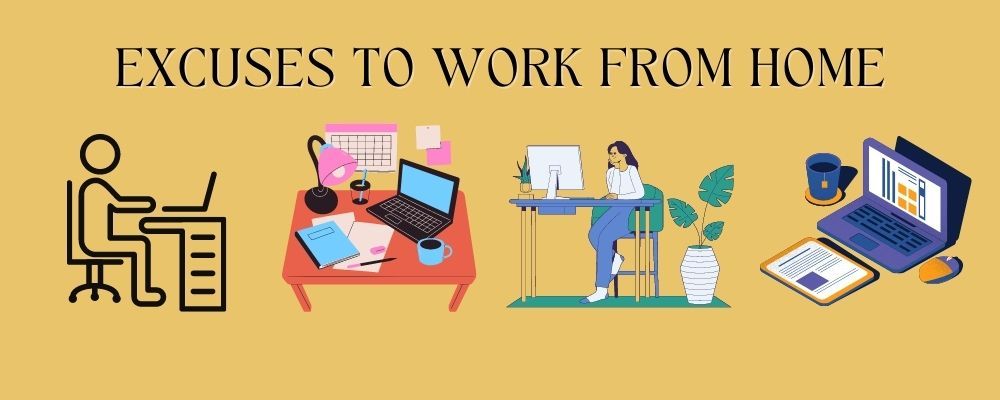 1. Car Needs Servicing
You have an appointment to bring your car for a tune up and an oil change. You also are a little concerned about your tires and think you might need new ones in the near future.
The appointment is mid-day and it really wouldn't make sense to come in early and leave for the appointment or to come into work after the appointment.
2. Daughter has a Doctor's Appointment
Your daughter has a scheduled doctor's appointment. She has been experiencing flu-like symptoms for a few days now and you decided to bring her to the doctor since she's missed a few days of school already.
3. Snowstorm is Predicted
Instead of driving all the way into work and having to leave early because a snowstorm is predicted, you think the smarter move would be to work from home. You simply don't want to risk getting stuck in the snow on the way home.
4. Dental Appointment
You have a scheduled dental appointment at 1:00 and the dental office is nowhere near work. So it definitely makes sense to work from home in the morning and after the dental appointment without having to make the long drive into work.
5. Jury Duty
You have to be at the courthouse at 9 AM and chances are you won't be picked to sit on the trial. Every time you have gone in the past they have let you out before noontime. It wouldn't make sense to trek into work just for the afternoon. So it makes sense to work from home after jury duty.
Obviously, if you do get chosen for the trial it could be a prolonged absence from work and you won't be able to work from home during that time.
6. Sick Pet
You need to care for your sick dog. He's been having stomach problems and you will have to bring him to the vet if you can get an appointment on short notice.
7. Bad Traffic – One of the Classic WFH Excuses
Due to some work that is being done on the highway which is your regular route to work, you think it will take a long time to get into work today. It makes more sense to work from home instead of sitting in traffic for hours and wasting my working hours.
This is a perfect work from home excuse but you need to ensure that there is a valid issue on the highway or back roads if that's how you commute to work. Just make it a point each morning to get up a little early to check the traffic and take advantage of this excuse to WFH whenever you possibly can.
8. Exposed to COVID – One of the Best Excuses for Working from Home
You know for a fact that you were around someone who came down with COVID in the last few days. You think it makes sense to work from home at least for a few days to minimize the risk to your coworkers. You should also follow the protocol your work has put together for being exposed to COVID.
You will make it a point to take a COVID test each day just to ensure you haven't come down with it. It is certainly a top notch work from home excuse and one of the best excuses for working from home.
9. Tested Positive for COVID – Is the Best Excuse to Work from Home
You have the symptoms and took a home COVID test and you tested positive. You feel good enough to work but obviously, you cannot come to work for at least the next 5 days.
You follow the guidance of the CDC and ask a Human Resources rep at your company what the exact policy is if you've tested positive for COVID.
It's hard to argue that this may be the best excuse for working from home. I don't wish it on any of you but if you're going to work at all it will be from home to prevent you from infecting coworkers.
10. Work Being Done on House
This is a classic bulletproof excuse and could be one of the following.
Plumber is expected to fix a leak in the pipes.
A contractor is coming to give you an estimate on reinforcing your deck.
An HVAC guy is due to check out your whole house air conditioning system because it appears to be laboring and not working properly.
Cable guy is coming within a 4-hour window to replace your wifi router to one with a stronger signal.
You're having rugs replaced in a couple of rooms in your house and the workers are coming today.
The electrician is coming to add some new plugs in your home office.
Your hot water heater is a rental and the electric company has to come to replace it as you have no hot water.
11. Back Issues
You strained your back playing pickup basketball the previous night. It was really painful during the short drive home so making the drive all the way to work today is out of the question.
There is a silver lining. Sitting in your office chair isn't too bad so you should be able to work from home for today and probably a few more days until your back pain clears up.
12. Important Package Delivery
You're expecting an important package delivery today. Lately, there have been a bunch of thefts in your neighborhood of boxes left out on the stoop.
You want to ensure that as soon as the delivery happens you move the package into the house.
13. Must Return Cable Box
You aren't using one of your TVs in the house but there is a cable box attached to that TV. You are paying a monthly rental for that cable box. So, to rid yourself of that monthly payment you need to return the cable box to that cable company's location which is about an hour from your house and they aren't open on the weekends.
14. Wife is Sick
Your wife typically makes lunches for the kids and drives them to school. She also picks them up from school and after-school activities. So you have to take care of those responsibilities as your wife is sick in bed.
15. Need to Bring Parent to Hospital
Your father has been experiencing some physical ailments and his doctor wants to do a full workup on him. You need to bring him to the hospital in the morning so you will have time to work from home in the afternoon.
You can probably even make up the lost time later in the day from home.
16. Power is Out and Need to Feed Gas Generator
You lost power due to a storm but you can still work because you have a standalone gas generator. The problem is you need to ensure that the generator has enough gas and doesn't run out.
Also, when the power comes back you have to shut off the generator, put it away, and switch over to street power. Your wife has no idea how to do this so you need to stick around and work from home.
17. Tree is Down in the Yard
Due to the same storm a fairly large tree came down in your yard and in part of the street. You need to take some time and clean it up with your chainsaw but it shouldn't take all day.
You should be able to work a few hours from home while you aren't cutting up the downed tree.
18. Need to Complete a High Priority Project – A Solid Work from Home Excuse
You need a day working from home to completely devote your time to a current project. You tell your boss that one day away from the distractions of the office should allow you to meet my deadlines to complete the project.
If you're looking for one of the most bona fide excuses to work from home for the day, working on a project for work is certainly one of them. The only problem is, you'll have to make it a point to complete that project!
19. Water Main Break in the Neighborhood
The water company notified us that there was a water main break in my neighborhood. As a result, we are out of water. I need to go pick up some bottles of water for the household.
The water company has also requested that someone be home to test the faucets after they notify us that the water main break has been fixed.
20. Daycare is Closed for the Day
You have been notified by daycare that there is no heat so they cannot accept children until it is fixed. Your wife cannot stay at home with the kids because she is a nurse and has to be at the hospital.
Your only option is to work from home and try to ensure that your kids are occupied while you are working.
21. Your Wife is Having Surgery
Your wife is having dental surgery which requires someone to drive her home. Surgery is scheduled for the morning and you need to bring her to the dental office and home after the surgery.
You should be able to make up for the lost time working from home into the early evening.
Advantages of Remote Working
The benefits of working from home are plentiful for both the employee and the employer. Here is a quick table of the benefits to the employee and the employer.
Benefits of Working from Home Comparison Table
| Employee Benefits | Employer Benefits |
| --- | --- |
| Saves money on gas and wear and tear on car. | Saves money on office space if the employee is remote full-time. |
| Saves time by not having to commute to and from work. | Perceived by employees as being more progressive and caring about work-life balance. |
| Has more flexibility of schedule making home life easier to manage. | Happier and more productive workforce. |
| More comfortable working environment. | Larger talent pool of prospective employees if the position is full-time remote. |
| More time to work on projects and assignments. | Lower turnover rates. |
| Can live anywhere if you are working remote full-time. | Increased job satisfaction. |
Good Excuses to Work From Home Summary
I hope this comprehensive list of good excuses to work from home helps you out in the near future. Just having the ability to work from home is a godsend to many workers especially during the outbreak of COVID and even to this day.
These days working from home isn't considered a bad thing and it has been proven to be an effective way to work. What is work from home is not an enigma anymore in the workplace.
Remote work is also a great way to reach a much larger talent pool of workers for a company. You aren't only limited to employees who live within a certain radius of headquarters.
Being afforded the ability to work from home is certainly a good reason for job change if you work in a company that is rigid and requires all of their employees to be in the office. Instead of having to come up with excuses for working from home it would be nice if the company didn't find work from home (wfh) taboo.
Most companies today allow their workers to work from home if they can. It saves the company when it comes to providing offices and it adds a palatable work-life balance for the employee.
It's certainly a new working world out there and, in my mind, for the better!
What to Read Next