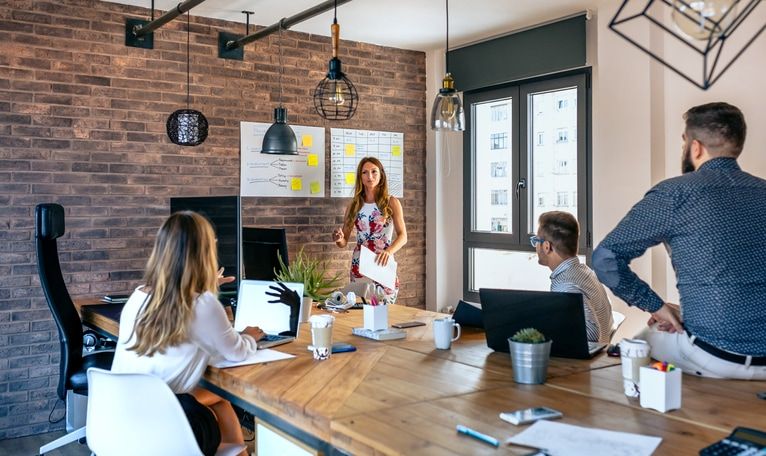 So how do you decorate an industrial style office? Well, there are a few key elements you'll need to incorporate. First, décor for an industrial office is all about muted colors and natural materials. Think grey, white, black, and brown tones. When it comes to materials, look for unfinished wood, metal, and concrete.
Read on for more many more details.
The industrial style has been gaining in popularity in recent years, and it's no surprise why. This chic, minimalist style is perfect for creating a modern look in any space, not just a workspace.
To achieve an industrial look in your office space, start by painting the walls a neutral color. Grey or white are perfect choices. Color schemes of an industrial office should be adhered to when decorating an office with this theme.
Then, add in some industrial-style furniture. A metal desk and chair would be a great start. You could also consider adding an industrial-style light fixture or rug. Finally, incorporate some more industrial office accessories like plants, art prints, and coffee table books.
More specifically, modern industrial desk accessories such as an industrial desk lamp, iron piping bookends, and a gear clock can set the tone in an industrial office. These items are great when implementing masculine industrial office décor ideas.
So, that's just a tease. Now, let's go into a little bit more detail and you'll be able to easily create an industrial style office that is both stylish and functional.
How to Decorate an Industrial Style Office Space
1. Colors – Think Natural and Neutral
The walls of an industrial office should be neutral in nature. You're not looking to overpower the room but more to create a backdrop of serenity upon which to create your industrial workspace. Think of the walls as a blank canvas and your office space as the painting upon that canvas. Grey, white, or black tones should represent that backdrop to create that minimalist working environment.
2. An Abundance of Natural Light
Light has shown to be a huge factor when it comes to not only employee morale but also to workplace productivity. You may not think of natural light as being a huge factor when it comes to an industrial space but it certainly is a major factor.
3. Wood Accents
Wood is an important aspect to any industrial design décor. Distressed or torched wood adds that industrial look to desk organizers or shelving. You can never escape some type of wood components when it comes to an industrial interior design.
4. Heavy Metal
When it comes to industrial style, metal is a huge component. Not only when it comes to wall shelving but also with stylish desktop accessories. Lighter metals like galvanized tin, brass, and copper are abundant when it comes to an industrial office. Heavier metal components like iron pipe and iron pipe connectors and fittings are prevalent when it comes to shelving in conjunction with and often inter-twined with rustic wood planking.
5. Brick it Up
Don't underestimate the power of brick walls and brick components. Brick can add that timeless appeal to your working space. Carefully preserved exposed brick is the perfect surrounding and accent for that space you create within it.
Faux brick or natural brick walls provide that neutral, earth-toned background that complements any industrial interior design.
6. Concrete
Concrete has become a major design element when it comes to an office space with industrial design. Concrete can be left unfinished or matte to add that rustic look or it can be polished for a more glossy, modern appeal.
Concrete is a great choice for an accent wall but it can also be used to create a DIY office desktop. You can leave the concrete a raw gray color or add a little color when mixing the concrete to match the surrounding color scheme.
7. Incorporate Leather Accents
Leather works well in an industrial-style office space. Leather wall accents and rustic leather desk accessories accompany the industrial look. A worn leather office chair will add a rustic, vintage tone to the office space. You can't go wrong with adding leather accents and accessories to an industrial office.
8. Industrial Design Elements
More specifically it's important to add those industrial design elements like rustic gear bookends, an old-time metal desktop clock, a rustic wood plank desk with repurposed metalwork legs, and a shiny metal trash can. An earth-toned area rug can also add that little extra warmth to an industrial office.
9. Live Greens
Greenery in the workplace has been shown to not only boost employee creativity and productivity but it can also improve the surrounding air quality. As a live accent to the metal, wood, and brick components in an industrial office, the incorporation of a variety of plants will add not only a healthy component but also an elegantly pleasing environment for the employees.
Summary of How to Decorate an Industrial Style Office Space
The opportunities to create an industrial style office space are endless. If you think natural and neutral colors to create that rustic office backdrop you are well on your way. Brick and concrete can be incorporated as design elements or wall accents.
Add some metal and wood desktop and furniture pieces along with an iron pipe shelving unit with wooden planks and you've got the foundation for an industrial office space. The best aspect of an industrial interior design is that it can be flexible to meet what works for you and your preferences.
There is no blueprint to create the perfect office with that industrial interior design. Follow your instincts and create the industrial workspace that meets your needs and aesthetics.
Bob has been blogging for over 20 years and has been an office and cubicle dweller for more than 40 years. He created the popular office website CubicleBliss in January 2011 and rebranded it as WorkspaceBliss in April 2020. Over the years, he has been a regular writer for popular blogs such as DailyBlogTips and WorkAwesome (can read his articles here).
In the office he's been an IT Manager, Applications Engineer, Systems Analyst, Software Project leader, and Programmer Analyst in his long career. He's a Certified Microsoft Professional and possesses a Masters of Science degree and two Bachelor of Science degrees, one of those in Informational Technology.