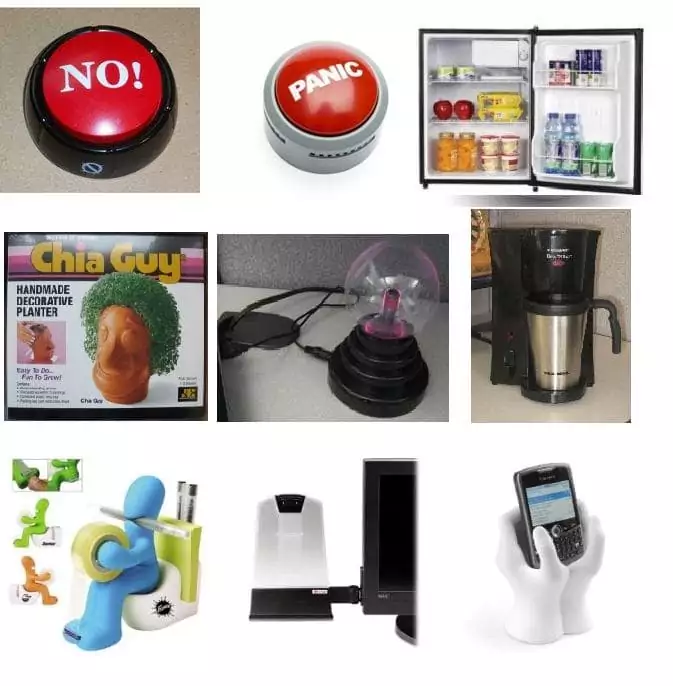 Are you looking for a list of cool office supplies that you could use in your own office? This article will present you with a bunch of them. I hope you'll find something that will work for you.
One of the primary goals when it comes to my working life is to make my office cubicle the best it can be. And I do that in a number of ways.
I keep myself organized and maximize the limited amount of working space that I have with cubicle shelves, and I invest in what I call cool office supplies. I think you have a good idea of what I'm talking about.
My coworkers certainly know right off the bat that I don't just go through the motions when it comes to my cubicle decor or my office organization for that matter.
They also see the numerous cubicle hangers that I use to keep pictures, posters, and other items on my cubicle walls.
Cool Office Supplies can Greatly Enhance your Workspace
Starting with my desktop, fun desk accessories will make a difference but there is one caveat of which you should be aware. Fun office supplies are great but be careful that you don't accumulate too many desktop accessories or they will tend to clutter up your working surface which could hinder your productivity.
I try to be choosy when it comes to what I put on my desktop because in order to focus properly on the work at hand, I need to have a clean, uncluttered desk. If you are interested in some cool office supplies that you can strategically place on your working surface, check out the items below. I hope to answer the age-old question, "What are some good office supplies to have in an office?"
Fun Desk Accessories
 I can't say that I own all of the cute office supplies above but I do have a No Button, a cell phone holder, a USB plasma ball (you can read about it in this article and that's mine in the image above), and I've had a Chia Guy in my office.
As I said earlier, you have to be a little bit conservative when it comes to what you place on your desktop since you don't want to end up cluttering it up. I use my cubicle shelves to move small personal items off of my desktop but, as you can see from the images above, these items do not take up a lot of room so having a couple of them on your desktop is entirely cool in my eyes.
Even a minor item like a computer monitor mirror will make a big difference in your office environment. No one can sneak up on me any longer and I tend to scare them when I say hello before they do. It's like having eyes in the back of my head!
Cool Computer Accessories
 Another way in which you can really add some cool office supplies to your office is to consider products that relate to your taste buds. Yes, your taste buds!
When I get into work each morning I NEED my coffee! Without it, I am lost. I admit to being addicted to caffeine but I am a believer in everything in moderation which is how I treat caffeine products. I purchased a Brew N Go one cup coffee maker about two years ago which I wrote about in this article.
This small office coffee maker is still going strong and I use it every morning to brew my favorite Starbucks coffee. I need strong coffee each morning and with this drip coffee maker, I am able to brew it as strong as I like.
Believe it or not, my company does provide us with coffee, tea, and hot chocolate at no cost but it doesn't match my favorite brand of coffee each morning. It is worth the investment in coffee and the coffee maker to have what I want each day.
Another way I have been able to add some cool office supplies to my office cubicle is with a small refrigerator. This article talks about the one I bought and also suggests other options which may be of interest to you.
Both of these products have certainly added to the environment in which I work because they have allowed me to feel at home without having to head down to the cafeteria for coffee or for my lunch in the company refrigerator. You can check out the two items below.
Cool Office Accessories to Help Satisfy your Palate
When I work in my office cubicle I need to be able to turn to my refrigerator or my Black & Decker Brew N' Go which I consider the best office coffee maker available today. It's small and brews right into my stainless steel mug.
As far as my mini refrigerator is concerned I love to be able to just reach under my desk and grab a cold drink or my lunch when I'm hungry. It is items like these two that make my office feel like my home.
Cool Office Supplies can Boost your Productivity
Even if you are just adding some fun desk accessories or some very practical, organizational accessories, any addition you make can potentially boost your productivity in the office.
There are so many different options for cool office supplies out there in the marketplace. You can even use a common binder clip in unique ways such as cord management in your office cubicle as I discuss in this article.
Do your homework and add to your office what makes sense for your working style. Don't get into a rut in your own working environment. Add some life to it with some cool office supplies and it will pay dividends in the long run in your productivity and your attitude!
Bob has been blogging for over 20 years and has been an office and cubicle dweller for more than 35 years. He has been featured in numerous online publications such as US News and World Report, Bustle, and Work Awesome (you can read his articles here). He created the popular office website CubicleBliss in January 2011 and rebranded it as WorkspaceBliss in April 2020.
In the office he's been an IT Manager, Applications Engineer, Systems Analyst, Software Project leader, and Programmer Analyst in his long career. He's a Certified Microsoft Professional and possesses a Masters of Science degree and two Bachelor of Science degrees, one of those in Informational Technology.
During his career he has worked in the office full-time, as a hybrid remote worker, and has worked from home permanently.