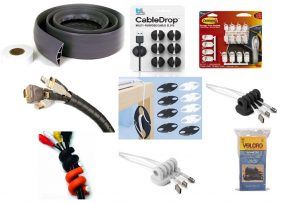 Just last week I attended a safety-related event at my place of employment. Different groups were assigned different exercises related to safety in the workplace and the group I was in, was assigned the topic of cord management or cable management. Cord management ideas are abundant as you will discover below.
This isn't a topic that immediately comes to mind when I think about safety in the workplace but, when you really think about it, it is a very important topic to consider.
What we had to do as a group was to go into a specific department within the company, look at the use of cords within each cubicle and office, and make some positive changes related to cord and cable management within each office. So what was it that we did?
We were basically given some basic nylon cable ties, plastic cable ties, as well as some Velcro self-gripping cable ties to secure computer cables, computer wires, computer cords, and electrical cords.
It makes sense because if you have poor desk cable management, especially under your desk, you could possibly get your feet caught within the mass of computer cables, computer wires, and power cords and either trip or pull over a computer tower or a monitor on your desktop. Check out what we did under my desk in the image above to control the mass of power cords and computer cords in check.
We also were assigned to go into our company training room and to organize the various cables that were utilized in this room. The images below show some of the upgrades and enhancements that we made in cord and cable control with various cable organizers as well as how cord management is achieved in a cubicle.
Examples of Cable Management in My Workplace
Click on any image for a larger view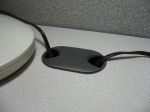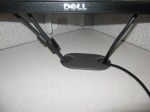 When it comes to the top of your desktop at work, one very popular item today is called Quirky Cordies. They come in a multitude of colors (black seen in image below under Cable Management Ideas) and do a great job of keeping your computer cords organized on your desktop. When it comes to keeping a long cord tightly wound, a Command cord organizer pack is awesome for controlling those long cords (seen in an images above and below). You can even utilize binder clips, as I show in images and write about in this tips article, for cord management on your desktop.
It's not really something that I have thought a lot about but it makes complete sense from a safety standpoint to concentrate on various cord management ideas. So, I started looking into what is available out there in the workplace. Here are some of the many different options that you have for your office or cubicle.
Cable Management Ideas
Click on any image or link for more details
If you take a good long hard look at your own office or cubicle, you might want to organize those computer wires, computer cables, and power cords using one or multiple cubicle accessories that you are shown here. It will not only add a higher level of safety to your office but it might just make your office look a lot more tidy, neat, and organized. There are an abundance of cord management ideas out there in the marketplace. Just look around and find the best solution for your needs at home and in the workplace.