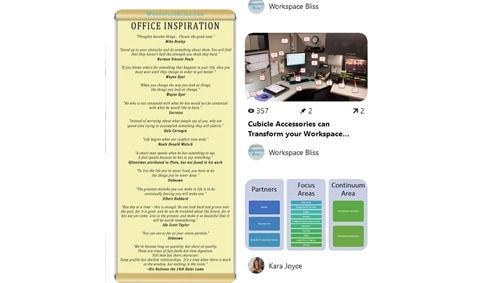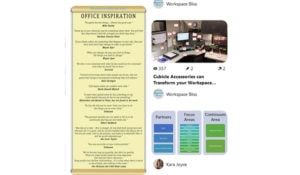 If you haven't yet checked out Pinterest, you might want to get on board. According to this article on Business Insider, Pinterest is one of the fastest-growing content-sharing platforms.
I've been using Pinterest for a while now since I didn't want to miss the bus. If you are interested in checking out my boards on Pinterest, you can get to them by clicking here.
I started a group board called Workspace Nation which has a lot to offer in the way of workspace ideas, decor, and organization.

I allow anything related to living in workspace nation to be pinned to this board from office decor, storage ideas, desk accessories, cool office supplies, and any type of office accessory. If you'd like to be invited to pin to this board, simply follow the and I'll make it a point to send you along an invite to pin to the board.
If you check out my boards you will see that they all are related to working in an office or a cubicle. Some of my other boards are called Cubicle Books, Cool Desk Accessories, Cubicle Organization, Cool Office Supplies, Cubicle DIY, Cubicle Humor, Cubicle Decor, and Cubicle Wall Accessories.
I thought I'd share with you some of the pins on my Cubicle Nation group board just to give you a flavor of what Pinterest has to offer. If you haven't yet set up a Pinterest account, it's easy to do, costs nothing, and you'll be able to enjoy the fun of pinning!
Some of the Pins from my Group Board Workspace Nation!
Click on any pin to bring you to Pinterest
These are just a few of the pins from my group board. I welcome you to follow this board or at least check out my boards on Pinterest. You'll find that once you start using Pinterest, you want to use it a whole lot more!