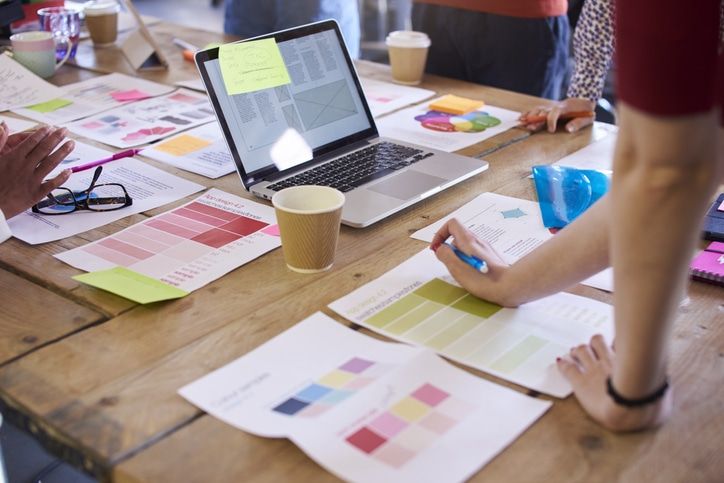 Have you ever asked the question "What are industrial office color schemes?" Well, if you are looking to create an industrial look to your current work or home office, this article will address the color schemes or color palettes you should be considering to create that industrial office décor.
Remember, it's extremely important to get the color scheme you place on that blank canvas, or blank walls, correct because it is upon this canvas that you will create your industrial theme. You can incorporate the color schemes below into your industrial wall colors and industrial paint colors. So, let's get started!
Industrial Office Color Schemes
Neutral, natural, and earth colors create the perfect base for an industrial theme.
The color black is a great choice for trim or light fixtures in an industrial style office. Industrial office accessories utilizing black iron piping and fittings introduced into shelving units and individual desk lamps accentuate and accompany the basic black color utilized in the office.
Gray, being a true neutral color, can be utilized or used in conjunction with essentially any other color. Gray has been known to set a soothing or softening touch to any room. Many industrial desk accessories utilize gray in galvanized metals accompanied with rustic or vintage wood.
White is a great choice for an industrial office space as it tends to create that illusion of a larger space. In contrast with black and gray, it adds a clean, crisp, and airy touch to any workspace.
Brown is an excellent color choice for industrial décor. In keeping with the earth tones or colors, brown will add a stability to the décor and will be a nice accompaniment to the contrasting black and white colors already introduced. Leather desk accessories, in brown or earth-tone shades, will fit well into an industrial office.
Following along with the earth tones, beige will fit in nicely with an industrial-style office. Rustic, reclaimed, or distressed wood accessorize and accentuate the earth tones well in an industrial-themed office. Brass office accessories also work well with earth colors such as beige.
The color green will always work to accent any workspace especially one with an industrial theme. Greenery in the form of live plants offer a colorful addition to any office.
Red, a color you can find in exposed brick, can oftentimes be found within an industrial décor office. The color red can spice up any industrially-themed office but still in keeping with the traditional industrial office color schemes.
Summary of Industrial Office Color Schemes
Earth tones, natural, and neutral colors are the best options when it comes to the color schemes of an industrial office. Gray, white, black, brown, beige, and red colors will always work well if you are hoping to create that vintage industrial look. You should utilize these color schemes to pick your industrial paint colors. Any mix of the colors suggested would work well for your industrial wall colors.
Most accessories of an industrial office utilize this color scheme in the form of galvanized metals, brass, iron piping and fittings, and reclaimed, torched, or distressed wood. That vintage industrial look can be achieved if you cover the basics and create that color scheme to fit the décor.
What to Read Next: