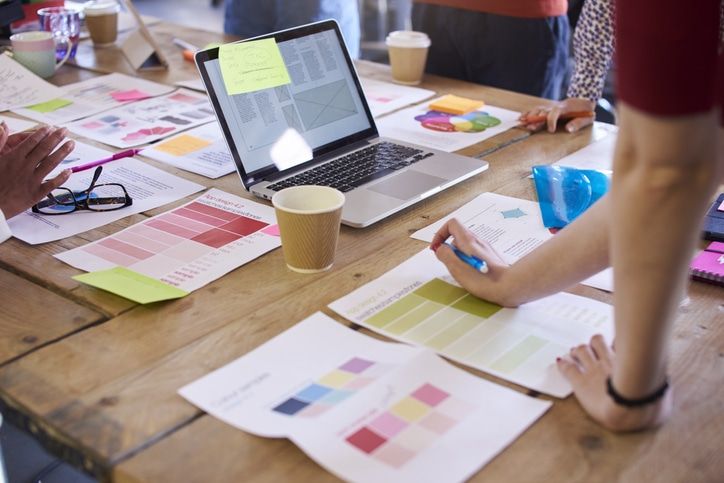 Have you ever asked the question "What are industrial office color schemes?" Well, if you are looking to create an industrial look to your current work or home office, this article will address the color schemes or color palettes you should be considering to create that industrial office décor.
Remember, it's extremely important to get the color scheme you place on that blank canvas, or blank walls, correct because it is upon this canvas that you will create your industrial theme. You can incorporate the color schemes below into your industrial wall colors and industrial paint colors. So, let's get started!
8 Components of Industrial Office Color Schemes
Neutral, natural, and earth colors create the perfect base for an industrial theme.
The color black is a great choice for trim or light fixtures in an industrial style office. Industrial office accessories utilizing black iron piping and fittings introduced into shelving units and individual desk lamps accentuate and accompany the basic black color utilized in the office.
Gray, being a true neutral color, can be utilized or used in conjunction with essentially any other color. Gray has been known to set a soothing or softening touch to any room. Many industrial desk accessories utilize gray in galvanized metals accompanied with rustic or vintage wood.
White is a great choice for an industrial office space as it tends to create that illusion of a larger space. In contrast with black and gray, it adds a clean, crisp, and airy touch to any workspace.
Brown is an excellent color choice for industrial décor. In keeping with the earth tones or colors, brown will add a stability to the décor and will be a nice accompaniment to the contrasting black and white colors already introduced. Leather desk accessories, in brown or earth-tone shades, will fit well when it comes to industrial desk décor accents.
Following along with the earth tones, beige will fit in nicely with an industrial-style office. Rustic, reclaimed, or distressed wood accessorize and accentuate the earth tones well in an industrial-themed office. Brass office accessories also work well with earth colors such as beige.
The color green will always work to accent any workspace especially one with an industrial theme. Greenery in the form of live plants offer a colorful addition to any office.
Red, a color you can find in exposed brick, can oftentimes be found within an industrial décor office. The color red can spice up any industrially-themed office but still in keeping with the traditional industrial office color schemes.
Summary of Industrial Office Color Schemes
Earth tones, natural, and neutral colors are the best options when it comes to the color schemes of an industrial office. Gray, white, black, brown, beige, and red colors will always work well if you are hoping to create that vintage industrial look.
You should utilize these color schemes to pick your industrial paint colors. Any mix of the colors suggested would work well for your industrial wall colors.
Most accessories of an industrial office utilize this color scheme in the form of galvanized metals, brass, iron piping and fittings, and reclaimed, torched, or distressed wood. That vintage industrial look can be achieved if you cover the basics and create that color scheme to fit the décor.
Frequently Asked Questions about Industrial Office Color Schemes
How do I get an industrial look?
Whether you are creating that industrial look in a home office or work office there are certain characteristics that represent the industrial type décor.
Earth Tones for the Walls: natural colors work best in an industrial setting. Start with flooding the walls with earth tones which present a neutral and natural background for your industrial office interior design.
Rusticity Rules: the industrial look and rustic goes hand in hand. If you are trying to achieve the industrial look think of incorporating rustic and vintage pieces.
Wood and Metal: one of the cornerstones of industrial office design is the incorporation of wood and metal. Distressed and torched wood along with iron metal piping are prevalent in industrial décor.
Exposed Brick: more often than not you'll find exposed brick within the confines of an industrial look office. Not only does it provide added texture but it also provides that earth tone color scheme.
Natural Light: an industrial designed office typically with have an abundance of natural light streaming in to light up the office naturally. If natural light is not available LED overhead lighting provides an abundance of light in an industrial office.
What are industrial desk accessories?
Industrial desk accessories have certain characteristics such as the following:
Stylish and Utilitarian: not only will an industrial desk accessory be stylish but will always have a utilitarian aspect to it. An example would be a clock that looks like a gear from a machine. It provides a function but also lends that industrial flair.
Abundantly Metal: galvanized metal such as tin, brass, and steel are incorporated into an industrial desk accessory.
Rustic Wood Accents: torched, reclaimed, or distressed wood oftentimes utilized in conjunction with metals like iron piping are oftentimes found on an industrial desktop.
Concrete and Brick: industrial desk accessories often incorporate brick or concrete into their construction.
Machine-Related Touches: the industrial look is often defined with accessories that incorporate machines, tools, or gears in their creation.
What to Read Next:
Bob has been blogging for over 20 years and has been an office and cubicle dweller for more than 40 years. He created the popular office website CubicleBliss in January 2011 and rebranded it as
WorkspaceBliss
in April 2020. Over the years, he has been a regular writer for popular blogs such as
DailyBlogTips
and
WorkAwesome
(can read his articles
here
).
In the office he's been an IT Manager, Applications Engineer, Systems Analyst, Software Project leader, and Programmer Analyst in his long career. He's a Certified Microsoft Professional and possesses a Masters of Science degree and two Bachelor of Science degrees, one of those in Informational Technology.