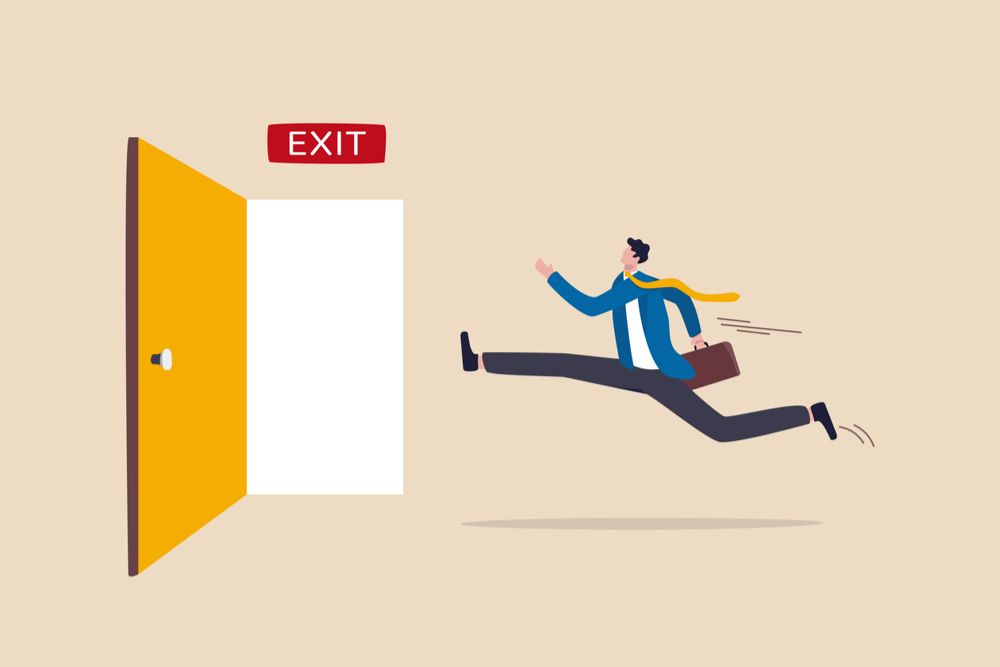 Are you looking for a good reason to leave work early today or tomorrow? Do you just need some time to yourself but need to come up with a good alibi? This article will detail a list of 20 bona fide reasons to leave work early that shouldn't be questioned by your boss.
You already have a good list of excuses to work from home and you also have another list of good excuses to miss work on short notice. But you need to come up with a bunch of good reasons to leave work early that you can use during the coming year. The list below should certainly get the job done.
20 Bona Fide Reasons to Leave Work Early
1. Dental Appointment
You have a semi-annual dental appointment for a cleaning and x-rays in the early afternoon.
2. Doctor Appointment
Your annual physical is here again and you need to have labs done prior to the appointment so you have to leave earlier than usual.
3. Feeling Sick
You started feeling a little sick when you got to work but you thought you could stick it out. Throughout the morning you are feeling worse as time passes and think this is a good reason to leave work early.
4. Pick up Child From School
Your wife is usually available to pick up your child from school but she cannot make it today so you need to leave work earlier than usual.
5. Conference with Child's Teacher
You need to meet your wife at your child's school for a parent-teacher conference that is scheduled for 2:15 PM.
6. Bring Child to the Doctor
Your child woke up with a sore throat and she stayed home from school. Your wife cannot take your child to the doctor so you have to leave work early to do so.
7. Bring Parent to the Doctor
You have an elderly parent who is having some health issues and needs to be brought to the doctor. You need to leave work early to make it to the appointment on time.
8. Attend Child's School Concert
There is a holiday concert right after school before the holiday break. You are going to meet your wife there and need to head out around 2:00 in the afternoon to make it there on time.
9. Attend Child's Basketball Game
You want to support your son and attend his basketball game which starts right after school. You need to leave work early to attend the game.
10. Cable/Internet Guy is Coming
You've had a number of issues with your internet at home as it is dog slow. There is obviously a problem with the wiring or with the router. You called the cable company and they set up a technician to come in a four hour window in the afternoon. You need to leave work to get there before the technician arrives.
11. Plumber is Expected to Fix a Leak
You noticed after taking a shower that there is a slight leak in a pipe in the basement. You called a plumber to fix it before it gets much worse. He is coming at 2:00 so you need to leave work early.
12. Furniture is Being Delivered
You've been given a delivery window of 1:00 – 5:00 to have a new couch delivered. You need to leave at noontime in order to get home by 1:00.
13. Contractor is Coming to Give Estimate
You're getting estimates from various contractors to have an addition built on your house. He is coming in the early afternoon so you need to get home before he gets there.
14. Snowstorm Intensifies in Early Afternoon
There is a snowstorm predicted and it is supposed to ramp up in the early afternoon. Instead of getting caught in traffic at the height of the storm it only makes sense to leave work early so you can get home safely.
15. Pick up Car at the Shop
You've had some work on your car and it has been repaired but you need to pick it up before they close for the day. You also have to catch a train and a bus to get to the mechanic's shop in time.
16. Bring Dog to the Veterinarian
The veterinarian has been very busy lately and the only openings he has is in the middle of the day. This is your dog's annual checkup so you need to leave work early.
17. Pick up Relative at Airport
Your brother is visiting from California and is landing just after noontime. Instead of your brother having to call a cab or an Uber, you need to leave early from work to pick him up.
18. Daycare has to Close Early
Due to some plumbing issues the daycare that your daughter goes to needs to close early. So you need to leave work early before they shut down for the day.
19. Power is Out at Home
You heard from a neighbor that there is a blackout in your neighborhood. You need to leave work early so that you can go home and start the generator so that the heat is on for the rest of the family.
20. Need to Pack and Prepare for Business Trip
You have to get up early the next day to leave for a business trip. You have to pack for the trip and prepare for your presentation and you can do all of this easily at home if you get there early.
Summary of a Good Reason to Leave Work Early
Whether you have a remote job or an on-site job, it's important to look for good reasons to leave work early if you need to. I hope that the list presented above will help you if you need to justify leaving work before closing time.
It may be that you just need some time to yourself but that just might not fly with your boss. Presenting him with a valid reason which he cannot refute will allow you to get that time off you sorely need.
What to Read Next:
Bob has been blogging for over 20 years and has been an office and cubicle dweller for more than 40 years. He created the popular office website CubicleBliss in January 2011 and rebranded it as
WorkspaceBliss
in April 2020. Over the years, he has been a regular writer for popular blogs such as
DailyBlogTips
and
WorkAwesome
(can read his articles
here
).
In the office he's been an IT Manager, Applications Engineer, Systems Analyst, Software Project leader, and Programmer Analyst in his long career. He's a Certified Microsoft Professional and possesses a Masters of Science degree and two Bachelor of Science degrees, one of those in Informational Technology.