I'm constantly searching for the best value in cubicle and cool office gadgets so at times I tend to overlook a more pricey option.
Well, since I do work in a somewhat noisy environment when I'm in my cubicle and even when I'm at home, I decided to pay a little bit more for a set of Bose Noise Cancelling Bluetooth Earbuds that my boss has been using for a while now and recommended them highly.
The brand is called the Bose QC30. QC stands for Quiet Control which is exactly what they do. I have never experienced a set of noise cancelling Bluetooth earbuds like these. I've had them for about 2 weeks now and, I know it may sound like a cliché, but I wish I had bought them a lot sooner.
I need quiet from external sources to concentrate and so if I just slip on these earbuds, turn on some soft music or sports talk, I can get lost in my own world and am able to focus on the task at hand. They are really quite remarkable and I'm still getting used to how well that they mask any outside noises.
What is really unique about the noise-cancelling capability is that you can actually adjust how much of the outside noise that you want to cancel out. So, if you have a need to hear some outside noise if, for example, you are riding a bike with these earbuds and want to hear oncoming traffic.
Or maybe you use them in your home office but still want to be able to hear your wife if she needs something. There is also a smartphone app called Bose Connect you can download which will allow you to adjust the noise-cancelling via the app if you like.
Images of my Bose Noise Cancelling Bluetooth Earbuds
Click on any image for a larger view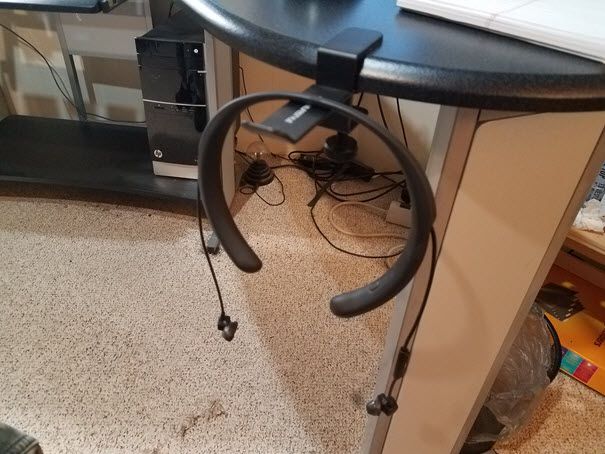 Product Dimensions – 2.9 x 8.9 x 7.9 inches
Shipping Weight – 1.69 lbs
Color – Grey neck band and black wire/earbuds
Item Model # QC30
Bose Connect app allows you to easily adjust noise-cancelling levels.
Can adjust noise cancelling, volume, and call functions using inline remote.
Easily pair with any bluetooth device.
Built-in microphones for high-end voice clarity while on calls.
If you too have a need for a top flight set of wireless earbuds and are willing to pay the price for them then the Bose QC30 Noise Cancelling Bluetooth Earbuds would be a great choice. I love mine and use them every single day.
If you have any questions at all please leave them in the comments below or use my Contact Me page.
(Update as of 3/1/2022 – I've been using these awesome headphones for a few years now and I have zero complaints. My #1 reason for purchasing these headphones was for noise-cancelling. These are second to none when it comes to that feature. I use them a lot when I am on the phone when attending a GoToMeeting meeting. I love the collar which I wear around my neck. My boss recommended these to me and I couldn't be happier!)