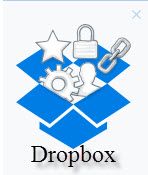 About a month ago, my brother who is a professor of Political Science at a highly-acclaimed college and an author of many historical textbooks, turned me onto a free productivity tool called Dropbox. He told me that he would use it not only for personal photos but would also use it while he was working on his text books. He basically said that all you need is an internet connection and you would have access to the latest changes on any of the computers on which you have installed Dropbox.
I must say that ever since I started utilizing this free service, it has totally transformed how I work. Productivity is important to me so after I have my first cup of coffee each morning with my personal office coffee maker and manual burr coffee grinder, I'm ready to get to work. (Caffeine is certainly my #1 productivity tool.) And now, with the addition of Dropbox as another productivity tool, it has only made my life that much easier.
For example, recently I wrote an e-book entitled "Size Doesn't Matter – 10 Steps to Being Organized, Productive, and Happy in a Small Office". Well, before I started using Dropbox, I would carry around a USB drive which would hold my latest changes to the e-book as well as all of the images associated with that book. Since I have a computer in my home office, a portable netbook, a family computer, and a computer at work, I always had to make sure that wherever I was, I had to have that USB drive on me with the latest updates.
So, here's what I did. I simply went to Dropbox.com and signed up for a free account. You start with 2 GB of space totally free and you can earn more free space by referring your friends, taking a tour, or sending them feedback. Once you create your account on Dropbox.com you will receive an email like the one below which will allow you to install Dropbox on any of your computers or devices. All I did was click on the Install Dropbox box below and it will automatically install a Dropbox folder on whatever computer or device you happen to be on at the time.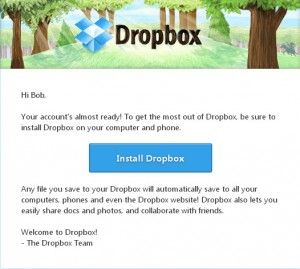 All I did was use this same email and installed a Dropbox folder on all of my computers. For me, since I have all Microsoft computers, it installed the Dropbox folder in My Documents but you can choose where you want it installed.
Another great aspect of Dropbox is that you not only will have the latest files on all of your computers but if you happen to be using someone else's computer or a computer in a kiosk, you can simply log onto Dopbox.com with the email address with which you signed up, and access all of your files on their site as well. This is great if you want to show someone else pictures that you have on Dropbox.com but do not have one of your computers with you.
Also, a great benefit if you want to use Dropbox for collaborating with others is that on the Dropbox.com site you can share a link or share a folder so that others can see them or work on them as well. As I mentioned earlier, you can gain more space by inviting a friend to also join Dropbox. I did just that and you can see that I got an additional 500MB of space absolutely free!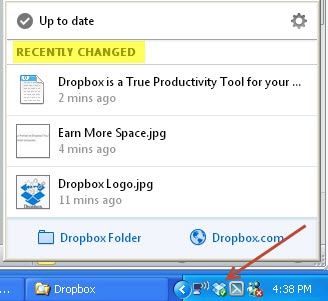 Another great feature of Dropbox is that if you install Dropbox on a computer you will see their logo in the tray at the bottom right of your screen. If you click on that icon it will show you any files which either have been recently modified or added and when this was done so. This is great for collaboration because you will know when someone has saved one of the files on which you may be working.
The plan that I have is a personal plan but, if you feel the need, you can upgrade at any time to a paid plan as seen below. For my purposes, the basic plan is perfect but for more space and functionality, the Pro or Business plan may be the option for you.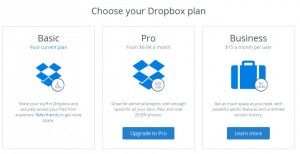 I'm telling you, I love Dropbox and I will continue to use it simply because it makes my life a whole lot easier. I spent a lot of time working on my e-book and without Dropbox, it would have taken me a lot more time and would have been a lot more frustrating.
If you have any questions or comments about Dropbox please contact me or leave a question in the comments. And if you'd like to check out my latest e-book you can click here or on the image in the sidebar.