I recently received, at no cost, a Blue Key World Cable Management Sleeve from the company asking them to review the product. I have always considered cable management a priority in my workspace.
As an owner of a website associated with workspace and cubicle accessories, I oftentimes receive products to review from companies who deal in this marketplace. This will be an honest, unbiased review of the Blue Key World Cable Management Sleeve.
About 1 year ago I received a package of Blue Key World Clip Organizers that I reviewed in this article. Obviously one of the areas that Blue Key World tends to focus upon in the workplace is the efficient management of cords or cables. A while back I also created an article entitled Popular and Novel Cord Management Ideas for your Cubicle that discusses a number of different ideas for cable management for organizing any cords or cables in your workspace.
This particular area of workspace or cubicle accessories is important to me because I tend to consider myself an organized person in my own offices at home or at work. The Blue Key World Cable Management Sleeve is a rather unique product in that it is essentially a cloth sleeve that is 19 7/8" long by 4 1/8" wide that has a zipper that secures the sleeve when the cables are within it. The usage of the sleeves can be seen below.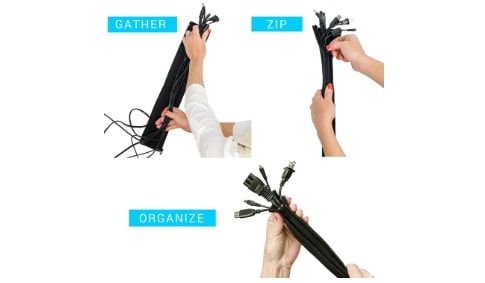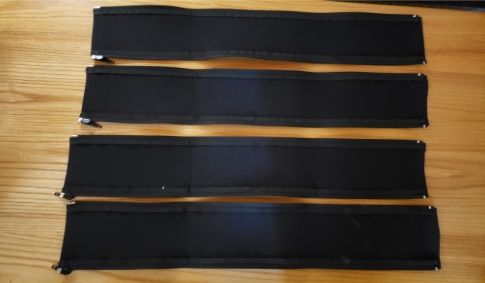 The sleeves that I received were a set of 4 seen above. As of 7/30/2021 on Amazon they sell for $10.98 for the 4-pack marked down from the list price of $19.97. They are made of a soft cloth material that stretches slightly. After utilizing them on the cables underneath my home office desk you can see how they organize the cables into one contained sleeve. I used 2 below to contain a number of cables.
Cable sleeve set with zip-up solution, conceal and manage cords while ensuring fast access. Your wire organizer for every situation.
Set of 4 innovative cord cover sleeves made from durable & flexible neoprene fabric with zipper. This accessory takes up to 10 cables each without tearing. You can use it anywhere, in the floor, on or under desk or on any other furniture.
Easy to use, simply gather cables together, wrap the cord hider sleeve around them, and zip-up. In just 7 seconds or less your cable mess is now organized. Our expandable cable management system fits both small and large cables.
Fits all cables like power cords, phone chargers, laptop, computer, monitor and audio cables, gaming console wires, USB, ethernet, HDMI, PC, stereo, musical instruments and TV wires, extensions.
Make your home, office and car look special with our distinctive design and aesthetics organizing cable covers. Use them in the back of electronic and electric devices. Cord concealer for multiple uses.
Final Conclusion
After utilizing the Blue Key World Cable Management Sleeves that I received free of charge, I found them to be the following.
Easy to implement.
The sleeves were well-made of neoprene fabric which was flexible and slightly stretchy.
The zippers worked well.
The sleeves easily organized the myriad of cords beneath my desk.
They were so much easier than trying to use cable ties to organize the cables under my desk.
Can easily accommodate more cables by simply unzipping.
For the cost the value seems to be high based on the fact you are purchasing a set of 4 sleeves.
My recommendation – BUY.
Bob has been blogging for over 20 years and has been an office and cubicle dweller for more than 40 years. He created the popular office website CubicleBliss in January 2011 and rebranded it as WorkspaceBliss in April 2020. Over the years, he has been a regular writer for popular blogs such as DailyBlogTips and WorkAwesome (can read his articles here).
In the office he's been an IT Manager, Applications Engineer, Systems Analyst, Software Project leader, and Programmer Analyst in his long career. He's a Certified Microsoft Professional and possesses a Masters of Science degree and two Bachelor of Science degrees, one of those in Informational Technology.