Are you looking for a list of really cool office gadgets that you can use in your own office or cubicle? This article will present you with a list of 15 gadgets that will make a difference in your workspace.
If you've spent any time in any office, you certainly know that there are many ways to make that office a more enjoyable environment. Cool office gadgets can certainly make your day in the office more tolerable.
Cool Office Gadgets can Upgrade Your Office
Whether you occupy a cubicle, as I have for many years, an office with a door and a window, a home office, or are in the ever-popular open office, making that workspace a better place to spend your time is paramount.
Cool desk gadgets could be anything from a productivity tool that helps you be more efficient in the office or just a work desk decor item that you can play with from time-to-time to allow your mind take a little break so you can refocus on the tasks at hand.
And if you are starting a new job it's imperative to know what to bring on your first day of work. Some of the cool gadgets below you might want to add to the list.
I came up with a list of the best office gadgets that I use in my cubicle and home office. If you want to go straight to the item on Amazon just click on the image or the caption. These are really in no particular order.
My Top 15 Best Office Gadgets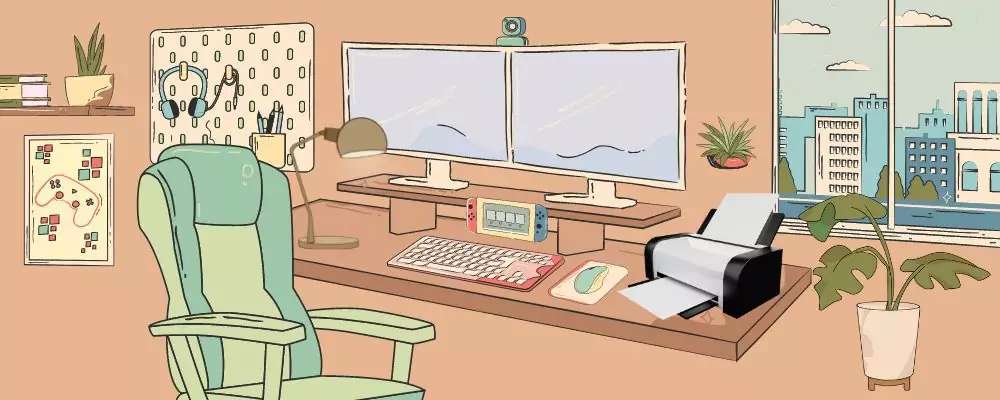 We all have smartphones today. I found this really cool Honsky Thumbs-Up Smart Phone Stand Holder that is really low profile but it does the job perfectly in my office. They also come in many different colors so you should be able to find one that suits your fancy.
I found it on Amazon for $9.99 which is short money. It's unique and serves a purpose in the office. You have plenty of other options but this one is reasonably-priced and does the job.
Staying cool in the office can be a challenge. This small Arctic Breeze USB Desk Fan works well for me. All you have to do is plug it into any live USB plug and you're cool in a few.
And there's no chance of injury as the blades are plastic and lightweight. You can stop the blades with your fingers! You can pick one up for $9.75 on Amazon. I have another desk fan in the list at #7 if you want one that has multiple speeds and plugs into an electrical socket.
I decided a while back to make a fairly expensive investment in a set of wireless headphones from Bose. These Bose QC30 Noise-Cancelling Wireless Headphones are a step above any other earbuds that I own. I oftentimes attend conference calls for my work via GoToMeeting and connect to my phone for audio.
These wireless headphones are worth every penny. If you have a similar need when it comes to your work or simply for pleasure listening, these Bose headphones will do the job better than any other wireless headphones around.
Cool office gadgets can come in many different sizes and shapes. This 6AMLifeStyle Headphones Hanger is one that not only looks really cool but it's also a practical addition to your office or cubicle. It will open up to almost 1 1/2″ so it will fit most, if not all, desktops.
I use mine to hold my Bose headphones. It's a small investment when it comes to the best office gadgets. This article also has a video review of this headphones hanger.
If you have ever worked in any office environment you certainly know the stress that can some with such an environment. This Magnetic Poker Sculpture Desk Toy has certainly helped me relieve some of the stress of the day.
Having a quick diversion during the day can certainly help you get away from the tasks of the day to give you a much-needed break. This is one of those really cool desk gadgets that you could probably do without but just might allow you to play with it and refocus throughout your workday.
For many years I always thought it would make sense to have a label maker at my disposal in my cubicle or home office. Years ago a coworker of mine was raving about his Brother P-touch Label Maker.
So I finally bit the bullet about a month ago and bought a the model PTM95 which, to be honest, is one of the more reasonably-priced models that Brother has to offer. I basically wanted to label the drawers in my Perch Monitor Stand, which I describe in this article as well as adding some labels to my metal file cabinets.
With the advent of LED desk lamps there are a lot from which to choose. What I particularly like is that they are multi-functional like the AFROG LED Desk Lamp seen above.
It includes a fast wireless charger for your cell phone, 7 brightness levels, 5 lighting modes, foldable design, and an auto timer. No need to have a single-function desk lamp in your office any longer.
This Cat Pop-up Post-it Note Dispenser has become one of the most popular items on this website. I guess it's probably because people love their pets! This is a rather unique dispenser as they come with specialized Post-it Notes that you can see in this article. There is also a video in the article that shows you how it works.
If you want to get a low profile, really cool office gadget for your own desktop at work or in your home office, this one is worth the reasonable investment.
This is another personal fan for your office or basically anywhere in your home for that matter. It's called the Zippi Personal Fan and it's really quite stylish and functional. It comes in 6 different colors and the one I chose is white which you can see here. You can click on the image to see all of the different colors.
What I really like about this fan is that it has 2 different speeds and the blades are made out of a cloth material which makes it very safe, even for children.
Do you ever wish you had more space on your desktop? Well, this Stand Steady Original Desk Potato does just that for you. You can place your mouse on it if you like as it comes covered in a cloth-like material that works perfectly with a mouse.
I use mine for my wireless Samsung Charger that holds my Samsung S8 smart phone. It's one of those cool office gadgets that you just don't find very often. I love the uniqueness of it and it's simplicity.
Has your mind ever wandered during your day at the office to a white sand beach and a cool breeze in front of a turquoise ocean? Well, this Executive Sandbox – A Day at the Beach office accessory just might bring a little bit of the beach to your office environment.
If you read this article I break down all of the contents, which includes real beach sand and shells, a pail and shovel, an adirondack chair and umbrella, plastic starfish, sand rake, and plastic sand castle. The article also includes a video of me unboxing it and setting it up. It's one of those really cool desk gadgets.
I bought this Crock-Pot Food Warmer a few years ago because I was tired of using a gross, dirty microwave at work. What's so great about this food warmer is that you can just fill the inside container with leftovers from the night before, bring it into work, and just clean it after you're done eating it. So, you only have to bring home the inside container and not the whole food warmer.
This article includes a video of me using it in my office cubicle so you can get a good idea of how it works. They also sell a larger, 24 oz version if you feel that the 20 oz version isn't large enough for your appetite. This is one of my favorite cool office supplies!
Do you ever have to transcribe a document into the computer? Well, this Page-Up Document Holder will give you that extra hand to hold a manual or document from which you need to insert info into your computer.
They made these very stylish as they come in various colors like this one in translucent blue. They also come in grey, purple, and translucent red. It's a cool little office gadget that not only looks really cool but serves a purpose!
I have purchased a few different types of wireless earbuds in the past few years and I really like them especially when I'm working out, taking a walk, or on my bike.
Some of the cool features of these earbuds are a battery that will allow 12 hours of listening time, four eartip options for a form fit, extended wireless range, on-device controls for music, calls, and voice assistant, and a built-in microphone. You can use these on a Zoom call, making a phone call, or just listening to music or a podcast.
Wireless charging is a fairly new phenomenon in the world of smart phones. The Samsung Fast Charge Wireless Charger Stand shown here is actually the 2nd incarnation of a wireless charger that I have purchased. The former one laid flat on a surface and this is at an angle upright which makes it easier to see my cell phone.
Please note that the base of the charger is wired into an electric socket but you don't have to mess with inserting a plug into your cell phone. All you do is place in in the cradle and, if needed, charging will commence until it is 100% charged.
Cool Office Gadgets can Enhance your Working Life
I hope you enjoyed this list. Please know that I have purchased all of these best office gadgets and use them on a daily basis. Just read the articles associated with each one if you want a more detailed description. I'd love to hear from any of you out there who have an office gadget that you find is helpful or enjoyable in your own office environment that didn't make this list!