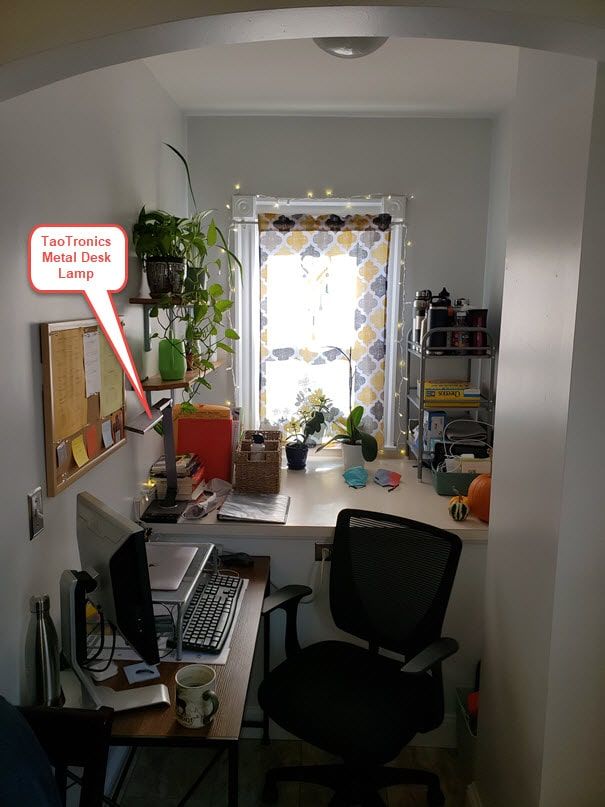 I recently received an email, including pictures, from one of my readers who happens to be a teacher. She and her husband both teach at the same high school.
So far this year, they are teaching remotely because their high school is actually undergoing a reconstruction process which started before COVID hit. So, it didn't make any sense for the town to install new ventilation in an old high school as the new high school is not yet complete.
So, this led to high school teachers having to work remotely, at least for the 1st half of the year. Both Lianna and her husband tried to work in the same room with two different desks but that didn't really work because oftentimes they had to teach at the same time.
So Lianna started looking around and came up with a really innovative option for her own working area. She converted a part of her kitchen into a kitchen nook work area. Here is the email that she sent along to me. (Don't miss more images of the kitchen nook work area below.)
Hi Bob,
I ended up turning an alcove in my kitchen into a workspace. My husband and I live in a two-bedroom apartment and, when Covid hit, we were able to turn our second bedroom into an office. We're both teachers, and, since we weren't teaching many live classes in the spring, having one office was fine.
Once the fall semester started though, we quickly realized that taking turns between our office and our kitchen table was too haphazard, and we certainly couldn't both teach live classes from the same room.
Seeking a solution, I turned to a random corner of our kitchen that ended up fitting my desk and chair perfectly. Now, both of us can teach from our desks in different rooms without bringing work into our living or dining rooms. I actually love teaching from my sunny, plant-filled nook!
Thanks so much for your website, Workspace Bliss! If you look closely you'll see right above my desk the TaoTronics Metal Desk Lamp that I read about on your site. I love it and I can see why you've bought one for both your home office and office cubicle. I think you said you also gave them as gifts to your daughters. Well, I love mine and thanks for the recommendation.
Keep up the good work with your site. I'll be reading!
Lianna
I think it's awesome to see the various workspaces that people come up with when they have to work remotely. This is a perfect example of innovation at its best. There was a space in her kitchen that really wasn't utilized to its fullest. And it doesn't appear to have taken anything away from the existing kitchen. And it allowed her to have her own work area away from the work area of her husband allowing them both to teach at the same time.
Here are some more images of the kitchen nook work area.
Thank you Lianna for sharing your kitchen nook work area with the rest of us!