(Article Update – 7/7/2019) The 3M Document Wedge is currently unavailable but this is a comparable product – The Vanki Document Wedge Copy Holder.
Up until recently, I had never heard of a 3M Document Wedge and I'd be surprised if you have heard of one either. I'm all for adding useful and unique tools into my office environment. If you missed my cubicle transformation with abundant cubicle accessories, I highlight many of them that I utilize every day to make my work life easier.
Well, this 3M Document Wedge is just another tool to add to my Office Toolbox. This unique office accessory is a small plastic wedge that is basically the same size as a door stop. It has a built-in spring and a curved clear plastic piece that holds up the paper that is wedged into the document holder. All you have to do is depress the section with the spring and place a piece of paper, magazine, journal, recipe, notepad, or many pieces of paper into the wedge. It will hold whatever you place into the wedge upright on your desktop.
Here are some images in my office cubicle
(Click on either image for larger view)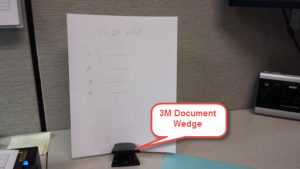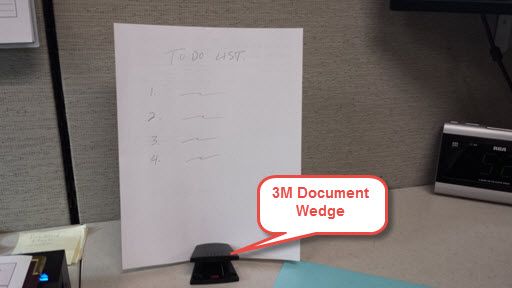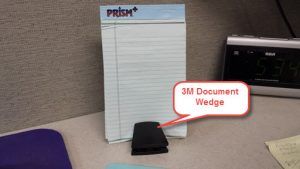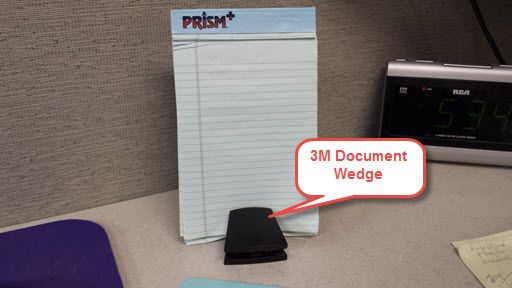 I use mine to hold my ToDo list for the week (OK, the one shown above isn't my actual list 🙂) but you could use it to hold a trade journal, a magazine, a notepad, or a paper that you are reading and need to transcribe sections of it into another document on your computer. What I found fairly strange is that if you look at the technical details, it says it holds up to 20 sheets.
Well, to be honest, and you'll see so in my YouTube video below, I loaded it up with 60 sheets of 8 1/2″ X 11″ standard multipurpose printer paper and it could definitely take at least another 10 more. So I'm certainly not sure how they came up with the fact that it holds only 20 sheets.
Before I purchase anything on Amazon I check out the reviews and this one, at this writing, has 126 reviews and 88% of them were 5 star and 8% are 4 star. I can see why this 3M Document Wedge gets excellent reviews because it's small, compact, and basically does what it's advertised to do. What more could you ask for in any product, especially one for under $10?
You can check out my YouTube Video below.
Product Dimensions – 5.2 x 5.4 x 1.7 inches
Shipping Weight – 4 ounces
Color – Black
Compact and unique design takes up very little desktop space.
Marketed as only holding 20 sheets but I tested it and easily held 60 sheets or more.
Great for holding office ToDo lists, manuals, reports, or a recipe.
If you think this versatile 3M Document Wedge will give you a helping hand in your own office, you may want to give it a try. Check out the reviews on Amazon, like I did, and you'll see that a lot of people are very happy with their new office tool!
(The 3M Document Wedge is currently unavailable but this is a comparable product – The Vanki Document Wedge Copy Holder.)