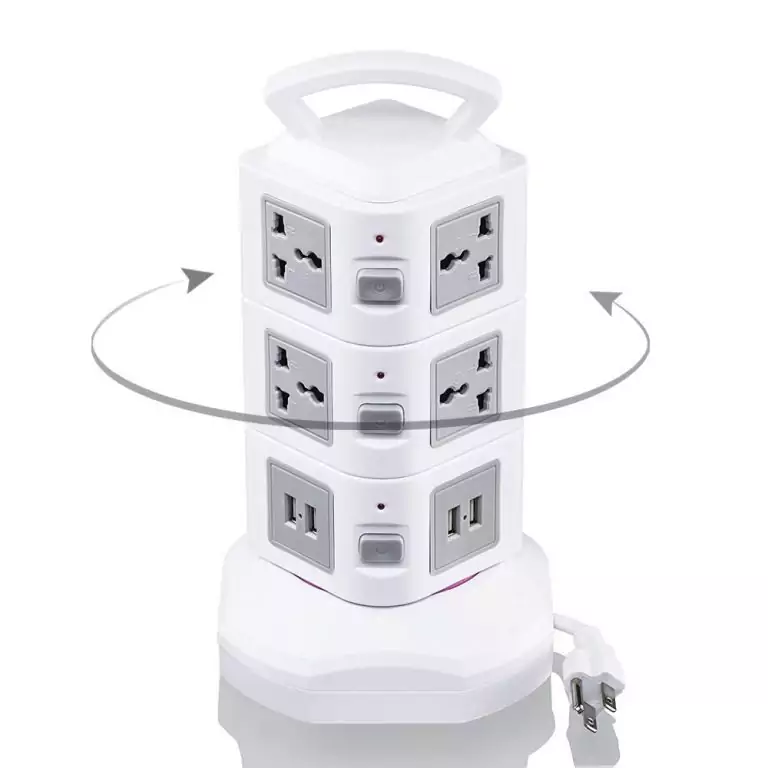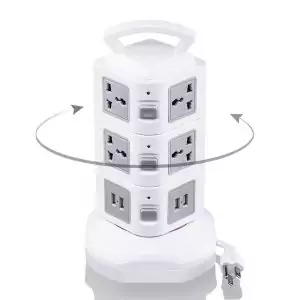 If you are like me you have a multitude of cords in your office powering your phone or any other office or cubicle accessory you might own.
And if you have a fully accessorized office or cubicle like I do you just might have some cool office gadgets that I have including a mini refrigerator, one cup coffee maker that is the best office coffee machine, electric kettle, and a really cool desk lamp.
A while back I wrote an article about cable tidy ideas and it touched upon various cable ties, wraps, and organizer packs which allow you to control the web of wires in your office or cubicle.
That article gives some excellent ideas for the cords but what do you do about plugging in all of your accessories and your computer? Sometimes the traditional power strip may simply not have enough slots for the many plugs that you have in your office. That was my problem!
Well, I found a solution to my plight that actually organizes all of the power in my office and also doesn't look like a pile of cords on the corner of my desk. In fact, it looks really classy and state-of-the-art! It's called a GLCON Tower Power Strip. This really cool cubicle or office accessory stands vertically, has 10 outlets and 4 USB ports that you can use to power your phone or any other gadget.
Here is a quick youTube video I made of me unboxing the unit and using it in my home office.
You'll see in the images below that in my home office I used a traditional power strip but I actually ran out of plugs and had to add an extension to it. Also, it looked horrible and unorganized which, as you know, really bothers someone like me. I think the difference is striking and I'm very happy with my new vertical tower of power and I still have plenty of outlets available for me. I also love that my desk is a lot cleaner now too without all of the wires all over it.
Before and after images in my Home Office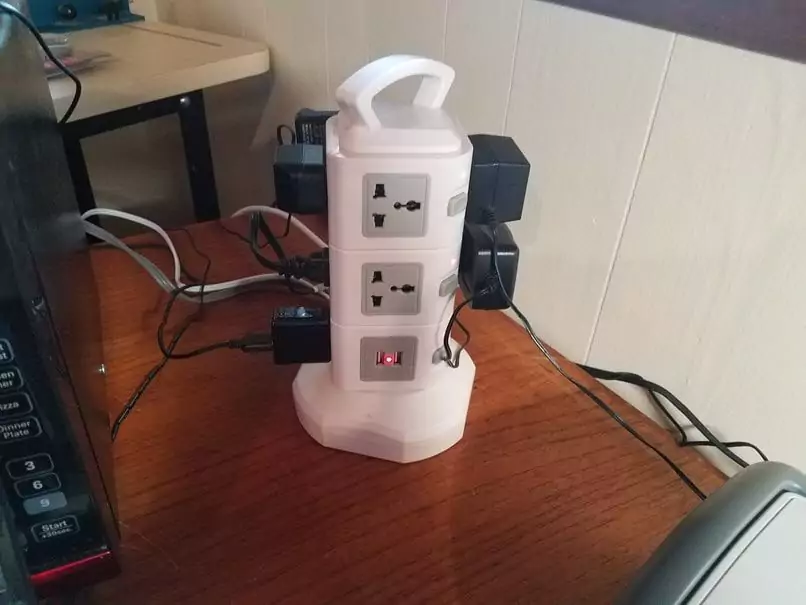 Full Product Dimensions – 11 x 5.6 x 5.6 inches
Product Weight – 1.8 pounds
Color – White
Material – Plastic
10 Outlets and 4 USB ports
6.5 ft retractable plug.
Surge protector and individual on/off switches.
Rotatable unit makes it easy to plug in any power source.
Vertical unit lends to a small footprint in comparison to traditional power strips.
If you are tired of a collection of wires in the corner of your home office or cubicle, you too may want to consider a GLCON Tower Power Strip. I actually bought 2, one for my home office and one for my cubicle! If you have any questions or comments you can leave them in the comments or use my Contact Me page.
Bob has been blogging for over 20 years and has been an office and cubicle dweller for more than 35 years. He has been featured in numerous online publications such as US News and World Report, Bustle, and Work Awesome (you can read his articles here). He created the popular office website CubicleBliss in January 2011 and rebranded it as WorkspaceBliss in April 2020.
In the office he's been an IT Manager, Applications Engineer, Systems Analyst, Software Project leader, and Programmer Analyst in his long career. He's a Certified Microsoft Professional and possesses a Masters of Science degree and two Bachelor of Science degrees, one of those in Informational Technology.
During his career he has worked in the office full-time, as a hybrid remote worker, and has worked from home permanently.