(Update: This product is currently unavailable. Click here for another product which has the exact same features.) When I have certain hot projects that I am working on, I like to have them close by in my office cubicle. I certainly understand the need for a drawer into which file folders are stored, but when it comes to current projects, I like to have them in my line of sight and easy to access.
Before I purchased this Avery Cubicle Wall File Pocket, I used to place the manila folders with the project paperwork directly on my desktop. This would do the trick as far as visibility was concerned but it also cluttered up my desktop and you know how I feel about that!
I've seen something similar in other offices near me but this one was so compact and didn't take up a lot of cubicle wall real estate. I could place many different file folders into this wall pocket but I usually only have about three or four in there because I really don't want to be working on too many different projects at one time. This unit acts as a constant reminder of my current projects and helps me stay on track when it comes to completing these tasks.
If you've been following this site for a while you know how I feel about utilizing my cubicle walls effectively in order to eliminate any clutter on my desktop. There are many different types of innovative shelves for cubicles to enhance the storage capacity in your small office. Well, this wall pocket is perfect for my needs and still gives me plenty of room on my cubicle walls to enhance my cubicle décor with picture frames and other personal photos and posters.
Setting up my Avery Cubicle Wall File Pocket
Click on any image for a larger view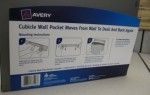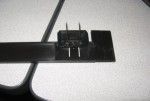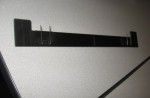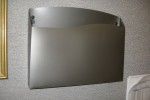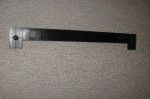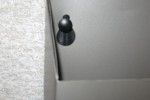 Features of the Avery Cubicle Wall File Pocket
Keep your active files stored neatly and in sight on your wall or desk
Easy-to-use pocket can be removed and reattached to the mounting bar again and again
Dimensions: 12.5 x 1.5 x 9.5 inches
Mounting system included–no tools required
Includes removable pins that securely grip cubicle wall fabric
Material: Plastic
Item Weight: 6.4 ounces
I've had this wall pocket only for a couple of weeks but I think it does exactly what I wanted it to do. It keeps my important and current project folders off of my desktop but in close enough proximity so that I am constantly reminded of the fact that I have to work on these projects now. For a small amount of money this is a great solution for my office cubicle!
Bob has been blogging for over 20 years and has been an office and cubicle dweller for more than 40 years. He created the popular office website CubicleBliss in January 2011 and rebranded it as WorkspaceBliss in April 2020. Over the years, he has been a regular writer for popular blogs such as DailyBlogTips and WorkAwesome (can read his articles here).
In the office he's been an IT Manager, Applications Engineer, Systems Analyst, Software Project leader, and Programmer Analyst in his long career. He's a Certified Microsoft Professional and possesses a Masters of Science degree and two Bachelor of Science degrees, one of those in Informational Technology.