The cell phone industry is obviously growing and there are a variety of smart phones available for purchase in the marketplace. I think it's hard to find anyone these days who doesn't own a cell phone even if it's just a flip phone.
I recently walked around the offices at my workplace and noticed that the people I saw who owned iPhones or other smart phones had their cell phones sitting right on their desktop.
I figured that a reasonably-priced desk cell phone holder would be a great present to buy for a few co-workers. So I started researching them and ended up buying the Cellet clear desk cell phone holder due to the fact that it was reasonably-priced and, based on the reviews, it was sturdy.
My brother also recently purchased the latest Samsung smart phone so I figured I would get one for him also. I happen to be a relic and still own a flip phone because I simply don't want to pay the monthly fee for an iPhone just yet. Instead of waiting to give the gifts to my co-workers for Christmas I figured I'd give it to them early.
The pictures below show the stand without the cell phone and one with the cell phone. Both of the co-workers I bought the cell phone holders for love it and are thinking of buying one for their loved ones as well. Check out the images from one of my co-worker's cubicle below. I have also included some other popular cell phone holders below those images.
The Cellet desk cell phone holder in the Office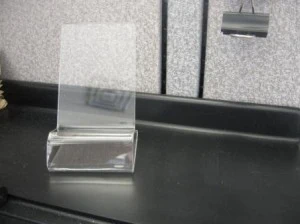 The Cellet cell phone holder in a place of prominence in the office cubicle for clear visibility throughout the day.
The Cellet and two other popular desk cell phone holders
If you care about fun cubicle office accessories, you cannot go wrong with one of the desk cell phone holders that are available today. It's also a perfect gift for that smart phone junkie that has everything!
Bob has been blogging for over 20 years and has been an office and cubicle dweller for more than 35 years. He has been featured in numerous online publications such as US News and World Report, Bustle, and Work Awesome (you can read his articles here). He created the popular office website CubicleBliss in January 2011 and rebranded it as WorkspaceBliss in April 2020.
In the office he's been an IT Manager, Applications Engineer, Systems Analyst, Software Project leader, and Programmer Analyst in his long career. He's a Certified Microsoft Professional and possesses a Masters of Science degree and two Bachelor of Science degrees, one of those in Informational Technology.
During his career he has worked in the office full-time, as a hybrid remote worker, and has worked from home permanently.