In the working world today, it is not unusual for you to take your laptop to and from your work office and your home office. I do this every working day of my life and I was getting a little tired of having both a laptop bag and a briefcase.
I had been looking around for at least a year for a solution that would consolidate two bags into one and, at the same time, make the effort of transporting my laptop a lot easier.
After scouring the internet as well as the office superstores, I finally found a highly-rated, reasonably-priced solution. It is the Solo rolling laptop case and I could not be happier with it! I've used it for about a month now and the telescoping arm and the rolling capability are my favorite features. The fact that I now have a brief case and a laptop case consolidated into one unit was one of my main reasons for buying this highly-rated rolling laptop case.
Detailed Images of My Solo Rolling Laptop Case
(Click on any of the images below for a larger view)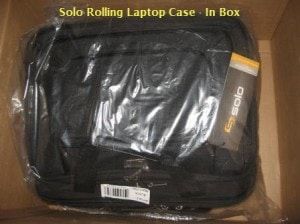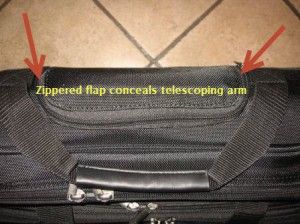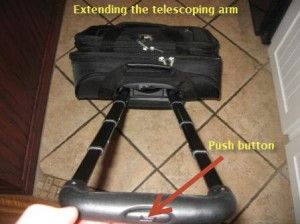 With a simple push of the button at the top of the telescoping arm it expands 25 1/2 " above the laptop case. This is a perfect length for ease of rolling the laptop carrying case.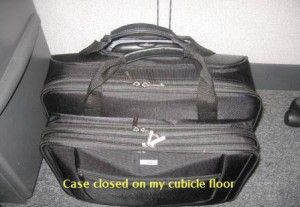 One of the best features about this rolling laptop bag is that no matter how many items you have in the laptop case, it will not tip over. This is an excellent feature of this laptop case which I read as a clear positive in the Amazon reviews prior to purchasing.
At the same time, this rolling laptop bag is not too large to pick it up to carry down a set of stairs or too large to store in a small cubicle. I think it's a perfect blend of style as well as practicality.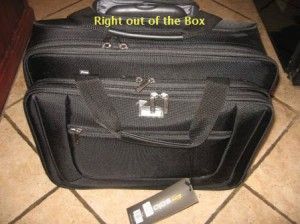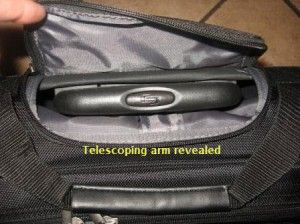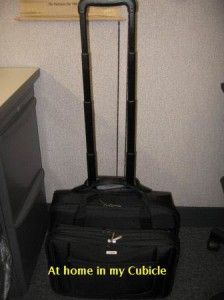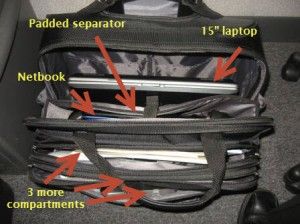 The compartments in this laptop carrying case are voluminous. From the image above you can see that the main compartment has space for two laptops if you so desire with a padded separator between them. I typically carry a work laptop, which has a 15″ screen area but on the diagonal is 16″, and a personal netbook for personal use at lunchtime while I am at work. You could easily fit a 17″ laptop in this case with plenty of room to spare. The 3 other zippered compartments give me plenty of space for all of my belongings.
Solo Rolling Laptop Case Features
Holds 17″ laptops
Product Dimensions: 9 x 17 x 14 inches, 7.7 pounds
Durable polyester case
Two straps allow you to lift up the case to carry down or up stairs
Four zippered compartments with plenty of storage space
Rolling feature and telescoping arm for wheeling instead of carrying
Stable when loaded up and will not tip over

I cannot recommend this rolling laptop case more highly. I use it every day and the convenient telescoping arm allows me to wrap my lunch bag strap around it so that I can combine my lunch bag with the laptop case. If you've been searching for a rolling laptop bag like I was, you may want to read the reviews on Amazon and take my word for it. There are a lot of cool laptop cases out there to choose from but this one has everything that I need. If you have any further questions for me on this laptop case, feel free to leave a question in the comments or use my Contact Me page.