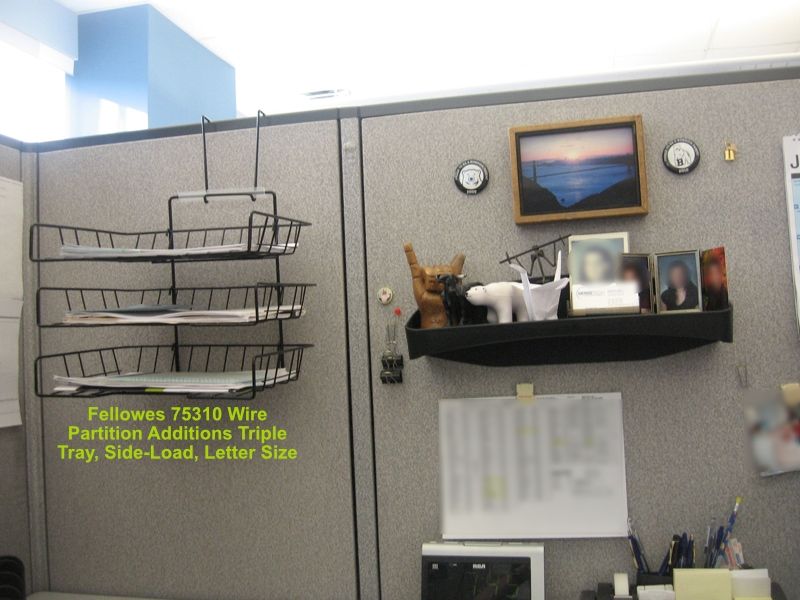 Do you need a place to store your file folders, mail, or important papers in your office or cubicle without cluttering up your desktop? A wire paper tray is a great solution to that problem and one that I have used extensively will be discussed in this article.
One way to effectively utilize your cubicle walls is to get yourself a hanging paper tray. The one shown here is the one I purchased and it is a Fellowes 75310 Wire Partition Additions Triple Tray. I've been on an organizational kick for a while in my cubicle and this versatile paper tray addition is perfect for me.
A Hanging Wire Paper Tray Will Free Up Your Desktop
One of my main focuses has been to move items off of my desktop and onto my cubicle walls. I have purchased a number of office items to that end including a flat panel monitor cubicle hanger, a hanging letter tray, and probably my favorite, a cubicle shelf.
All of these cubicle accessories have allowed me to straighten out and organize my workspace as effectively as possible. It just takes a little bit of research to find what works best for your cubicle or office space.
I actually love my cubicle and I've had a real office in the past with my own window and door. I think you have to just make the best of your cubicle world because there are a lot of out-of-work people who would love to have my cubicle.
I am one who believes that no matter what the size of the work space, you can make it work for you.
Hanging Wire Letter Tray Just out of the Box
There is basically no assembly required with this triple letter tray. There are three wire baskets that attach to the frame that hangs from the cubicle wall.
It came in a box and it was well-packaged as can be seen here.
This unit is a wire organizer that allows you to store whatever papers you deem necessary in each wire basket.
I tend to store my latest project paperwork in the wire storage baskets.
Cubicle Hanging Basket Assembled and on my Cubicle Wall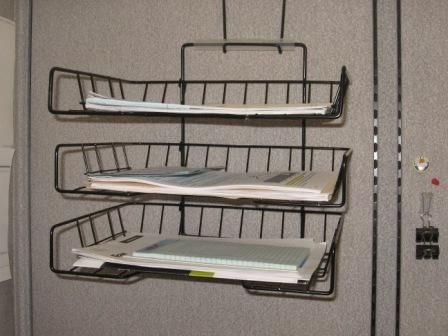 After removing the cubicle baskets from the packaging and attaching them to each other I was in business.
These hanging office baskets just allowed me to take some very important papers and file folders which were previously on my desk, off of my desktop.
The cubicle basket set of three made an immediate impact on my office cubicle and my cubicle organization.
For use with 1 1/2″ to 3″ thick partition walls.
Depth of the cubicle hanging basket is 10 5/8 inches.
Perfect for file folders or can be used as in/out wire storage baskets.
Product weight – 3.2lbs.
Great way to utilize your cubicle walls for convenient storage.
Convenient way to store important papers up and off your desktop.
Hanging Office Baskets – More Details
Three side-load trays organize documents and files
Mounts on partitions 1-1/2" to 3" wide to save desktop space
Product is 100% recyclable
Includes mounting brackets
Includes hardware for mounting to drywall
With the cubicle making a comeback especially after the pandemic, these cubicle hanging baskets will keep files and essentials off of the desktop. These innovative wall trays for paperwork might be hanging from your walls but they are also at your fingertips when needed.
Make your office cubicle an organized workspace like I did by adding a Fellowes wire letter tray. Your cubicle can be a great place to work on a daily basis if you surround yourself with accessories that will help you work more efficiently in an organized environment.
Once you add some organizational products to your working environment, your productivity should reach new heights as well. if you have any questions about this wire paper tray, please contact me or ask a question in the comments.
What to Read Next:
Bob has been blogging for over 20 years and has been an office and cubicle dweller for more than 35 years. He has been featured in numerous online publications such as US News and World Report, Bustle, and Work Awesome (you can read his articles here). He created the popular office website CubicleBliss in January 2011 and rebranded it as WorkspaceBliss in April 2020.
In the office he's been an IT Manager, Applications Engineer, Systems Analyst, Software Project leader, and Programmer Analyst in his long career. He's a Certified Microsoft Professional and possesses a Masters of Science degree and two Bachelor of Science degrees, one of those in Informational Technology.
During his career he has worked in the office full-time, as a hybrid remote worker, and has worked from home permanently.