(Update: This monitor organizer is currently unavailable. Click here for another version which is essentially the same product.) One of the best aspects of running this website is having relationships with readers. I recently received a review from a reader on a computer monitor organizer that she recently purchased.
I have to tell you up front that I don't own one of these and the main reason that I never purchased an item like this is because I hang my computer monitor on my cubicle wall with this monitor cubicle hanger that I wrote about in this article.
So, since my computer monitor is hanging from my cubicle wall I obviously have no need for this or any computer monitor organizer. Jean, one of my readers, sent along a review of the computer monitor organizer seen above and I truly appreciate her for sending me this review so as to help other readers who may be interested in this or a similar product.
Here's what Jean wrote to me in an email recently:
Hi Bob,
I thought you might be interested in this Computer Monitor Organizer, if you don't already have something like it. I looked on CubicleBliss.com and didn't see anything similar, but I just took a quick look today. Several of us in my office got these recently and like them. They are a little pricey I guess (luckily our company paid for ours), but very useful so would be well worth the money for some people. I don't have any connection to this product, other than being a customer, by the way – just thought it was along the lines of useful products you talk about.
Here is an image of both of her computer monitor organizers in her office with side by side monitors.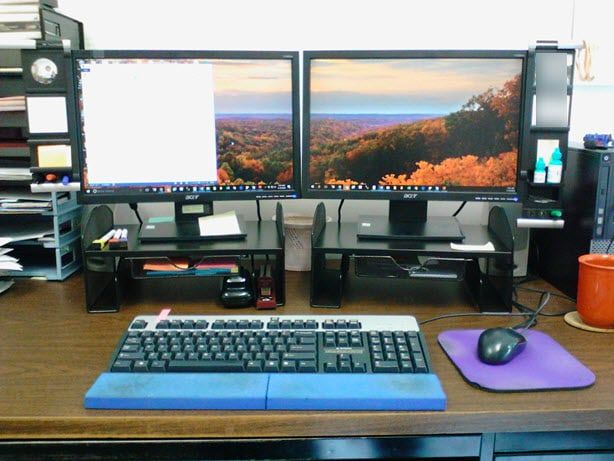 Here is Jean's review of the product:
Good Computer Monitor Organizer –
Measure your monitor before you order
I just set up 2 of these for my 2 monitors, and I really like them so far. The only reason I didn't give 5 stars is because the dimensions advertised aren't accurate. The catalog says it raises your monitor 4 inches, when in fact it's 4-5/8 inches. (Doesn't sound like much, but can make a difference especially if you have progressive lens glasses.) Also the overall height is 7″, not 6-1/2″. It's important to give customers the correct dimensions so they can determine if the item will fit in the intended space. Luckily it worked out ok for my case. I would recommend measuring your area and equipment carefully before you decide if these will work for your specific situation.

My monitors just barely clear the sides of the organizer. My organizers appear to be pretty well made. Were easily assembled with 4 screw/nut sets each (included). I used a screwdriver on the screw head while holding pliers on the nut to get them firmly tightened ("get it tight but don't lay on it," is advice I received years ago). The stands are now very stable and I can't imagine the screws would loosen up if the stands not moved around. I assembled all the side trays "backwards" on purpose, so they're turned inward (underneath the shelf). That made an overall width of about 14-1/4″ per unit and allowed me to put them closer together. You could even put one side tray inward and one outward if you wanted. Overall I think it's a good product.
A few more Images in Jean's Office
Click for a larger image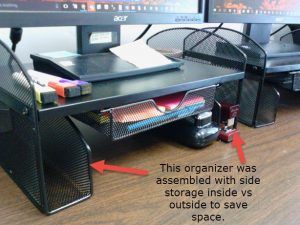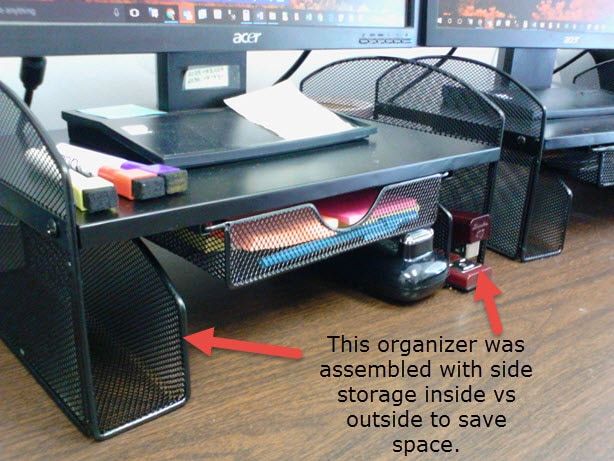 Note that Jean mounted the side storage compartments inside vs outside. She mentions in her review that you can mix and match how you assemble the side storage.
Product Dimensions – 15.6 x 10.7 x 3.2 inches
Item Weight – 3.4 pounds
Material – Steel
The stand raises your monitor for comfortable viewing.
Adds storage to both sides, a central shelf, and storage underneath.
If you think this is the type of computer monitor organizer that will make your life in the office a little bit better and more organized you may want to take Jean's advice and pick one (or two as she did) up. I want to thank Jean for sending along this review and if any of you out there would like to send a review of something that you love in your office or cubicle I'd love to hear from you!
Bob has been blogging for over 20 years and has been an office and cubicle dweller for more than 40 years. He created the popular office website CubicleBliss in January 2011 and rebranded it as WorkspaceBliss in April 2020. Over the years, he has been a regular writer for popular blogs such as DailyBlogTips and WorkAwesome (can read his articles here).
In the office he's been an IT Manager, Applications Engineer, Systems Analyst, Software Project leader, and Programmer Analyst in his long career. He's a Certified Microsoft Professional and possesses a Masters of Science degree and two Bachelor of Science degrees, one of those in Informational Technology.