Are you one of those workers who have been asked to work in an open office setting or may have to in the near future? This article will address, in detail, open plan office advantages as well as disadvantages of open office design.
Is the Open Office Good or Bad for the Employee?
The open plan office layout certainly gets its share of criticism – and for good reason. To be honest, I have seen this type of office environment in action and it's certainly not for me.
But, to be fair, there are open plan office advantages and disadvantages.
For those of us that don't have the luxury of regularly working from home, the powers-that-be at our place of employment dictate our office environments.
Where I work, managers are fortunate to work in an office with a door. I've had the pleasure of doing so in the past when I was a manager.
Having done the manager-thing, I decided that the best option for me was as an individual contributor which means that I currently am relegated to an office cubicle.
It just so happens I enjoy this type of working environment because but there are other departments at my work that work in an open office design.
Having witnessed this type of working environment and seen it in action I think there are certainly disadvantages of open plan office design and open plan office advantages.
In this article I will address those topics and will limit my analysis to only working environments since an open floor plan can also be associated with home design.
Advantages and Disadvantages of Open Office Analysis Chart
As a quick overview the following table will address the pros and cons of the open office working environments. Each item below in the chart will be addressed in more detail further down in the article.
Criteria
Advantage
Disadvantage
Collaboration
Perceived to be a more collaborative environment.
Personal Space
Employees in an open plan office layout
may not have their own space.
Real Estate Cost
Companies save on square footage needed for
personal offices and cubicles.
Distraction Level
Noise and distraction level is high.
Space Management
Space needed is minimal for many employees.
Storage Capabilities
Employees have limited personal and
work storage capabilities.
Furniture Cost
Cost is minimal for furnishing employees
in an open office.
Health Issues
Higher anxiety and absence due to sickness.
Flexible Work Areas
Work areas can be customized and
updated easily and quickly.
Employee Relationships
Can foster more negative relationships.
Open Plan Office Advantages and Disadvantages Analysis Chart
Disadvantages of Open Plan Office Design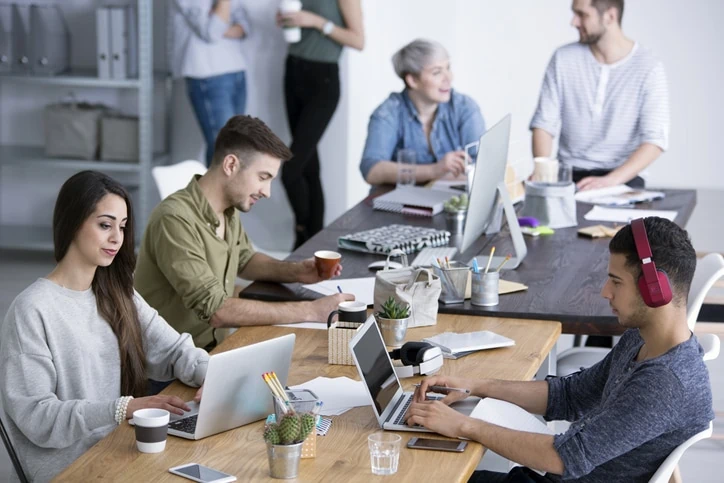 1. Limited Personal Space for Employees
When it comes to open office design, there are certainly limitations on the individual worker. Let's say, for example, when you are working you are seated at a large table or set of adjoining tables. This is not uncommon in an open office environment.
In this type of working environment the only personal space you have is the office chair you are in and the desk area in front of you. There is no office space to actually call your own.
And in some working environments where the practice of hot desking is incorporated, multiple workers will utilize the same workstation or work surface possibly during different work shifts. So there is essentially no real ownership of a work space.
2. Noise and Distraction Level is High
It goes without saying that in an open office working environment, there can certainly be a high level of distraction due to the close proximity of coworkers. Also, the noise level can be high which could lead to workers isolating themselves listening to their headphones or Bluetooth earbuds.
So, instead of facilitating collaboration within the employees, maybe this environment could lead more to separating employees.
Julian Treasure in a Ted Talk entitled The 4 Ways Sound Affects Us, stated that:
It's hard to argue that a noisy, hectic, open office environment can certainly have a negative effect on employee productivity.
3. Limited Personal and Work Storage Capabilities
Having worked in an office environment for my working career, I can certainly understand the need of an employee to have their own personal and work storage space. If an employee in an open office is seated at a large desk, where are the storage areas? It's even difficult to properly organize your desk due to limited space.
The employee has the desk in front of him and the area below the desk. It may be that the worker needs to store items within a backpack which may include a PC and other essential office supplies.
Without having any designated storage areas at the workstation, then there must be some type of remote storage area for each employee or the employee must provide their own storage in the form of a briefcase or backpack. This is obviously a striking limitation of an open office worker.
4. Health Issues
There have been many articles and studies in recent years associated with health issues associated open office plan layouts. Brennan et al in 2002 studied traditional vs open plan offices. They concluded that after relocating and transitioning to open-plan offices, employees experienced more environmental stressors.
In 2006, Pejtersen et al studied single room offices vs open-plan office environments. The study determined that in the open office plan occupants complained more about noise than those in single rooms did, about cramped space, about unpleasant odour, eye/nose/throat irritations, headaches, and fatigue.
In 2011 Pejtersen et al studied various office layouts and the major findings stated that those employees in open-plan offices had 62% more sick days absence per year than occupants of single rooms or offices did.
5. Negative Employee Interpersonal Relationships
Open plan offices can also affect employee interpersonal relationships negatively. Morrison and Mackey in 2017 studied The Demands and Resources Arising from Shared Office Spaces which concluded that:
It appears that expanding the working environment to include many employees instead of a handful, can lead to more trust and behavior issues among employees.
The open office environment doesn't lend itself to personal discussions between employees. Maybe you'd like to open up to a coworker about clear-cut signs your boss is threatened by you and your success. In the open office environment is not ideal for such a discussion or any work-related conversations.
Advantages of Open Office Work Environment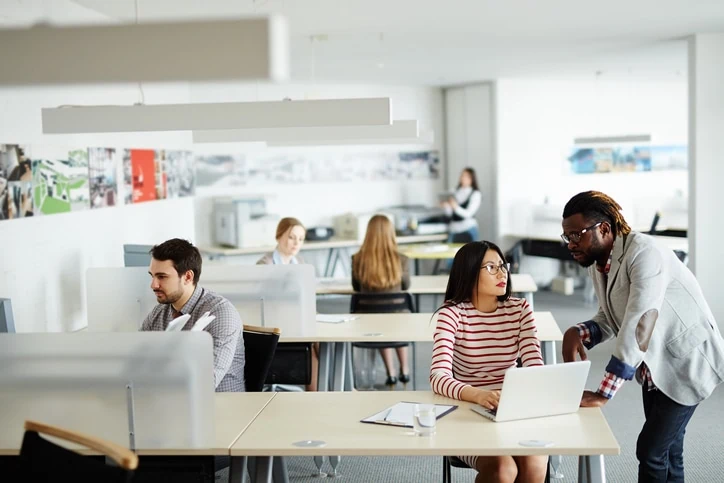 1. Collaboration Perceived to be High
One of the open plan office advantages that is always touted is that an open office is much more collaborative for the employees. I think this definitely can be the case in certain scenarios. For example, I work in a company where the customer service department works in an open plan office layout.
It makes sense for them because they need to confer with each other as they are doing their job or on the phone with a customer. I've seen it work so it's definitely an advantage in this case.
On the other hand, there have been studies that refute that an open office fosters collaboration among employees. Bernstein and Waber in their study in 2019 entitled The Truth about Open Offices noted that:
In their study they concluded that the transition to open offices led the employees to withdraw in lieu of an increase in collaboration.
So, just blatantly stating that an open office working environment will enhance collaboration may not necessarily always be an accurate assertion.
But for our analysis, we'll assume that in the proper work setting an open office design can lead to an increase in collaboration between employees. So, for this analysis, we'll call it an advantage.
2. Real Estate Costs are Minimal
One thing we do know is that instituting open offices will significantly cut down on real estate or rental costs due to the smaller square footage needed. Obviously this is an advantage to the company and not necessarily to the workers that they employ.
3. More Efficient Space Management
If we are simply talking about managing space, an open office working environment will always end up in a more efficient management of space. It's essentially a math problem. The closer each employee is to each other, the least amount of space that is needed for each employee.
4. Minimal Furniture Cost Outlay
In an open office design, oftentimes the only furniture needed are large tables and a functional office chair for each worker. In a closed office space made up of office cubicles and separate offices with doors, much more furniture is needed.
A cubicle comes with fabric walls, a desk with drawers, and overhead bins. There are also assembly costs which are typically outsourced for a company that specializes in cubicle assembly.
With a larger office with a door, each office will come with everything that is in a cubicle but may also include a separate desk and chairs for an impromptu meeting and possibly extra book shelves. And each office may also include its own printer which is an additional cost.
Needless to say, the furniture outlay costs of an open plan office layout is much cheaper than a closed office space.
5. Flexible Work Areas
The flexibility of an open plan cannot be underestimated. If there is a hiring need the ability to add more tables and chairs to the office plan is a lot easier. The ability to customize the layout allows a company to grow and adapt without a huge outlay of cash. Even if a company has a layoff the layout can be adjusted to account for less employees within the space.
The Hybrid Workspace – A More Employee-Centric Approach
Maybe the better option is becoming more of a standard in today's progressive working environments and is termed a hybrid workspace which is essentially a happy medium.
This is where you have both an open plan office layout or open office design in conjunction with designated workspaces for employees who prefer that type of setting.
This type of modern office layout also incorporates smart technology allowing the employee to adjust , temperature, lighting, and climate in their work area using a touch screen. The ideas are endless!
Advantages and Disadvantages of Open Office Summary
I hope you found this analysis of open plan office advantages and disadvantages helpful.
The open plan office advantages are clearly on the side of the company and not necessarily for the welfare of the workers that they employ.
The open plan office layout certainly has its merits especially when it comes to being cost-effective, customizable, and flexible as a company either grows or changes over time.
On the other hand, the disadvantages of open plan office workers have been clearly identified. There are certainly negative health-related and social interaction issues that have been observed and studied over the years.
Also, the noise and distraction levels related to the open plan office layout can also lead to a measurable reduction in employee productivity levels.
A mix of open office design and closed office layouts is probably the sweet spot when it comes to the ideal working environment. A hybrid workspace is the modern progressive approach which focuses on the employee by providing meeting spaces for specific functions, versatile common spaces, and designated workspaces for employees who prefer their own private working space.
In the years to come office configurations will continue to evolve to match the needs of both the company paying the freight and the welfare of the workers they employ.
Bob has been blogging for over 20 years and has been an office and cubicle dweller for more than 35 years. He has been featured in numerous online publications such as US News and World Report, Bustle, and Work Awesome (you can read his articles here). He created the popular office website CubicleBliss in January 2011 and rebranded it as WorkspaceBliss in April 2020.
In the office he's been an IT Manager, Applications Engineer, Systems Analyst, Software Project leader, and Programmer Analyst in his long career. He's a Certified Microsoft Professional and possesses a Masters of Science degree and two Bachelor of Science degrees, one of those in Informational Technology.
During his career he has worked in the office full-time, as a hybrid remote worker, and has worked from home permanently.